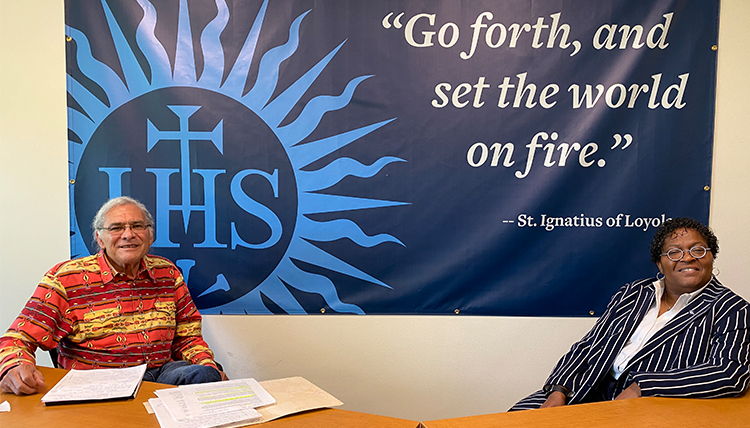 "Our mission is to promote the Jesuit and Catholic ideals of social justice and service by nurturing the dignity of all people in creating an inclusive and generative multicultural academic community."
At Gonzaga, we nurture the dignity of all people to create an inclusive and increasingly multicultural academic community. This commitment to diversity is part of who we are as a University, and it reflects our deeply rooted Jesuit and Catholic ideals of social justice and service.
To create a diverse and inclusive community, we encourage dialogue, intellectual exchange and solidarity. We work to create a learning environment that promotes cultural engagement, enriches mindfulness, fosters a sense of belonging, and challenges systems of privilege and oppression.
See how Gonzaga is progressing toward a more diverse and inclusive campus.
Letter from the Chief Diversity Officer
One of the hallmarks of Jesuit Education, based upon Ignatian spirituality, is the belief that God can be found in all things. Saint Ignatius believed that we encounter God at every moment of our existence and the world is saturated with the divine presence. Saint Ignatius described a social reality where every moment of our life God is communicating to us through person, place and thing.
I strongly believe that human diversity, its nature and our reaction to that nature, is the living curriculum by which we are invited to spiritualize our consciousness. I would like to challenge all of us to raise our awareness of the "active presence of God" in all our intercultural relationships to master the lessons of agape love and justice making service. Can we see "the other" through God's eyes? For example, can a College Democrat see a College Republican through God's eyes? Can a heterosexual student see a gay or lesbian student through God's eyes? Can a Christian student see a Muslim student through God's eyes? Questions with answers designed for us to close the gap between rhetoric and reality, between promise and practice.
To walk this talk will require the acumen of a practical visionary. What makes diversity work distinctive at GU compared to other regional institutions of higher learning? Unlike our regional sister public institutions, the spirit of a Zag, the soul of a Bulldog is nurtured by the invitation to become a contemplative in action. At Gonzaga University, in every moment of our community life as students, faculty, staff and administrators, we are invited to be alert and vigilant to God's presence in all our intercultural relationships. We are blessed with the choice to use this awareness of our intercultural relations for a greater good by actively addressing issues of social justice as it pertains to exclusion, oppression, or marginalization.
Let us act and form collaborative partnerships in solidarity toward creating a sustainable campus climate characterized by empathetic caring and respect for the dignity of all our intercultural relatives.
In the Spirit of Our Ancestors, May the Blessings Be!
Raymond Reyes, Ph.D., Associate Provost & Chief Diversity Officer