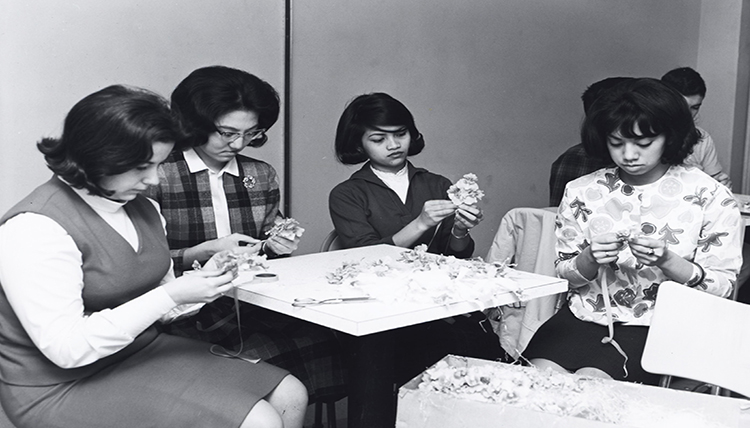 Check out the Women Innovators poster displays in the School of Engineering and Applied Science!
Upcoming Events
October 7-13, 2019
Taking Up Space Exhibit in Hemmingson Rotunda by DICE (7am-11pm daily)
October 17, 2019
Ethics Panel - Wage Gap for Women in Jepson Wolff Auditorium from 5:30 to 6:30pm- RSVP Recommended
October 24, 2019
Center for Undergraduate Research and Creative Inquiry Featured Speaker - TBA
October 27, 2019
Women's Retreat by Mission & Ministry at Bozarth Mansion from 11:30am to 5pm
October 28, 2019
Female Faculty in STEM Lunch and Learn Series in Humanities 153 from 12noon to 1pm
October 31, 2019
Women Lead Fall Luncheon - 11:30am to 1:30pm - Tickets Required
November 5, 2019
Compensation Negotiation Workshop at 12noon in Hemmingson Auditoriium hosted by the School of Leadership Studies
Women in Commercial Real Estate at 5pm to 7pm in Jepson Center Wolff Auditorium hosted by the School of Business Administration (refreshments provided)
January 18 to May 9, 2020
Prints by Women exhibit in Jundt Museum Arcade Gallery
February 28, 2020
Discantus Treble Chorus at 7:30pm featuring guest composer Melissa Dunphy in the Myrtle Woldson Performing Arts Center (tickets required)
March 13, 2020
Women Lead Spokane Conference - Registration Required
March 24, 2020
Lecture by Associate Professor of History, Veta Schlimgen in Jundt Museum Room 110 (title TBA)
March 25, 2020
Modernized Vintage Suffragette Parade at 12noon throughout campus
March 26, 2020
Lecture by Art Faculty Lena Schindler in Jundt 110 - Now See This! The Continued Influence of Suffragist Banners, Textiles and Fashion as Visual Forms of Protest
June 7-8, 2020
Women's Rights as Human Rights - Law School Conference in Florence, Italy
Events and Activities in Planning Phase
Exhibit and Special Book Shelf in Foley Library on Women in Society - Spring Semester
Women's Veteran Retreat Fall 2019
American Bar Association Exhibit - Law School on suffrage history
Mt. Whitney Leadership Podcast by Digital Humanities
Women's Law Caucus - Inspiration Poster Display in the Law School
March - lectures on the art of social protests then and now, and history of the suffrage movement
Past Events
September 20, 2019
2nd Annual Center for Civil and Human Rights Conference
September 17, 2019
Voter Education and Registration Drive on Constitution Day in Hemmingson 10am - 3pm
September 7, 2019
Gonzaga-Logan Neighborhood Block Party featuring voter education and registration resources. 12noon to 3pm at St. Aloysius School.
July 29, 2019
Washington State Women's Commission - Spokane Plenary Meeting and Outreach Event
11am-5pm Foley Library Greenan Board Room (meeting)
5-6:30pm Humanities Building 2nd Floor (reception)