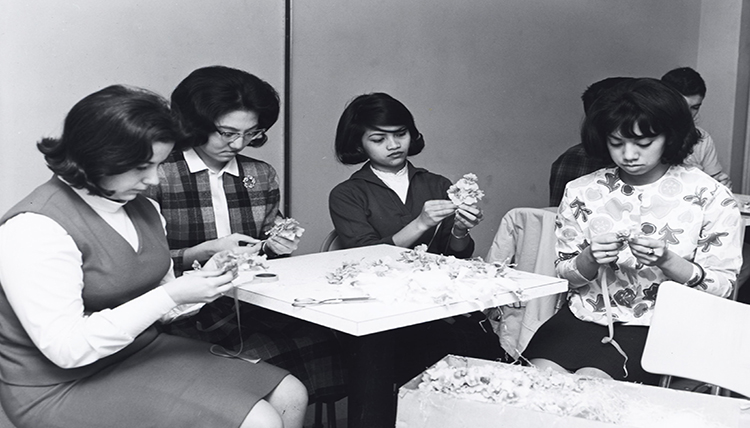 Check out the Women Innovators poster displays in the School of Engineering and Applied Science!
Upcoming Events and Activities
May 15, 2020
Women Lead Seattle Conference - Registration Required
June 7-8, 2020
Women's Rights as Human Rights - Law School Conference in Florence, Italy
Rescheduled for September 30, 2020 - Suffrage Parade Week
September 30, 2020
Steps from Suffrage to Solidarity: Commemorative Suffragist Parade. Washington State passed the 19th Amendment on March 22nd, 1920, five months prior to the ratification of the 19th Amendment to the U.S. Constitution. To celebrate, join Gonzaga University on September 30th for a commemorative parade that celebrates the past, present, and future of women's activism and rights activism. Witness the many ways current GU students express what the 19th Amendment means to them.
Date TBA
STEM Female Faculty Panel at 12noon to 1pm in HUB Commons - lunch provided to student attendees
Date TBA
Lecture by Art Faculty Lena Schindler at 7pm in Jundt 207- Now See This! The Continued Influence of Suffragist Banners, Textiles and Fashion as Visual Forms of Protest
Date TBA
Women Activists & the Legacy of Progressivism at 7pm by Associate Professor of History, Veta Schlimgen in Jepson Wolff Auditorium
Events and Activities in Planning Phase
Exhibit and Special Book Shelf in Foley Library on Women in Society - Spring Semester
Women's Veteran Retreat
Women's Club Volleyball - Girls Workshop
American Bar Association Exhibit - Law School (suffrage history)
Mt. Whitney Leadership Podcast by Digital Humanities
Women's Law Caucus - Inspiration Poster Display in the Law School
Screening of the Sisters of 77 film
Panel discussion about the passage of the 19th Amendment in the Law School
Past Events
April TBA, 2020

Next Generation Medicine Lecture by UWSOM
April 7, 2020
Reading of the play "Myra" about the first female lawyer, starring Supreme Court Justice Debra Stephens - time and location TBA
March 16-30, 2020
Traveling Library of Congress Exhibit on the 19th Amendment Centennial in Chastek Law Library during library hours.
March 18, 2020
Women Lead Spokane Conference - Registration Required
March TBA, 2020
Experiences of Woman at Gonzaga Exhibit in Foley Library
February 28, 2020
STEM Female Faculty Panel at 12noon to 1pm in HUB Commons - lunch provided to student attendees
February 28, 2020
Discantus Treble Chorus at 7:30pm featuring guest composer Melissa Dunphy in the Myrtle Woldson Performing Arts Center free (tickets required)
Historical women of color display in lobby.
February 21-22, 2020
Women Lead Napa Valley Conference - Registration Required
February 14, 2020
Chastek Library Film Screening of Ida B. Wells: A Passion for Justice at 3-4pm in the Law School
February 11, 2020
The Power of the Black Vote at 5:30-7:00pm in Hemmingson Auditorium
February to May, 2020
Nursing celebrates the International Year of the Nurse and Midwife with monthly quiz contests and activities
-Lauren Underwood lecture (First African American midwife to serve in Congress)
-Inspiration banners in Tilford Lobby
-Book feature on the history of nursing at GU
January 18 to May 9, 2020
Prints by Women exhibit in Jundt Museum Arcade Gallery
January 20, 2020
Lifting as we Climb - A Teach-in on Voter's Rights and Suppression at 12:30-2pm in Hemmingson Ballroom
November 25. 2019
Screening of Iron Jawed Angels film at 5:30pm in Law School Barbieri Court Room
November 11, 2019 - Veteran's Day
Women of Suffrage at 6-8pm in Hemmingson Ballroom (talk link requires GU login) featuring historian and activist Dr. Sally Roesch-Wagner

November 5, 2019 - VOTE TODAY!
Compensation Negotiation Workshop at 12noon in Hemmingson Auditoriium hosted by the School of Leadership Studies
Women in Commercial Real Estate at 5pm to 7pm in Jepson Center Wolff Auditorium hosted by the School of Business Administration (refreshments provided)
October 27, 2019
Women's Retreat by Mission & Ministry at Bozarth Mansion from 11:30am to 5pm
October 28, 2019
Female Faculty in STEM Lunch and Learn Series in Humanities 153 from 12noon to 1pm
October 29, 2019
Logan Campus Kitchens Dinner with League of Women Voters at 6pm - Logan Elementary
October 31, 2019
Women Lead Fall Luncheon - 11:30am to 1:30pm - Tickets Required
October 7-13, 2019
Taking Up Space Exhibit in Hemmingson Rotunda by DICE (7am-11pm daily)
October 17, 2019
Ethics Panel - Wage Gap for Women in Jepson Wolff Auditorium from 5:30 to 6:30pm- RSVP Recommended
September 20, 2019
2nd Annual Center for Civil and Human Rights Conference
September 17, 2019
Voter Education and Registration Drive on Constitution Day in Hemmingson 10am - 3pm
September 7, 2019
Gonzaga-Logan Neighborhood Block Party featuring voter education and registration resources. 12noon to 3pm at St. Aloysius School.
July 29, 2019
Washington State Women's Commission - Spokane Plenary Meeting and Outreach Event
11am-5pm Foley Library Greenan Board Room (meeting)
5-6:30pm Humanities Building 2nd Floor (reception)