Location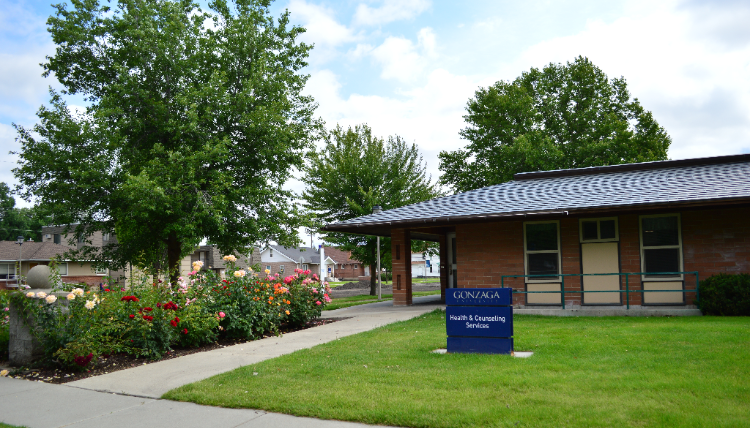 We are located on campus at 704 East Sharp (on the corner of Sharp and Dakota). We are two blocks north of the John J. Hemmingson Center.
Mailing Address
502 E. Boone Ave.
AD 106
Spokane, WA 99258
Contact Information
Phone: 509-313-4052
Fax: 509-313-5516
Email: StudentHealth@gonzaga.edu
After Hours Care Resources
For Campus Emergencies:
Contact Gonzaga Campus Security & Public Safety at 509-313-2222.
For after hours assistance with mental health:
24/7 Regional Behavioral Health Crisis Line at 1-877-266-1818 (toll free)
24 hours a day, 365 days a year StudentLinc at 1-888-893-5462 (toll free)
24 horas al dia, los 365 dias del ano, asistencia confidencial, StudentLinc 1-888-893-5462
For after hours medical care consider one of the following (reminder take your insurance information):
Visit a local Urgent Care Center
Visit a local Emergency Room
Local Urgent Care Centers
Providence Urgent Care - 421 S. Division, Spokane WA 99202 (509) 474-2100
MultiCare Rockwood Urgent Care- 400 E Fifth Ave, Spokane WA 99202 (509) 838-2531
Concentra Urgent Care - 2005 E 29th, Spokane WA 99203 (509) 747-0770
Local Emergency Departments
Sacred Heart Emergency Dept, 101 W. 8th Ave., Spokane WA 99240, (509) 474-3131
Holy Family Emergency Dept, 5633 N. Lidgerwood St., Spokane WA 99208, (509) 482-0111
Deaconess Hospital Emergency Dept, 800 W. 5th, Spokane WA 99204, (509) 473-5800