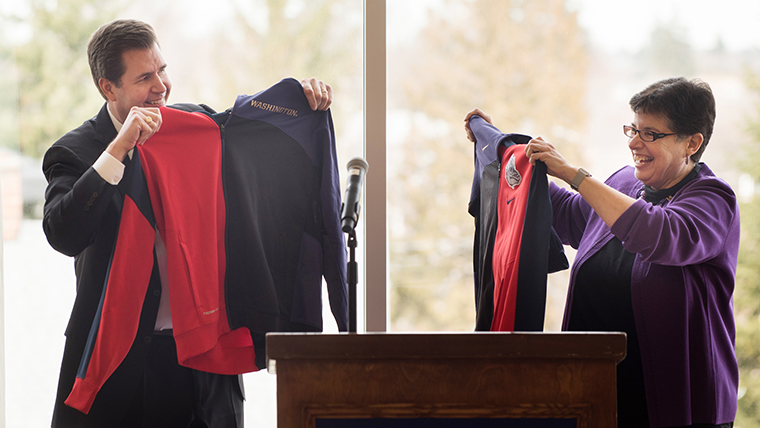 Growing Health Sciences in Spokane
The long-standing educational excellence of each institution creates a powerful platform to grow health sciences in Spokane.
Gonzaga University
Gonzaga's strong undergraduate programs in biology, chemistry, physics, human physiology, nursing and mathematics are taught by respected faculty renowned for their teaching effectiveness

In 2013, Gonzaga established the School of Nursing and Human Physiology to support the growth of health professions in the Inland Northwest and beyond. The Department of Nursing (1978) offers undergraduate, graduate and doctoral-level programs, including the nationally recognized Providence Sacred Heart Medical Center / Gonzaga University Nurse Anesthesia Program. Graduates of the baccalaureate-level human physiology program (2008) have pursued a variety of healthcare careers and graduate education.

Undergraduate research opportunities in the health professions have deepened and expanded through a series of successful grants from the Howard Hughes Medical Institute and the Murdock Charitable Trust.
University of Washington School of Medicine
The University of Washington serves everyone, in every corner of the state.

For the past 25 years, University of Washington School of Medicine has held the No. 1 ranking in the nation in both family medicine and rural medicine training in U.S. News & World Report's Best Graduate Schools. UWSOM has also held the No. 1 ranking in primary care training for close to 50 years.

In 2015, the American Medical Association named UWSOM one of 20 medical schools to join its Accelerating Change in Medical Education Consortium to create the "medical school of the future."

More than 500 faculty in 18 communities through eastern Washington serve as educators and mentors for UW medical students.
Together
The partnership aligns the core mission and values UW and Gonzaga share – preparing students for lives of leadership and service to the greater good. It builds on the educational excellence of each institution in the health sciences.

The approach re-imagines how public/private partnership can work effectively. The universities are working together to explore best strategies to expand the UW School of Medicine's medical education programs that have successfully served Spokane and Eastern Washington for more than 45 years.