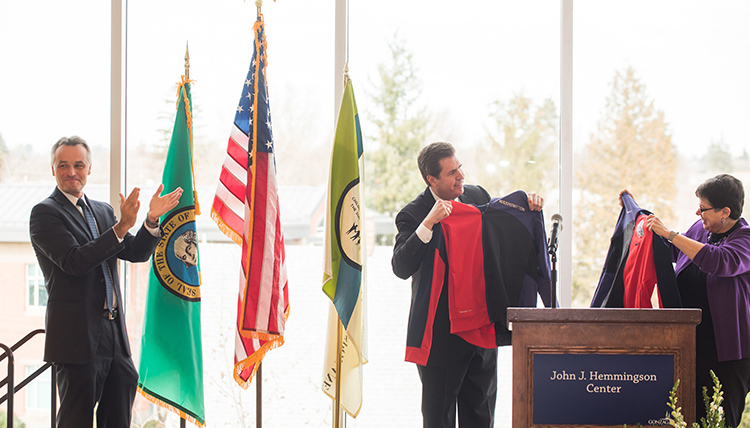 History & Highlights of the Health Partnership
Fall 2014
University of Washington and Washington State University announced the dissolution of their 40-year-old WWAMI affiliation. WSU indicates it will pursue creation of a second medical school in Washington. UW approaches Gonzaga to be its WWAMI partner in Spokane. Partnerships with local higher education institutions are a core strategy in the WWAMI program throughout the Pacific Northwest.
December 1, 2014
UW and Gonzaga announce their intent to formally explore the opportunity to partner to sustain and grow the WWAMI program in Spokane.
Winter-Spring-Summer 2015
Gonzaga President Thayne McCulloh holds a series of listening sessions with community and regional leaders in Spokane, gathering perspectives and priorities from health care, business, education, elected and civic leaders about the proposed partnership. Partnership talks begin in earnest.
February 24, 2016
UW President Ana Mari Cauce and Gonzaga President Thayne McCulloh jointly announce an agreement had been reached.
May 2, 2016
UW announces its largest class ever is enrolled for Spokane; 60 first-year students will join 40 second-year students on Gonzaga's campus in the fall.
2016
UW faculty and staff begin moving into the Schoenberg Center on Gonzaga's campus in June.
The first cohort of medical students arrive on the Gonzaga campus for the start of the semester in August.
First iteration of research task force formed to advance the partnerships commitment to define and pursue opportunities for research collaboration, to include biomedical and health-related research, which may involve a larger alliance of Spokane-based researchers.
In December, an 11-member Community Advisory Board was appointed by GU President Thayne McCulloh and UW President Ana Mari Cauce to provide advice, support, and feedback towards the continued development of the partnership and its foundational commitments to (1) educate the next generation of health care professionals and (2) enhance and expand health-related research taking place within our community.
2017
UW Co-Motion Labs expand to Spokane in January connecting start-up efforts on the east and west side of the state.
First Next Generation Medicine Lecture is held featuring Dr. Nora Disis on "Vaccines to End Cancer."
February 2017: Darryl K. Potyk, MD, was appointed Chief of Medical Education for the UW-GU Regional Health Partnership.
2018
UW School of Medicine-GU Summer Research Program is established with 5 undergraduates from Gonzaga hosted by researchers in the UW School of Medicine.
First joint Partnership research poster session held, featuring second-year medical students reporting on studies conducted throughout the region, and GU students sharing information on their summer research experiences.
UW's CoMotion Spokane begins work with GU's Hogan Center for Entrepreneurship, and its New Venture Lab.
In June, Spokane becomes top pick within the WWAMI region for UW School of Medicine class.
Next Generation Medicine lectures feature Dr. David Tauben on "The Opioid Epidemic," and Dr. Matt Kaeberlein on "Dogs and the Science of Human Aging."
2019
Second year of UW-GU Summer Research Program, with 5 GU undergrads placed in research labs at the UW School of Medicine.
Second Partnership research poster session held.
Grant awarded from Spokane County Medical Society to launch Leadership Pathway ($7,500).
In September, partners announce an agreement with McKinstry to develop a new facility that will become home to the University of Washington School of Medicine-Gonzaga University Health Partnership. Faculty and staff engage with architects and planners around space needs, design elements, and the site plan Long-term lease agreements are signed.
UW and GU host Association of American Medical College's (AAMC) Group on Regional Medical Campuses spring meeting in the Hemmingson Center.
Next Generation Medicine lectures feature Christine MacDonald, Ph.D., on "The Invisible Wounds of War" and Kristi Ebi, Ph.D., on "Climate Change and Your Health."
2020
Discussions with UW's CoMotion Lab result in a collaborative grant proposal (still outstanding).
UW College of Nursing receives funding from Premera to expand nurse practitioner placements into rural settings. GU Nursing is collaborating in this project.
UW/GU professors jointly teach GU undergraduates in neurophysiology/ neuroanatomy.
Next Generation Medicine lecture features Anne Browning, Ph.D., on "Wellbeing and Resilience During COVID-19."