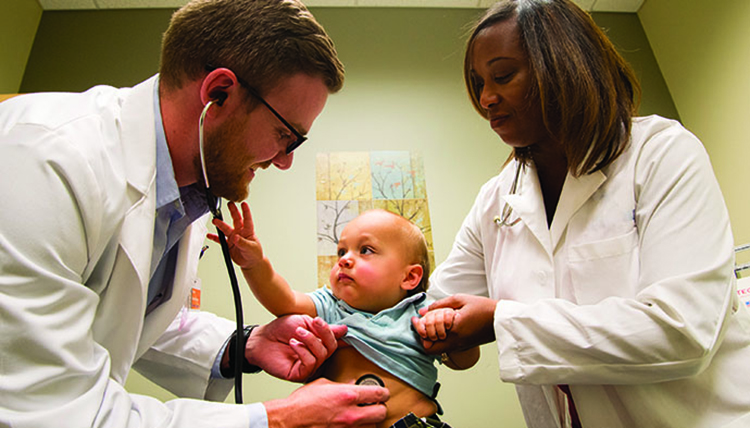 Two key components of the partnership
There are two key components to the UW School Of Medicine – Gonzaga University Health Partnership:
Expanding Medical Education
The UW School of Medicine and Gonzaga University are partnering to present the Foundations Phase – the first 18 months of medical school – on Gonzaga's campus in Spokane. Foundations curricula covers basic science training with robust clinical skills training. From the start of medical school, students work in groups with a mentor in inpatient settings, and are matched with a primary care physician in the community for bi-weekly clinical experiences.
The entering class of 2016 on the GU campus is the largest-ever incoming class of UW medical students in Spokane. Sixty first-year students, 20 more than in 2015, join 40 second-year students, as well as hundreds of third- and fourth-year UW School of Medicine students who are doing clinical rotations in physicians' practices in Spokane and throughout WWAMI.
This increase in class size from 40 to 60 medical students in Spokane is a result of new funding from the Washington State Legislature to the UW School of Medicine. The overwhelming majority of the 60 students listed Spokane as their top location in applying to the UW School of Medicine.
Gonzaga faculty are teaching alongside UW School of Medicine colleagues in the program's inaugural year at GU.
Opening Doors of Research & Commercialization
The Health Partnership is committed to advancing health-related research, entrepreneurship and inter-professional health sciences teaching in Spokane. The partnership is defining and pursuing opportunities for research collaboration, including biomedical and health-related research that will involve larger alliances of Spokane-based researchers.
UW and GU are developing high-impact applied initiatives that have the potential to lead to commercialization, product development, new services, therapies and diagnostics that can generate new companies and jobs.
A task force will be appointed to focus on exploring pathways for joint basic science, clinical and translation research projects and to develop resources available for research administration and technology transfer.
Gonzaga has hired an experienced research and commercialization specialist to advance these efforts, Courtney Law, Ph.D. Law will lead Gonzaga's efforts within the partnership and, in addition to guiding the research initiative, will advance the collaborative effort to create new academic facilities that will support the partnership's priorities focused on improving the health of communities and the vitality of the region.
Read our Reports to the Community