Summer is a great time to get ahead and enroll in summer courses. If you are an incoming freshman that would like to take courses this summer you can see what is available on Zagweb. Academic Advisors are available to help you put together a summer schedule.
If you have any additional questions, please contact us directly via email or call 509.313.4247.
The Gonzaga University Summer Term (GUST) is a 6-week program that offers highly motivated students an opportunity to get a head start on your Gonzaga degree, meet other students, network with professors, and learn valuable college survival skills through focused study in a fun summer setting. No matter your major, GUST offers a wide variety of courses to choose from as you begin your college career.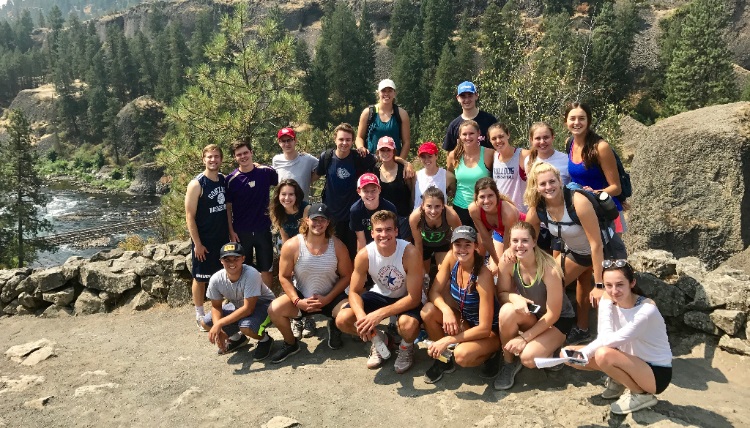 What will GUST do for me?
Gonzaga students who intend to graduate in four years need to plan their coursework carefully. Because of credit-hour requirements for GU degrees, all undergraduates should plan on taking an average of 16 credits each semester. Some majors require an average of 17-18 credits per semester.
GUST provides structure and support for you while enrolled in first-year courses, so you can get ahead and potentially lighten your course load during your first full academic year.

What's involved?

As a GUST student, you'll live on-campus and take courses during our regularly scheduled Summer Session II. You will receive academic support services to help you in choosing your courses for both summer session and the fall term. All GUST students live on campus in one of our residence halls with other GUST students and participate in programming aimed at building community and fostering relationships with those here on campus during the summer. If you are from the Spokane area, you may opt to live at home and a reduced fee structure is available for this type of special circumstance.

What courses are available?

Courses offered include, but are not limited to, English, Speech, and History, as well as Philosophy courses. A Strategy of College Course (UNIV 115) is also offered and is designed to ease the transition from high school to the college learning environment. Students get individualized academic advising as they explore the structure of college academic work, learning styles, effective note-taking, test-taking and other study strategies, as well as hands-on academic planning.
What are the advantages of GUST?
GUST students have a great head start on their college careers
Study in very small, very intense classes in a supportive and fun environment
Network with faculty and administrators, as well as fellow students early in their academic careers
Compose/revise course schedules for the fall semester on-site
Have an opportunity to attend study table and work sessions with other motivated students
Learn valuable college survival skills
Receive individualized academic advising
Plan in advance for studies abroad, teacher certification, double majors and other scheduling complexities
Learn about campus and community resources, including employment and service opportunities, EARLY!
What does it cost?
The cost for GUST will include a reduced tuition rate, housing, basic summer access meal plan, programming fees, the optional Martin Athletic Centre usage fee, and other student account fees. The program cost will not include additional charges for lab fees, books, supplies, travel or incidental expenses incurred by the student in transit or while on campus.
How can I get more information on GUST?
Send an email to LearningStrategies@gonzaga.edu for more information. You may also contact the GUST program at (509) 313-4137. We look forward to seeing with you this summer!