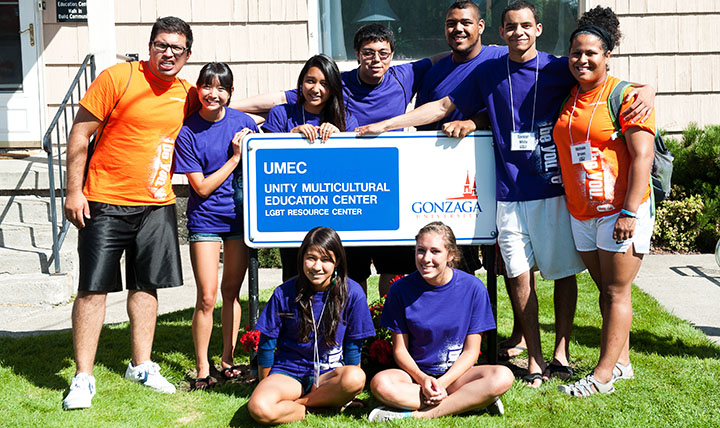 Diversity and Inclusion resources
University Multicultural Education Center (UMEC)
The Unity House was founded in 1997 to meet the needs of students who felt marginalized on campus. The initiative to establish the department was motivated and led by a student leader who strongly advocated for positive change and transformation.
Later renamed, Unity Multicultural Education Center (UMEC), the purpose of the center continues to support the academic and co-curricular experiences of African, Latina/o, Asian, and Native American students at Gonzaga University. Additionally, the focus has expanded to continue to meet the needs of a fluid demographic and provide the Gonzaga community with educational and social opportunities to raise cultural awareness. UMEC welcomes all to participate in upcoming events and programs in an effort to collectively learn and actively promote social justice.
LGBT Resource Center
Connect with LGBT resources at Gonzaga University, including the LGBT Resource Center, which is inspired and guided by the university mission and values of faith, service, justice, leadership, and ethics. It aims to serve as a center for supporting community, networking, research, and education related to concerns shared by students, staff, and faculty of diverse sexual orientations, gender identities, and expressions.
Center for Global Engagement
The Center for Global Engagement acts as a resource for both international students and domestic students, alike. The Center offers TESOL programs, international student and scholar services, and information on study abroad opportunities.
Harassment and Discrimination Incident Report Form
Please report if you feel you have experienced, heard or witnessed an incident of discrimination-related harassment. You can use these resources to make an anonymous report or you may attach your name, either as the person who experienced the incident or a third party.
Gonzaga University will not tolerate harassment and discrimination based on race, gender, sex, religion, national origin, ethnicity, age sexual orientation, disability or any other characteristic or trait protected by law. The University's harassment and discrimination policies and procedures are designed to stop discriminatory harassment, prevent its recurrence, and address its effects.