The First Year Experience Programs (FYEP) staff believes each Gonzaga University student deserves to have a college experience that instills a love for their alma mater. To create an environment that promotes this and student success, our staff provides key programs and activities focused on orientation, transition, and retention. These include intentional new student orientation and welcome programs, first-year student programs, and communications.
Through these key activities, our staff aspires to create an environment where all students feel empowered by their unique talents and identities, find a sense of belonging and support, and have positive social and emotional experiences that lead to personal growth and academic excellence. We aim to inspire a shared vision with students, their families, campus partners, and other agents who want to foster student success.
Meet our staff below.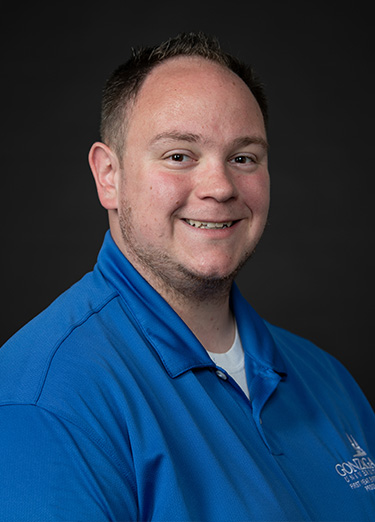 Justin (he, him, his) is a first generation college student from Pennsylvania and has been at Gonzaga since June 2018. Justin earned a Master of Science degree in Higher Education Counseling & Student Affairs from West Chester University of Pennsylvania and a Bachelor of Science degree in Marketing from DeSales University. Prior to Gonzaga, Justin worked at Lycoming College as the Residential Life & First Year Programs Coordinator.
In his current role, he manages all office programs and initiatives, as well as overseeing the development and training of over 200 student leaders annually across all programs.
Justin's passion is helping students through their collegiate transition into becoming positive members of society while being advocates for themselves and all those around them. In his free time, Justin loves to workout at Orangetheory Fitness, try new restaurants, travel, and spend time with his family and friends.
Hannah Ackerman '23 - Student Leader GUide
Sophomore Accounting Major
Covington, Washington
Tara Phung '22 - Student Leader Guide
Junior Business Administration Major
Spokane, Washington
Kate Anderson '24 - Program GUide
Freshman Business Administration Major
Ojai, California
Madden Henry ' 23 - Program GUide
Sophomore Business Administration Major
Bakersfield, California
Photos Coming Soon!
Tiffany Abrams '24
Freshman Business Law and Economics Major
Spokane, Washington
Santiago Calvillo '24
Freshman Computer Science Major
Torreón, Mexico
Lexi Horton '22
Junior Sport Management Major
Spokane, Washington
Brooke Lee '21
Senior Psychology Major
Lake Tapps, Washington
Gracie Pelton ' 23
Sophomore Psychology and Public Relations Major
Olympia, Washington
Photos Coming Soon!