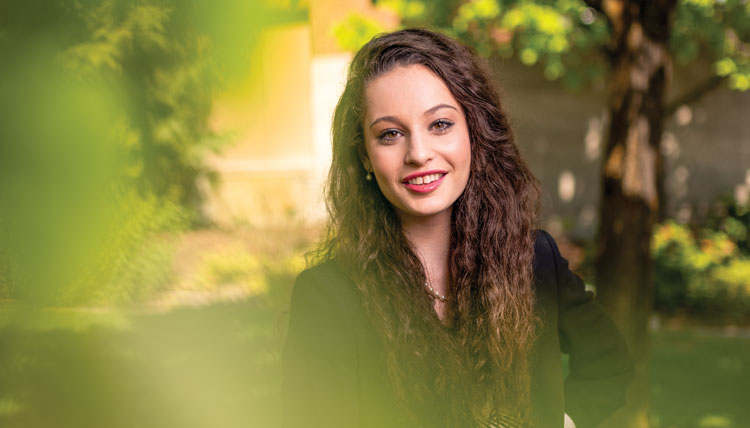 When Norann Beidas came to Gonzaga Law in the winter of 2016, she was looking for a change. She was in the middle of her 1L year at Golden Gate University School of Law in San Francisco but had an "inexplicably overwhelming feeling that Gonzaga was where I belonged. Gonzaga Law has been extremely enriching and rewarding," she said, "because it opens so many doors in the legal community for its students."

When she began her second year at Gonzaga, she jumped at the chance to become a clinic intern. During the fall of her 2L year, she was clinical intern with the Health and Justice Clinic. During the spring semester, she joined the General Practice/ Indian Law Clinic as well.

In 2018, she signed up for the Native American Law Students Association (NALSA) Moot Court team where she and her partner became the first Gonzaga Law team to make it to the Elite Eight in the National NALSA competition. With her and her partner ranked eighth heading into the final rounds, Beidas placed second as Best Spoken Advocate.

For her externship, Beidas took a position with the Spokane firm Crary, Clark, Domanico, & Chuang, PS, which specializes in criminal defense. Beidas felt that she had found her calling. "I developed my love and passion for criminal defense," she said. "Through Gonzaga's externship program I received mentorship and guidance for how to succeed as a practicing lawyer." Beidas handled a range of tasks in representing the firm's clients, including researching and writing briefs while working with her supervising attorney, alumnus Dean Chuang (J.D., '06). Because of her work and knowledge in one particular case, Beidas joined Chuang at the counsel table when he argued the case on appeal before the Washington State Supreme Court.

After graduation, Beidas will be working as an associate attorney for Roberts Freebourn, PLLC, which specializes in litigation for criminal, personal injury, and employment cases.