Highlighting our amazing alumni allows us to share their stories. How have their journeys at Gonzaga Law effected their professional careers?
April 2019 - Anna Kecskes ('15)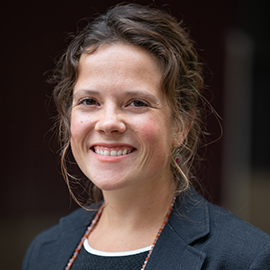 Anna Kecskes is currently an Associate Attorney at UDA Law Firm, P.C. in Helena, MT.
Tell us a little about your journey to law school. What made you want to pursue a career in legal services?

After finishing my undergraduate degree, I took a full-time job working as a staff member at a children's psychiatric hospital and worked there for over a year. It was a challenging job, but I learned so much about mental illness, and the challenges that my patients faced and would continue to struggle with their entire lives. I also learned very quickly that if I wanted to be more effective and to be taken seriously, I was going to have to go back to school. I had been toying with the idea of law school for a few years, and decided to pursue it in order to be a more effective advocate for people.

What do you enjoy most about your profession?

I love learning whole new areas of law or areas of study with a new case; every case is different and presents its own challenges. As someone who doesn't like to be idle, I love that I am never bored in this profession.
What do you find challenging about working in the legal profession?

This list could go on for a while; the legal profession is not an easy one. I was surprised to find once I started practice that ethical conundrums occur more frequently than you would think. We take Professional Responsibilities in law school, and we all have to pass the MPRE to be licensed. I remember thinking that the Rules of Professional Conduct were very straightforward and that most of them would never really be an issue. In reality, I have found that ethical questions come up pretty frequently in practice, and unfortunately the Rules don't always provide an on-point answer for the questions. I've found that having a solid mentor or resources to help you navigate difficult questions is a must.

What piece of advice would you give to a recent graduate just starting out?

Have confidence in yourself, but be willing to recognize that you're still learning and always will be. Be willing to try new things, even things that you thought you'd hate. The profession of "law" is huge and reaches to some crazy areas, and you might just find yourself enjoying an area that you never thought you'd like.

Also, as you're starting out, remember that you're making your own reputation and shaping your own experience as an attorney. Once you graduate from law school and pass the bar, whether you got a B+ in Property or your class rank becomes pretty distant. Focus on your practice and the place that you make for yourself in your community.
Anything else you'd like to tell us about your experience at Gonzaga Law?

Take advantage of those required internships and clinics; you're "required" to do them, but be conscientious about what you chose to do. The experience is extremely valuable; hopefully you find something that you legitimately enjoy doing. If nothing else, if you spend a semester doing something that you don't like, you at least know that you don't want to practice that in the future.
Interested in being featured on the Gonzaga Law Alumni Newsletter? Email Annie Yeend, Marketing Communications Coordinator, to learn more.