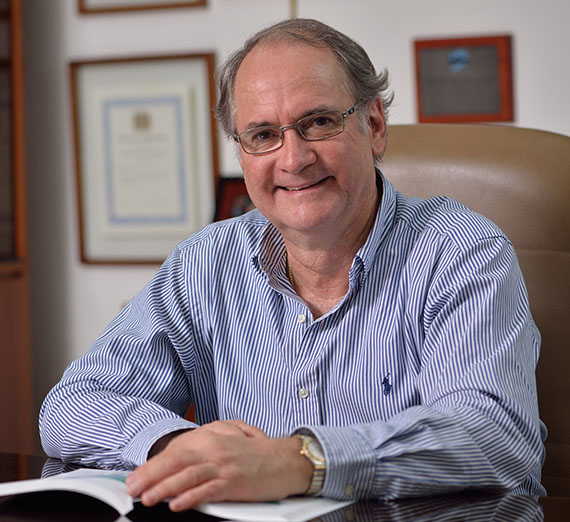 Juan Gers, the president and founder of GERS Consulting Engineers, has more than 40 years' experience designing and analyzing transmission and distribution systems. He has shared his consulting activities with academic work in several universities in the American Continent and has coordinated research activities in different fields of protections and power systems.


His textbooks, Protection of Electricity Distribution Networks and Distribution System Analysis and Automation, both published by the IET of UK, are used at universities around the globe.
Dr. Gers is a Senior Member of the IEEE where he enrolled more than 25 years ago and is member of the J Subcommittee of the Power System Relaying Committee-PSRC. He is also a chartered member of the IET for more than 30 years.
He has more than forty peer-reviewed publications related to power system research. His award-winning company has completed power-related engineering projects in more than 45 countries and was recently selected for the ARPA-E Grid Optimization Challenge.
Program Assistant Director, Jilliene McKinstry, notes, "Juan's courses are among our most difficult and most popular. Students always give him high marks for being such an outstanding teacher and mentor. We are very fortunate to have him!"
Dr. Gers teaches the TADP 641 Power System Analysis, TADP 545 System Protection and TADP 553 System Automation courses as well as acting as Distribution faculty advisor for T&D master's students.
Research
"Key features for Interconnection of Renewable Energy Resources in the Electric Power System". PAC World Conference 2019 to be held 17-21 June 2019 in Glasgow, Scotland, UK.
"Protective relay setting criteria considering DERs and distributed automation" presented in the 13th IET International Conference on Developments in Power System Protection, Edinburgh, Scotland, UK, March 2016 (Co-authored with Carlo Viggiano).
'Protective Relay Setting Considerations of DERs", presented in the PAC World Protective Relay Setting Considerations of DERs, Glasgow, Scotland, UK , July 2015 (Co-authored with Carlo Viggiano).
'Arc Flash Protection,' TECSUP IV International Symposium of Energy, Lima Peru, August 2010
'The Education and Training of Future Protection Engineers: Challenges, Opportunities, and Solutions', IEEE TRANSACTIONS ON POWER DELIVERY, VOL. 24, NO. 2, APRIL 2009 (Co-authored with C-6 Working Group Members of the Power System Relaying Committee).
"Operation simulation of out of step relays using Comtrade files and transient stability analysis", IX Simposyum Iberoamerican on Protection of Power Systems, Monterrey, México, May 2008.
'Theory and design or harmonic filters for electrical systems', Investigación aplicada e innovación, Tecsup Primer Semestre 2008, Lima-Peru.
'Setting and Testing of Power Swing Blocking and Out of Step Relays Considering Transient Stability Conditions', IET Conference on Protections, Glasgow U.K., March 2008 (Co-authored with James Ariza).
Implementation of transfer trip schemes in numerical overcurrent relays. Vol. 13 no. 1, 2005 / Energía y Computación
'Setting of Power Swing Blocking and Out Step Relays Considering Transient Stability Conditions', IEEE-ANDESCON Meeting, Bogotá, August 2003.
"Feeder Reconfiguration for losses reduction in distribution systems". 29 TH Universities power engineering conference 1994. University College de Galway, Irlanda, September 14-16, 1994.
Other Courses Taught
'Distribution System Automation' - Pennsylvania State University - Annual course given in November each year since 2001 in Monroeville, PA Campus
'Distribution System Automation and Analysis' - Pennsylvania State University - Course given to PEA engineers in Thailand in 2002 and 2010
Generator Protection Setting Criteria, TECSUP Course, Arequipa Peru, May 2006
Generator Protection Fundamentals and Settings, Course on Protections for PEMEX, Tula Mexico, February 2010
Setting of Power Swing Blocking & Out 0f Step Relays Considering Transient Stability Conditions, MEGGER Technical Seminar, Dallas TX, October 2006
Protection of Distribution Systems, TECSUP Course, Lima Peru, August 2007
Protection of Distribution Systems, Beckwith Relay School, Clearwater FL, August 2010
Gers, J. & Holmes, E. (2011, 3rd Ed.) Protection of Electricity Distribution Networks. Institute of Engineering & Technology, Herts, UK. 1998, 2004
Gers, J., & Ariza, J. Setting and Testing of Power Swing Blocking and Out of Step Relays Considering Transient Stability Conditions, IET Conference on Protections, Glasgow U.K., March 2008