Top 20 Gonzaga Stories of 2020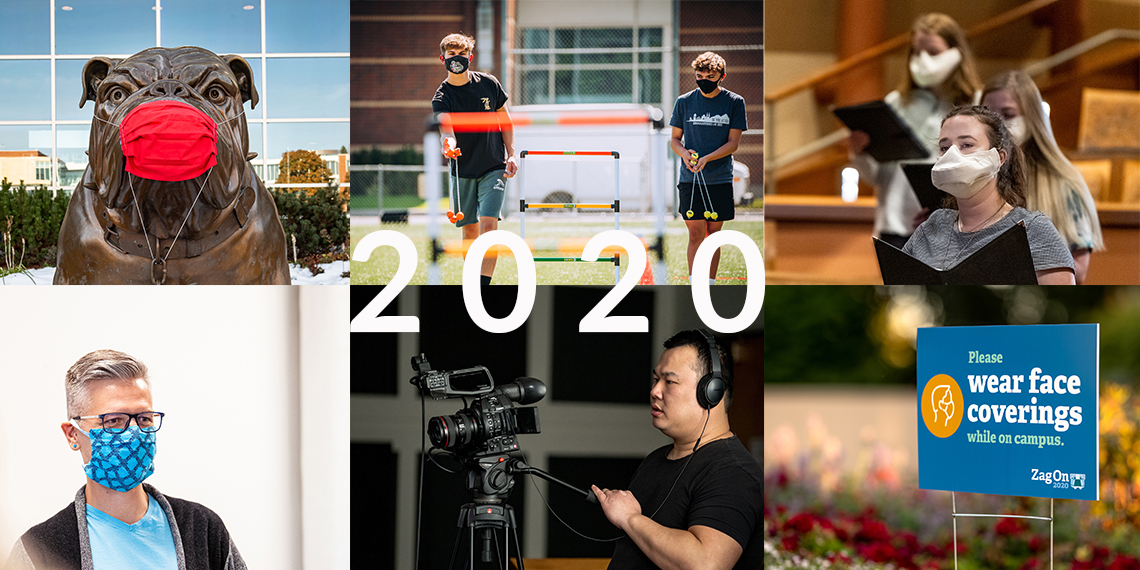 Many people are quite ready to leave 2020 behind, but while the iconic year seems tarnished with turmoil, it held great lessons and moments of connection as well. Here's a look at the top 20 Gonzaga stories of the year, as determined by the number of visits to pieces published in news and stories on gonzaga.edu, according to Google Analytics.
20. In April, Gonzaga announced its preliminary plans for resuming in-person classes in the fall, while following safety precautions related to COVID-19.
19. Welcoming the Class of 2024, most diverse and academically gifted of all
18. Dr. Catherine Zeisner, professor of education, is the most popular principal/educator on TikTok
17. Conde Nast confirmed what Zags already know: Gonzaga is among the most beautiful campuses in America
16. Tips for surviving the final semester of college while enduring COVID-19 impacts: Advice from Sarah Roberts ('20).
15. Top Notch: Family Nurse Practitioner program ranks 9th in the nation by U.S. News & World Report.
14. The College of Arts and Sciences welcomes a new dean: Annmarie Cano
13. New Vice Provost of Student Affairs Kent Porterfield joins Gonzaga amid pandemic planning
12. Ranked as a national university (up from a regional university) for the first time in 2019, Gonzaga places in the top 20% according to U.S. News & World Report
11. Gonzaga announced its plans for the fall semester amid COVID-19 precautions, offering remote and hybrid academic options
10. When you think happy news from Zag Nation, it's likely basketball or Zag weddings. Here's the listing of nuptials from the spring issue of Gonzaga Magazine.
9. The May 25 killing of George Floyd spurred nationwide conversation about racism in America. GU leaders provided this statement.
8. Over the course of the 19th Amendment's centennial celebration, Gonzaga shared stories of women's suffrage, including this one on Black Women in the Suffrage Movement.
7. The UW-GU Health Partnership celebrated the groundbreaking of a new facility for medical education in Spokane.
6. Just two weeks following the decision not to return students to campus after spring break, Gonzaga's Institutional Design and Delivery team was helping faculty complete the semester with 100% remote (online) delivery.
5. The first of many tough decisions following the outbreak of COVID-19 was the suspension of Gonzaga in Florence and returning students from Italy safely.
4. In the heat of the 2020 presidential election, "The Electoral College: Questions and Answers" remained a popular story for months.
3. U.S. News and World Report ranked Gonzaga 80th in the country among schools in the "national university" category.
2. There was a "whole lotta love" given to the Class of 2020 this year, including this letter from a '17 grad to current seniors.
and ... (drumroll)
1. During basketball season, a very popular question for the internet is "Hey, Google, Where is Gonzaga?" and this story never fails to top the list of results.
Academics
Alumni
Arts & Culture
Careers & Outcomes
Diversity & Inclusion
Student Life
Academic Vice President
Alumni