Dr. Catherine Zeisner Uses Social Media to Learn & Entertain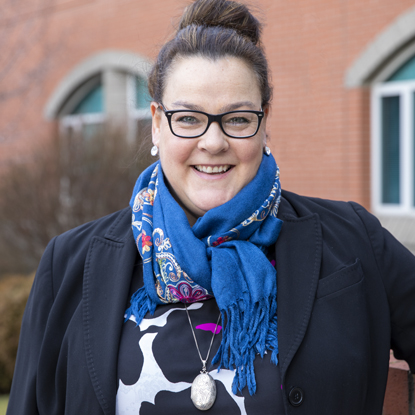 ---
(Updated October 14, 2021)
Have you ever wondered what it's like to be an elementary school teacher during recess? Gonzaga's Dr. Catherine Zeisner knows exactly what it's like and, thanks to her, now millions of people on the popular social media platform TikTok have a small taste of the hilarity that can ensue during these playtime breaks.
At the end of May, Zeisner posted a video on the platform parodying the life of elementary school teachers and principals during recess. Like many TikTok videos, it's shot selfie style while the subject acts out imaginary scenes. From telling kids multiple times to get out of the trees, to discussing line leader statuses, she makes light of it all. Her account has over 5.5 million hits and nearly 230,000 followers. In fact, both the video and her account are so popular that the Canadian Broadcasting Corporation wrote a story about them. You can watch the full video below: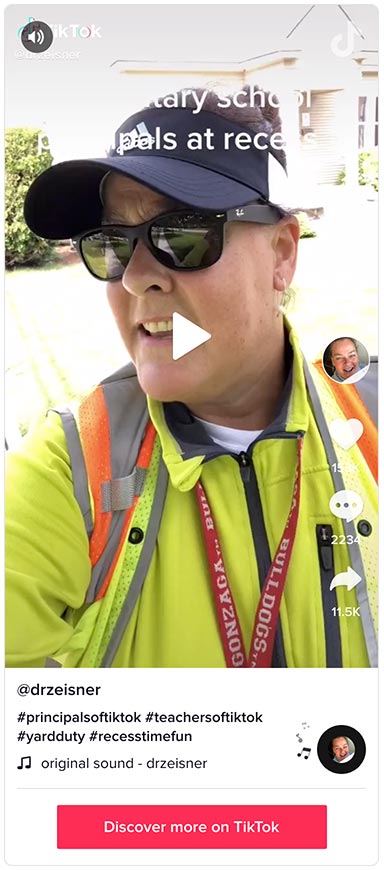 Before coming to Gonzaga, Zeisner taught and was a principal with the Thames Valley District School Board for 20 years in Ontario, Canada. She also had the opportunity to teach Classroom Management at Western University (also located in Ontario) for two years. Zeisner accepted a position at Gonzaga in 2018 and currently teaches masters and doctoral students in the Department of Educational Leadership and Administration (DELA).
It's not every day that you see college professors sharing their talents on social media platforms, but Zeisner says there's a reason she does it. "I always like to know what our students are interested in so I can speak their language and when I heard this was the new platform, I joined so that I could understand what they have been doing while in quarantine," said Zeisner.
During this unprecedented time for us all, teachers have been affected in unique ways. Because classes have not been able to be held in person, many teachers have had to learn how to work with their students through online means. "This is our opportunity to rethink how students are engaged, what active participation looks like, how home support effects learning, and if technology is an answer for all students," said Zeisner.
And being the great instructor that she is, Zeisner says that many things can be learned and brought into the classroom from her experiences. "The power of social media, being vulnerable, telling your truth, and having fun" are just a few things she says are important things to take away.
Although making entertaining videos may be a fun past time for her, Zeisner says her favorite thing about teaching is the students. "I learn a lot more from them then I will ever impart on them. Their experiences, opinions, world views, and passion drive me to become better for them."