Gonzaga Introduces Kent Porterfield, Ed.D., as Vice Provost of Student Affairs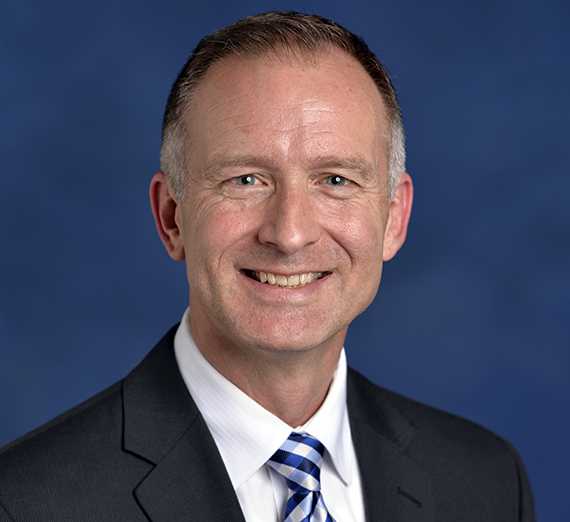 ---
SPOKANE, Wash. — Kent Porterfield, Ed.D., vice president for student development at St. Louis University from 2006-2019 and a senior fellow with the American College Personnel Association, has been named vice provost of student affairs at Gonzaga University, effective July 1.
Gonzaga Provost and Senior Vice President Deena J. González, Ph.D., said Porterfield's selection as the University's chief student affairs officer received the unanimous support of the search committee following a national search, chaired by Michelle Wheatley, D.Min., vice president for University Mission and Ministry. Porterfield will succeed Manuel Gómez, Ph.D., who has served as interim in the role this semester.
Provost González said Porterfield stood out among a group of outstanding candidates. A highly regarded student affairs professional and thought-leader who has been engaged in the Association of Jesuit Colleges and Universities (AJCU) network and the Jesuit Association of Student Personnel Administrators (JASPA), Porterfield understands Gonzaga's mission, values, and history, Provost González said.
Importantly, he brings deep experience to the partnerships at Gonzaga between Student Affairs and Academic Affairs.
"Praised as a consummate reader, an active ally and leader for diversity, equity, and inclusion, and a fair, judicious administrator, Dr. Porterfield brings published expertise in important areas including multicultural organizational development, leadership and advocacy, and student learning, among other important work," Provost González noted.
Reporting to Provost González, Porterfield will be responsible for the leadership, coordination, evaluation, administration and management of student services, programs and activities. As a member of the provost's senior management team and Provost Council, he will collaborate in planning, budgeting and policy-making.
As a first-generation college graduate, Porterfield said he has personally experienced the transformative power of higher education. His higher education career spans more than three decades, including more than two decades as a chief student affairs officer, and for nearly 14 years as vice president for student development at SLU. From 1997 to 2006, he served as vice president for student affairs at Northwest Missouri State University.
Porterfield expressed deep appreciation for Jesuit higher education and its emphasis on a rigorous liberal arts foundation, search for truth, commitment to community and social justice, and development of the whole person. Those factors, he said, serve as an excellent foundation for student formation.
He describes himself as a "practitioner-scholar" who believes that learning occurs in a variety of contexts and settings, and understands that what happens outside the classroom can significantly impact a student's life and contribute to a deeper understanding of the world.
"In my senior leadership roles, I have been committed to promoting diversity, equity, and a sense of belonging and mattering that is critical for learning," he said. "Students of differing cultural backgrounds and identities have unique needs that require our focused support and attention."
To accomplish this work, he said, student affairs practice must continue to evolve and adapt.
His work at SLU incorporated a multicultural organizational development approach in student affairs, addressing philosophy and values, recruitment and retention of a diverse staff, professional development, leadership and advocacy, policy development, student learning and intervention, physical environment, and assessment. These efforts were highlighted as exemplary practices in the book "Creating Multicultural Change on Campus" by Raechele L. Pope, Amy L. Reynolds and John A. Mueller (2014; Jossey-Bass). For the past six consecutive years, the publication Diverse Issues in Higher Education has recognized SLU as one of the most promising places to work in student affairs, based on criteria emphasizing diversity in staffing practices and work environment.
Porterfield said the protests in Ferguson, Missouri in fall 2014 had a significant impact on SLU and on him. He was part of a small group that developed a multi-point racial justice agreement, known as the Clocktower Accords, bringing a weeklong occupation on campus to a peaceful close.
In the years since, he has helped develop a new Diversity and Community Engagement Division that is led by SLU's chief diversity officer. Most recently, he has worked with a task force in developing a residentially based student success pilot program for first-year African American students.
Porterfield, who served as president of the American College Personnel Association (2014-15), said he is excited to begin work at Gonzaga, which he called a university with a global focus, where students come first and where student affairs is an exemplar of excellence.
"There is a strong commitment to inclusive excellence and social justice at Gonzaga," he noted. "Collaboration and teamwork are highly valued, and I pledge to lead and serve with others to foster the best opportunities for student learning, well-being and success, in ways that benefit all students."
Porterfield earned a doctorate in educational leadership and policy analysis from the University of Missouri, Columbia (2000); a master's degree in educational administration from Northwest Missouri State University (1992); and a bachelor's degree in history and physical education from NWMSU (1989). Porterfield and his wife Nicole have two daughters, Claire and Grace, who are students at Texas Christian University.

For more information or to arrange an interview, please contact Peter Tormey (509) 313-6132 or tormey@gonzaga.edu.