Gonzaga Once Again Ranked among Top 100 National Universities by U.S. News and World Report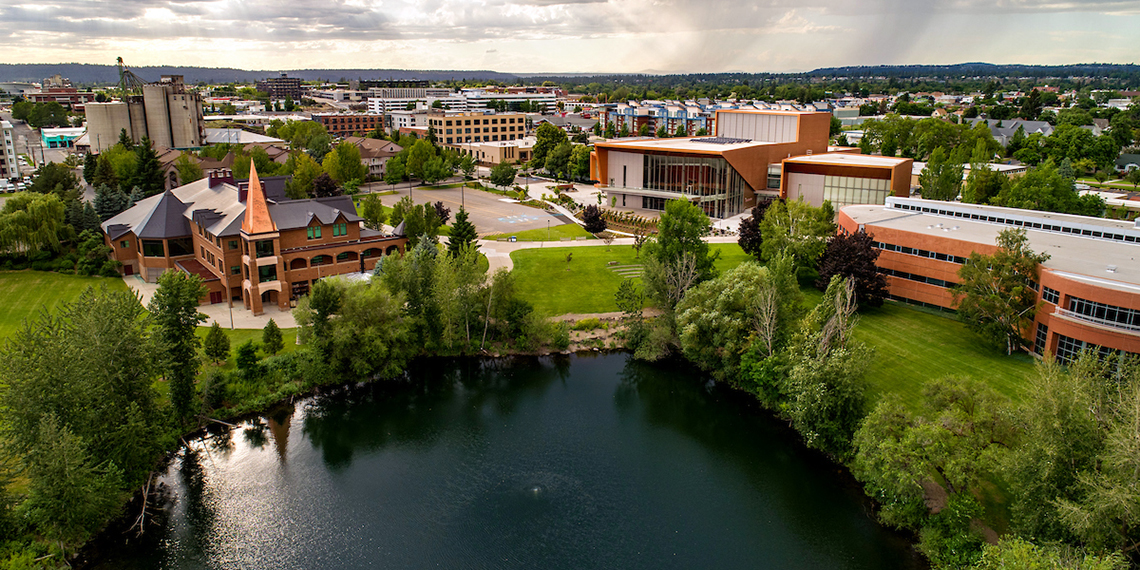 Top 5% for Best Undergraduate Teaching; Top 12% for Graduation and
Retention; Engineering, Undergraduate Business among Nation's Best
SPOKANE, Wash. — Gonzaga University is ranked in the top 21% — at 80th — in the "National University" category by U.S. News and World Report in its 2021 annual rankings released today. In addition, Gonzaga is ranked 18th in the category for best undergraduate teaching, placing it in the top 5%.
Gonzaga is ranked in the top 100 within the "National University" category for the second consecutive year. There are 389 National Universities (209 public, 176 private and four for-profit) nationwide ranging from Ivy League schools to major research institutions based on categories that the Carnegie Classification of Institutions of Higher Education establishes. National Universities offer a full range of undergraduate majors as well as master's and doctoral degrees, and emphasize faculty research or award professional practice doctorates.
With a first-year retention rate of 94% and a graduation rate of 85%, U.S. News ranks Gonzaga's graduation and retention in the top 12% of national universities at 47th.
Among its peers, Gonzaga is recognized in several U.S. News specialty rankings. Gonzaga's School of Engineering and Applied Science is ranked in the top 10% as the 23rd best engineering program nationwide (among the 220 non-doctorate engineering schools), while Gonzaga's undergraduate business program is ranked in the top 19% (No. 97) among the 511 programs accredited by the Association to Advance Collegiate Schools of Business. Gonzaga is also recognized among the top 13% for "best colleges for veterans" (No. 50).
The publication's methodology for the rankings involves multiple indicators: outcomes, 40% (includes graduation and retention rates, social mobility, and graduate indebtedness); faculty resources, 20%; expert opinion (academic reputation), 20%; financial resources, 10%; student excellence, 7%; alumni giving, 3%. The graduation rate indicates the average proportion of a graduating class earning a degree in six years or less. First-year retention is a measure of first-year students who entered the school in the fall and returned the following fall.
Gonzaga offers a diverse spectrum of undergraduate degrees and master's programs in addition to five doctoral-level degrees: a Ph.D. in Leadership Studies from the School of Leadership Studies, as well as four professional doctorates, including Juris Doctor from the School of Law; Doctor of Educational Leadership from the School of Education; Doctor of Nursing Practice and Doctor of Nurse Anesthesia Practice, both from the School of Nursing and Human Physiology.
"This ranking reflects Gonzaga's strong and growing national reputation as a leading comprehensive Catholic and Jesuit university. Despite the challenges of COVID-19, Gonzaga continues to attract and retain excellent students, provide exemplary academic experiences, and invest in its programs in myriad ways — including a transformative Integrated Science and Engineering Center scheduled to open on time next summer (2021), and a new 82,000-square-foot facility for the flourishing University of Washington School of Medicine-Gonzaga University Health Partnership scheduled to open summer 2022," said Gonzaga President Thayne McCulloh. "We at Gonzaga believe the work that we do is essential to the long-term success of our society and the communities of which we are a part. Gonzaga's focus upon the well-being and success of our students, faculty, and staff is unwavering. This commitment involves providing an education that will prepare our students to make important contributions in every aspect of human life, through fostering critical thought, creativity, resilience, spiritual growth and a passion for lifelong learning."
Gonzaga's focus on the support and intellectual development of the individual student is evidenced by its 11-to-1 student-to-faculty ratio. Only 1% of Gonzaga's classes include more than 50 students and 38% of Gonzaga's classes include fewer than 20 students (statistics as of fall 2019).
The rankings are available online www.usnews.com/colleges and will be in the print edition of the "Best Colleges 2021" guidebook.
Academics
Alumni
News Center