U.S. News Ranks Gonzaga's Graduate Accounting & MBA Programs among Nation's Best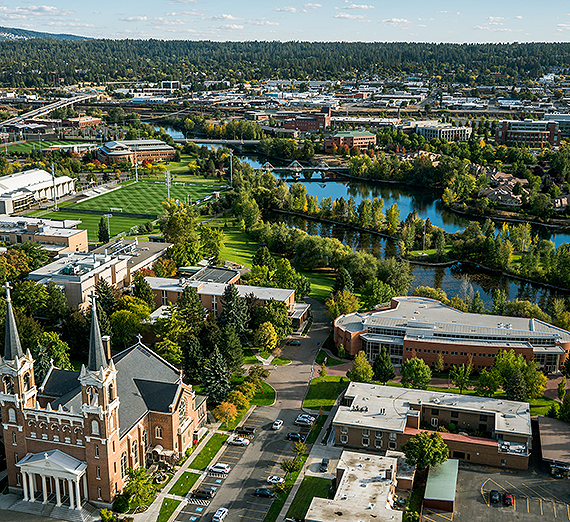 ---
Graduate Accounting No. 25; Part-Time MBA No. 55
SPOKANE, Wash. — U.S. News & World Report ranks Gonzaga University's Graduate Accounting program the 25th best (tie) in the nation. In its rankings, released today, the publication also ranks Gonzaga's Part-Time MBA program No. 55 (tie) in the nation.
The rankings are published at U.S. News & World Report's 2021 edition of Best Graduate Schools.
Graduate Accounting
The Graduate Accounting program ranking is a reflection of the Gonzaga Master of Accountancy (MAcc) and Master of Science in Taxation (MSTax) programs, which currently enroll approximately 75 students.
"We are honored to be recognized as one of the best graduate accounting programs in the country for the ninth time in the last eleven years. This persistent recognition, combined with our students' outstanding performance on the CPA exam, is a testament to our remarkable students and faculty," said Gary Weber, Ph.D., director of Graduate Accounting Programs. "This ranking also reflects our strong reputation with peer institutions throughout the country."
The Gonzaga accounting programs are separately accredited by the Association to Advance Collegiate Schools of Business (AACSB), a distinction earned by only 190 institutions worldwide. In addition, 83.2% of the programs' students passed the CPA exam on their first attempt, well above the national average of approximately 57.5%, placing Gonzaga No. 7 best in the nation among large programs for its first-time CPA exam pass rate.
MBA
Gonzaga's MBA programs currently enroll approximately 130 students. Of those students, more than 70% are working professionals in the Inland Northwest. The Gonzaga MBA combines small class sizes, internationally recognized educators, faculty-led study abroad program, community-engaged courses, and a relevant curriculum to tailor the student experience for individual goals and flexibility. In the MBA program, Gonzaga offers concentrations in finance and project management, as well as a general MBA with a variety of elective options.

"It's an honor to be ranked among the best MBA programs in the nation by U.S. News and World Report," said Mirjeta Beqiri, Ph.D., director of Gonzaga's MBA Programs and a professor of operations management. "This recognition is a testament to the hard work of our students, faculty and staff. In addition, this affirms our goal of creating a rigorous program and relevant MBA experience, and acknowledges the excellence of our program from peer institutions. We are also excited that this year we will be graduating our first MBA in project management students."

Gonzaga's MBA program ranking is based on five factors:
Average peer assessment score (50% of the overall score)
Average GMAT score and average GRE quantitative, verbal, and analytical scores of part-time MBA students entering in fall 2019 (15%)
Average undergraduate GPA of students entering in fall 2019 (12.5%)
Work experience of students entering in fall 2019 (10%)
Percentage of each business school's fall 2019 MBA enrollment that is part time (12.5%).
The graduate business program specialty rankings for accounting are based solely on ratings by business school deans and directors of accredited MBA programs from the list of schools surveyed. They were asked to nominate up to 15 programs for excellence in each of the areas listed.
To be eligible for the part-time ranking, a program must be accredited by the Association to Advance Collegiate Schools of Business International in summer 2019 and have had 20 or more students enrolled part time in fall 2018 and fall 2019.
Gonzaga University's Graduate School of Business is home to innovative master's level programs in business and accounting. For more information, visit www.gonzaga.edu/school-of-business-administration/graduate-programs or contact Haley Topliff at (509) 313-7047.