Zombie Nation & Llamas at Zag Weddings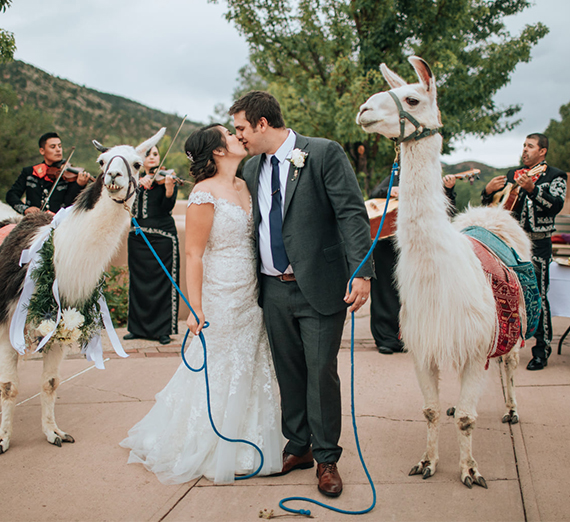 ---
Fa-la-la-llama
An event-planner by trade, '15 Meghan Montelibano knows that the key to a memorable celebration is something unusual and interactive. Her wedding ceremony with '15 Ryan Gorman included a pie wall, a mariachi band, and llamas delivering beers and seltzers during happy hour.
Why llamas? "There really isn't a good reason," says Meghan, other than being her favorite animal. She did have good reason, however, for the selection of vendors to carry out the other details of their celebration: Each one represented nonprofit organizations in their hometown of Santa Fe, N.M.
20 Years Strong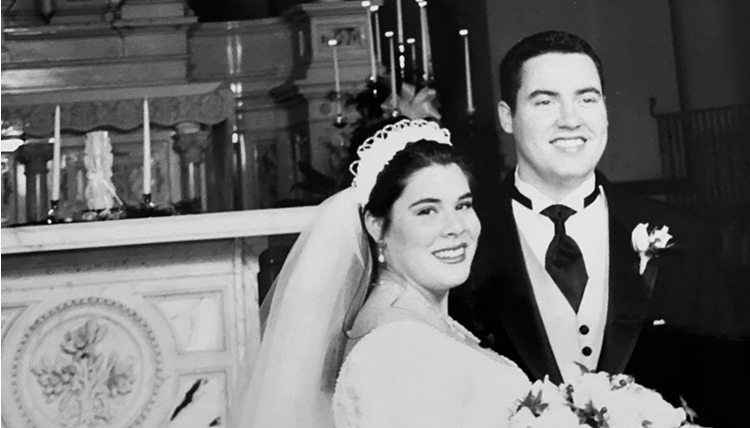 '97 Angela (Mink) Korver and '97 Joshua Korver celebrated the 20th anniversary of their wedding, which was officiated by Father Tony Lehmann, S.J. They reside in Anchorage, Alaska, with two teenagers and two dogs.
Congrats to All the Happy Zags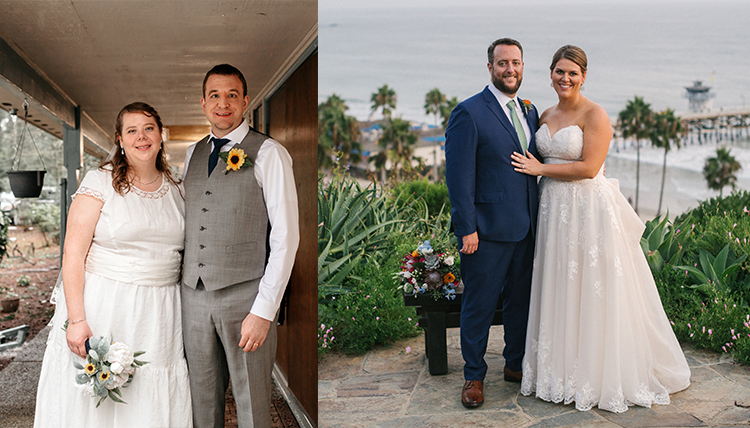 (Above, left) '03 David Wakeman married Rebecca Miller in Edmonds, Wash. They live in St. Louis where he works for Boeing. (Above, right) '06 Jacob Arthur de Boer married Jamie Allison Heine in San Clemente, Calif. They reside in Washington, D.C.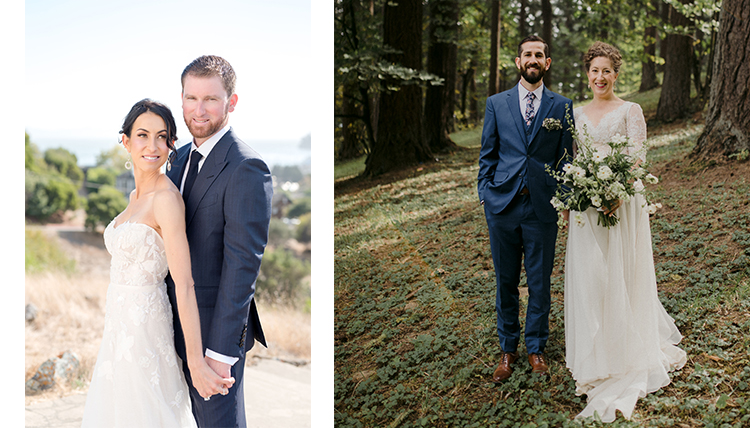 (Above, left) '08 Justin Quilliam married Karen Bodnaruk in San Francisco last fall. (Above, right) '09 Brittany Wilmes and '09 Ryan Arthur exchanged vows in a ceremony officiated by fellow Zag, Father Craig Boly, S.J.
'10 Britt Birkenbuel and Chase Kepler tied the knot in Missoula last July.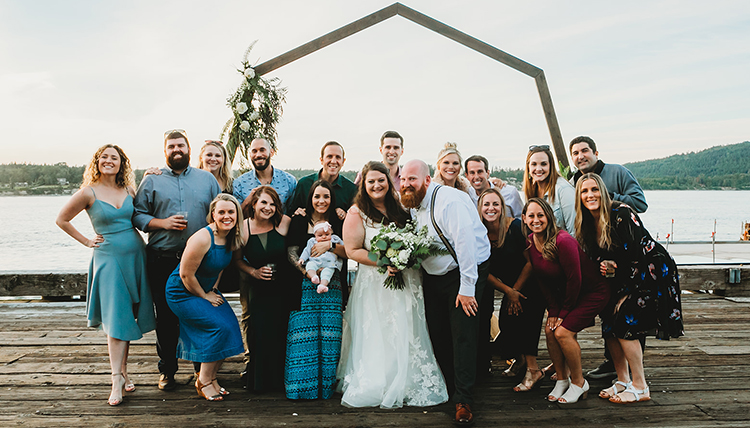 '10 Kelly (McClellan) married Ryan Bell; the couple resides in Everett.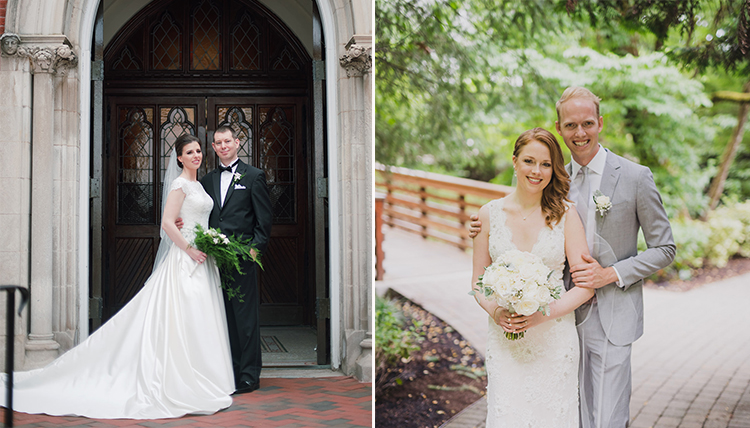 (Above, left) '10 Caitlyn Brady and Stephen Henne celebrated their marriage on the campus of Georgetown University where the groom is studying. Caitlyn works for the Federal Trade Commission. (Above, right) '13 Shelby Mason and '13 Connor Barth married last summer in Oregon City. They reside in Portland, where Shelby practices nursing and Connor is a research associate at Oregon Health Sciences University.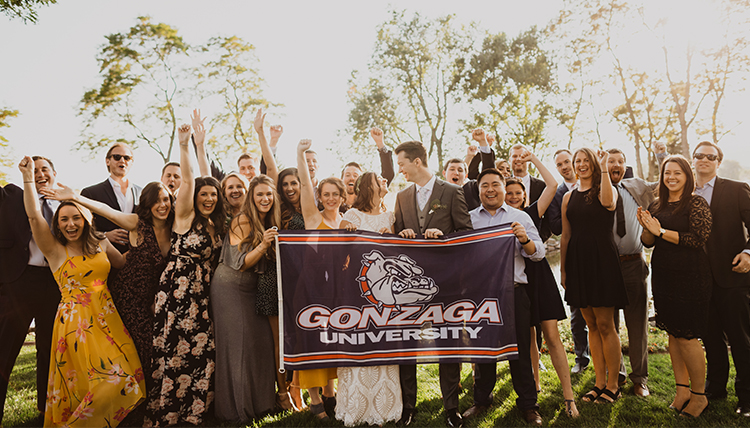 '11 Rebecca Hofland and '12 Gregory Andersen wed in Longmont, Colo., with 23 Zags in attendance. They live in Berkeley, Calif.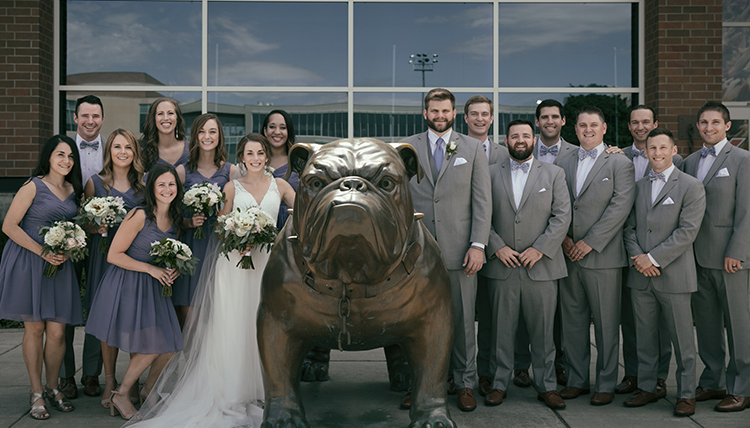 '12 Elizabeth Slamkowski and '12 Anthony DiTommaso tied the knot at Bozarth Mansion, with Father JK Adams, S.J., officiating. The couple met while playing intramural volleyball, but found the spark after connecting in Ecuador. Liz is the director of Christian service at Gonzaga Preparatory and Tony is a senior analyst at Itron.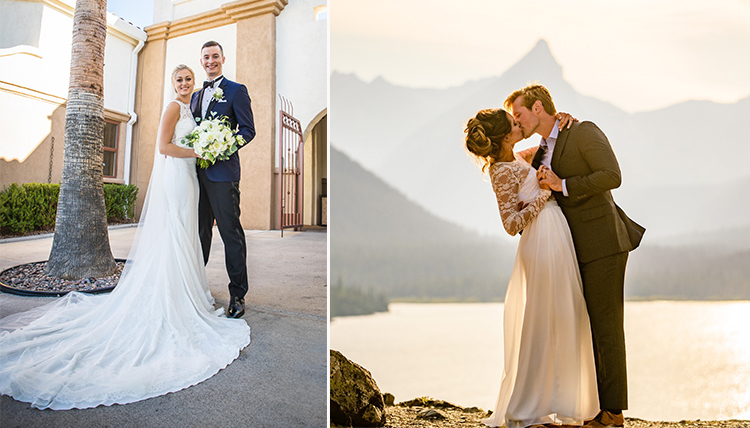 (Above, left) '13 Nick Brown and '14 Christa Smith married in Las Vegas, and celebrated with a host of Zags enjoying "Zombie Nation" played with great intensity. (Above, right) '13 Alysha Storud and '14 Braxton Garrett wed in a ceremony officiated by the bride's godfather.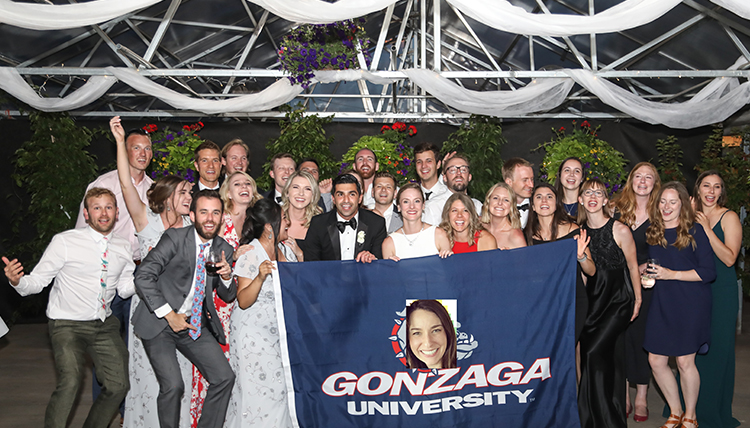 '13 J.D. Taymour Semnani married '14 Marion "Hanley" Caras in June 2019; they reside in Salt Lake City.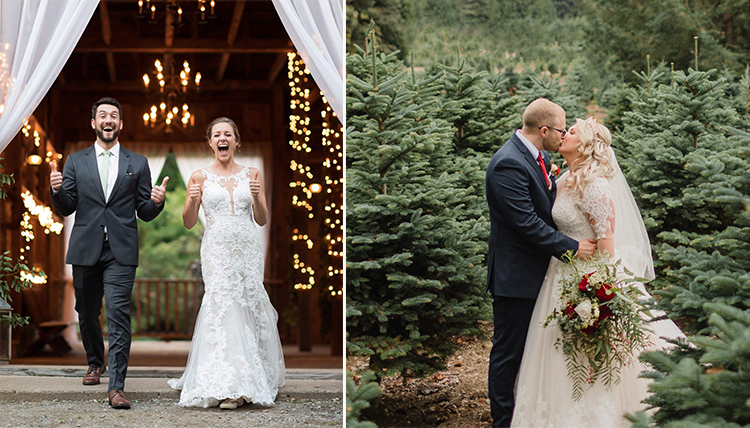 (Above, left) '13 Kayla Walsh and '14 Nick Mamolo celebrated their wedding. They live in Seattle. (Above, right) '14, '18 J.D. Meagan Nibarger and '14 Matthew Bennett married in Issaquah, Wash., about a decade after meeting in Crimont Hall their freshman year.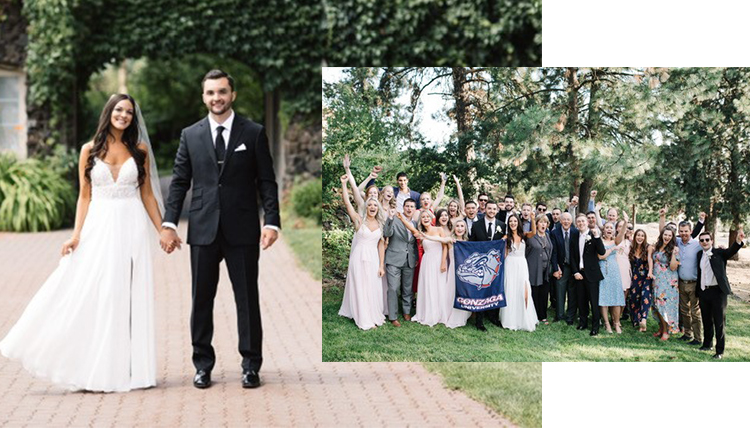 '14, '17 J.D. Dallas Montano and '14 Tucker Toelke met in their hometown of Kalispell, Mont., but really found their way to each other at Gonzaga. They held a summer wedding on campus in the company of many Zags.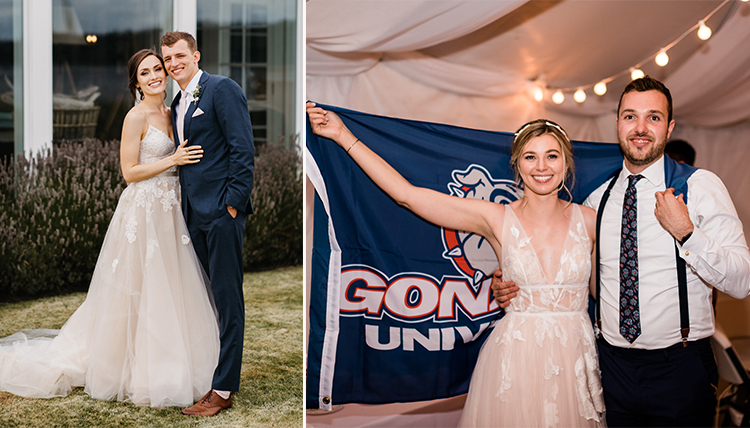 (Above, left) '14 Brian Bhaskar and '16 Emily Nordstrom celebrated their wedding last August. (Above, right) '15 Jenny Davis and '15 Sean Sinclair had a Zag-filled wedding at the Lodge at Sandpoint, Idaho on July 27, with a cake that was made with love by Zag-turned-business owner Callie Johnson.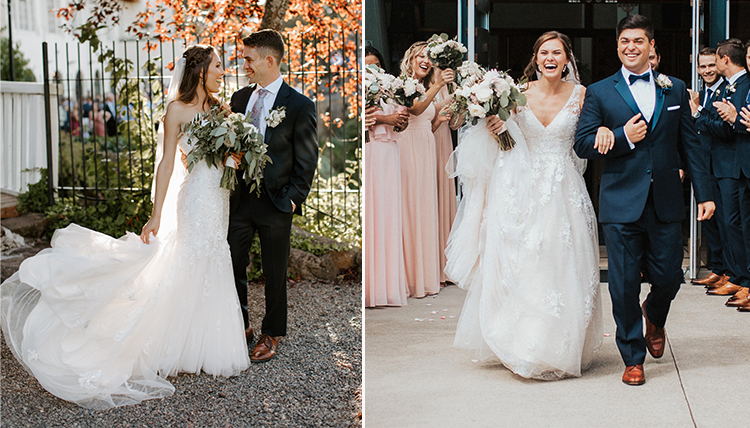 (Above, left) '15 Samantha Rhea and '15 Anthony Bonacci met their freshman year in Catherine-Monica Hall. They married and reside in Oregon. (Above, right) '15 Mario Salazar and '16 Emilee Derus were high school sweethearts who attended Gonzaga together. After 10 years supporting one another, they have officially tied the knot.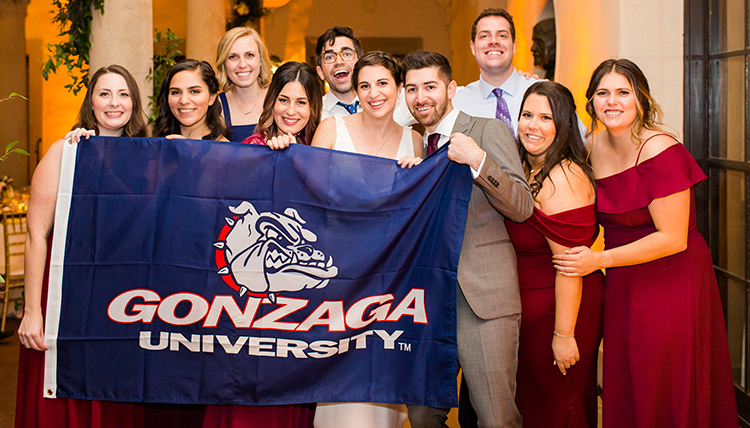 '15 Sara Snider and '15 Joshua Langley celebrated their wedding with a Zag-themed cake topper and Zombie Nation played at the reception.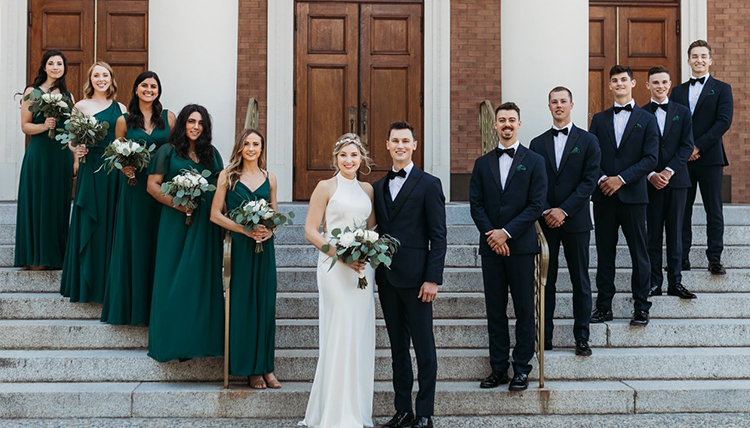 '15 Nick Padrnos and '16 Morgan Milner, who started dating after meeting as Welch and Desmet RAs, married in a St. Al's ceremony officiated by Fathers Brad Reynolds and Patrick Hartin, in the company of 50 Zags. They live in Seattle, where Morgan is a marketing consultant and Nick teaches social studies at Bishop Blanchet High School.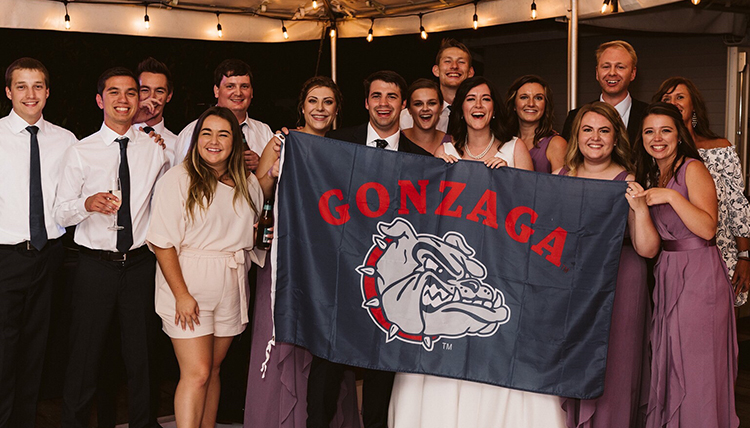 '15 Laura Woodward and '17 Kurt Holmes, in the company of 13 Zags, celebrated their special day on August 17.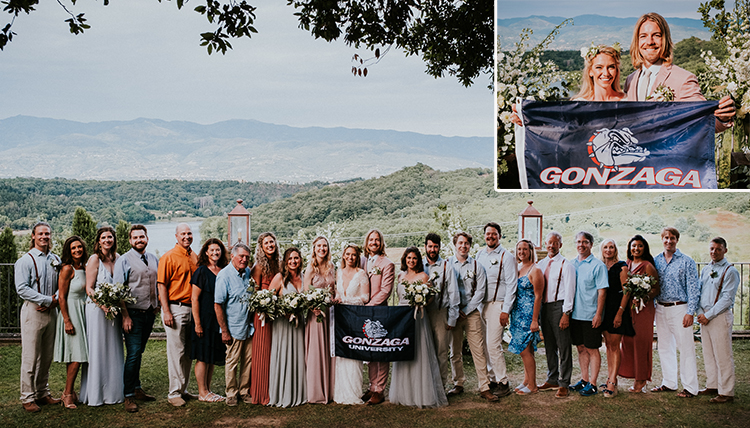 '16 Sophia Lee and '16 Nick Richardson provided a couple dozen Zags with good reason to return to Italy: they hosted their wedding about an hour out of Florence, where the couple had studied together in 2015. The groom's grandmother, Kathryn (Cullen) Richardson, was on the maiden voyage to Gonzaga-in-Florence in 1963.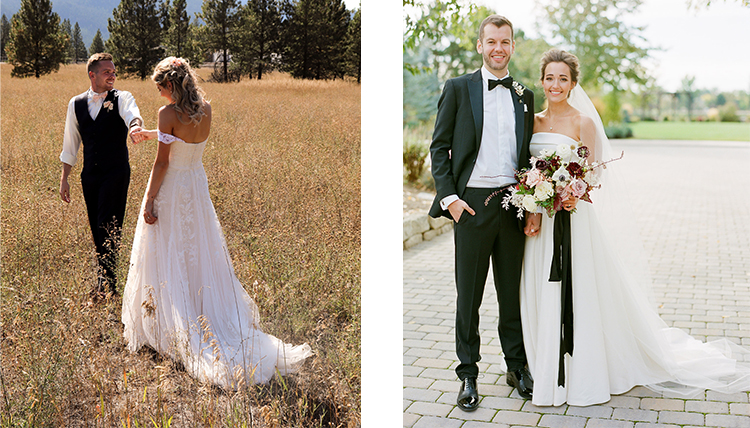 (Above, left) '16 Riley Wick married '18 Claire Zollars in Thompson Falls, Mont. They met in a business computing course; today, Claire is a CPA and Riley is a partial owner at Team Sports Admin. (Above, right) '17 Katie Freeman and '17 Justin Gwinn enjoyed a fall wedding ceremony in Nampa, Idaho.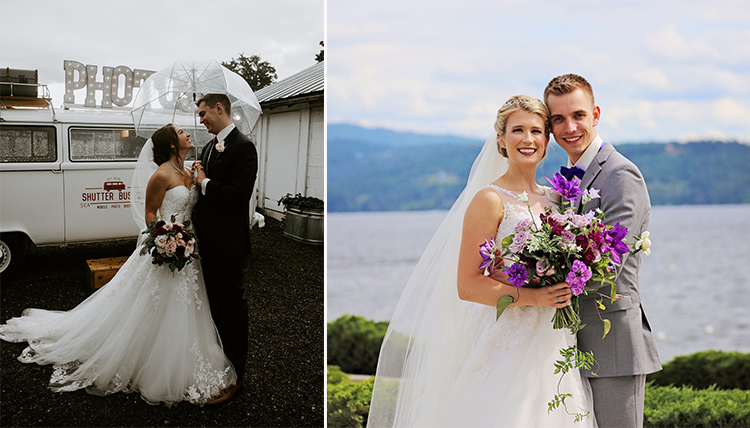 (Above, left) '17 Kennedy King and '17 Nathan Foster met during their junior year and married in Snohomish, Wash., last fall. They are enjoying their careers – Nathan in civil engineering and Kennedy as a second-grade teacher. (Above, right) '17 Connor Buhaly and '18 Katharine Manter said "I do" in Coeur d'Alene, Idaho. Greg Mcguire from GU's GUEST served as the DJ and Amie Le from GU's nursing office photographed the event.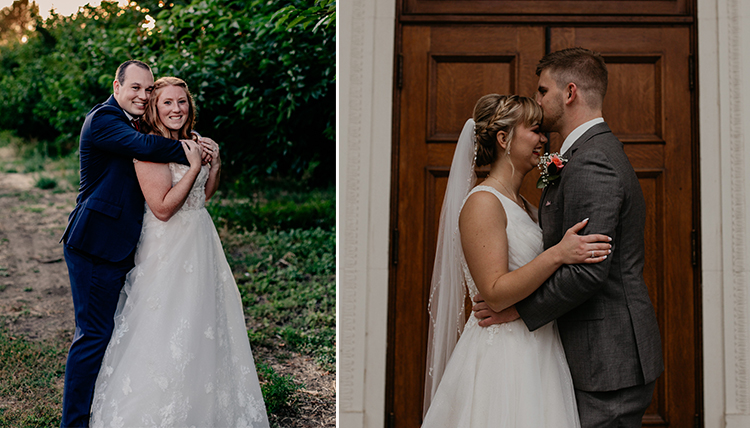 (Above, left) '17, M.A. '18 Trey Hardy and '18 Tyra Graney tied the knot in a July ceremony at Tucannon Cellars in Benton City, Wash, surrounded by loved ones – including nearly 25 Zags. (Above, right) '18 Megan Carroll and '18 Ian Loe had a Jesuit-officiated wedding with 6 Zags attending.
'14 Emily Sullivan and '15 Michael Orr recently married. (No photo provided)
Share YOUR news with the Gonzaga family.