Zags Tie the Knot, Summer '22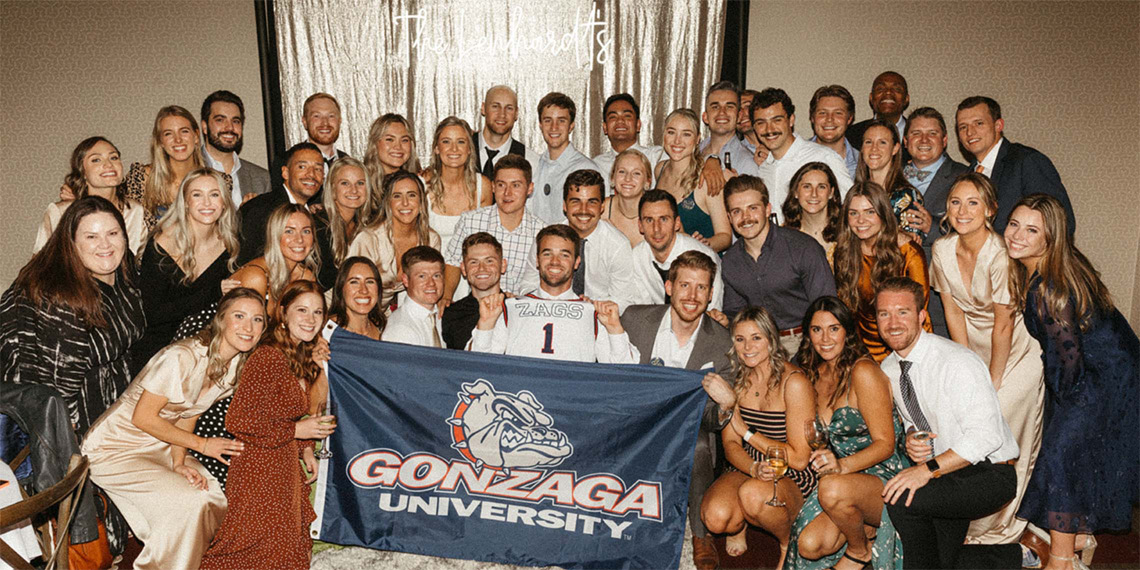 The following are wedding announcements submitted by Zags for the Summer '22 issue of the Gonzaga Magazine. Congrats to the happy couples!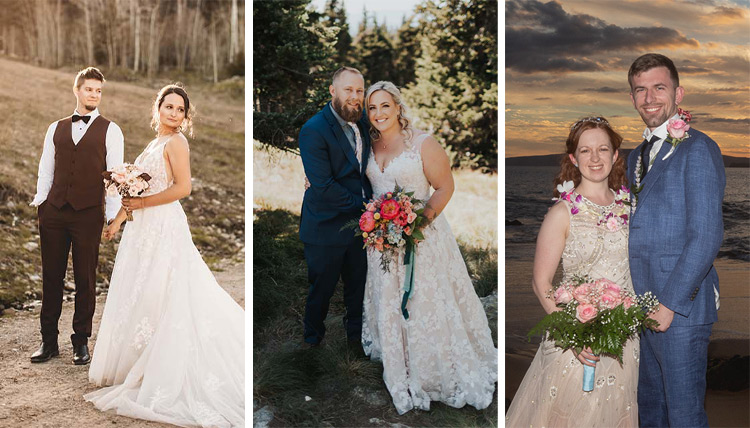 '09 Shawna Ruff and Jeff Schafer (above left) got married at the Great Divide Ski Resort in Marysville, MT on a beautiful day in May. They met at a work event where Shawna was impressed by Jeff's dance moves.
'08 Hailey Thompson and Ian Tate (center) tied the knot at the summit of Mt. Spokane in July surrounded by their 3 children and close family and friends.
'15 Libby Young and '15 Chris Birmingham (right) exchanged vows with small ceremony with family on the Po'olenalena Beach in Maui. Libby is graduating from the University of Washington Medical School this year and Chris is graduating this year from the University of Southern California with a Ph.D.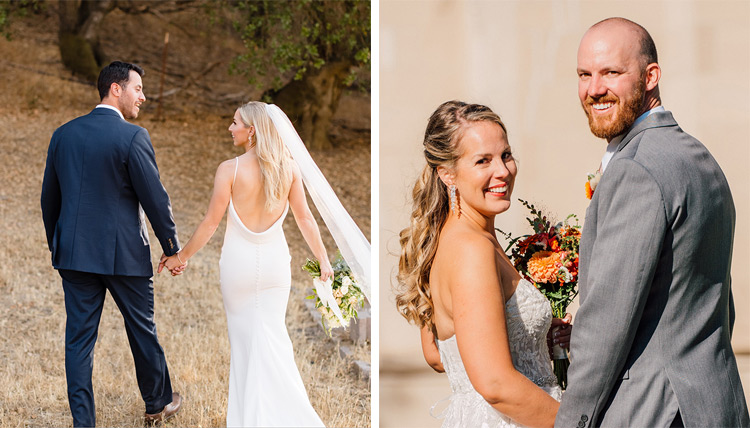 '13 Brenn Donnelly and Nicholas Santomauro (above left) walked down the aisle with Brenn's brother Joseph, '07 Zag, officiating the ceremony.
'09 Steve Bugni and Victoria Kreinbrink (right) were married at the Cathedral of St. Helena in Helena, MT in August '21. In attendance were ten other members of the class of '09.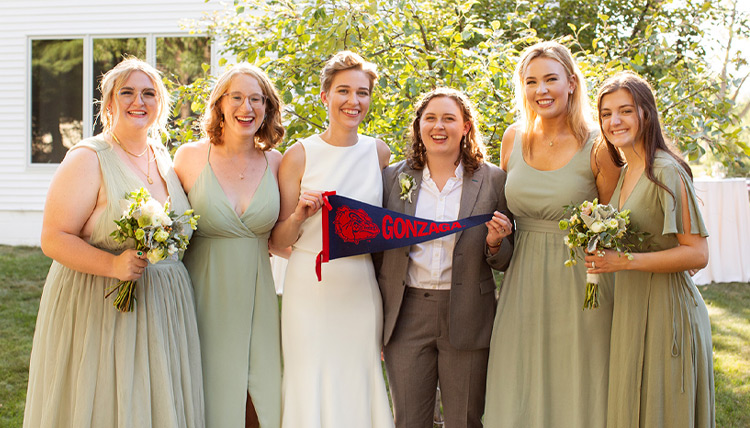 '18 Abigail Beck and '18 Sharon Maher (above) tied the knot in August 2021 in a small backyard ceremony at their home in Minnesota. Sharon and Abby met as undergrads at Gonzaga.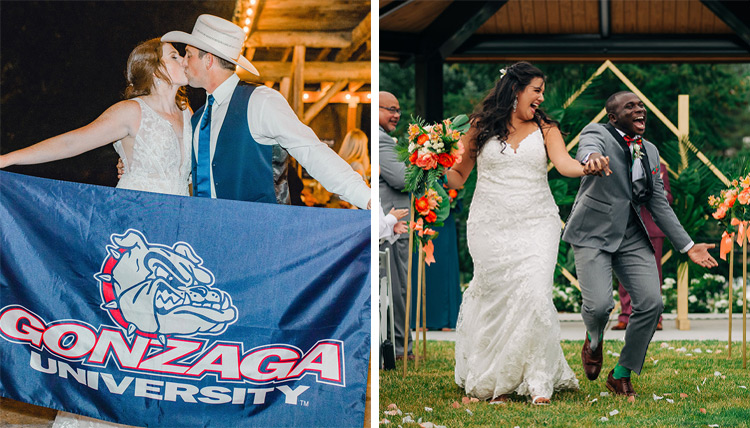 '17, '20 Allison Drescher and '17 Isaac Fleshman-Cooper (above left) said "I do" at the Beecher Hill House in Peshastin, WA. Isaac proposed in the Kennel at center court during the Gonzaga vs. BYU men's basketball game on Gonzaga Day, January 18, 2020!
'19 Siniva Areta and '19 Simon Menso (right) walked down the aisle in the Spokane Valley with friends and family in attendance. They first met at the Gonzaga pre-orientation program BRIDGE and their relationship grew through a shared passion in service with Campus Kids at GU. Simon is currently studying for his J.D. at Gonzaga, while Siniva works at Sedron Technologies.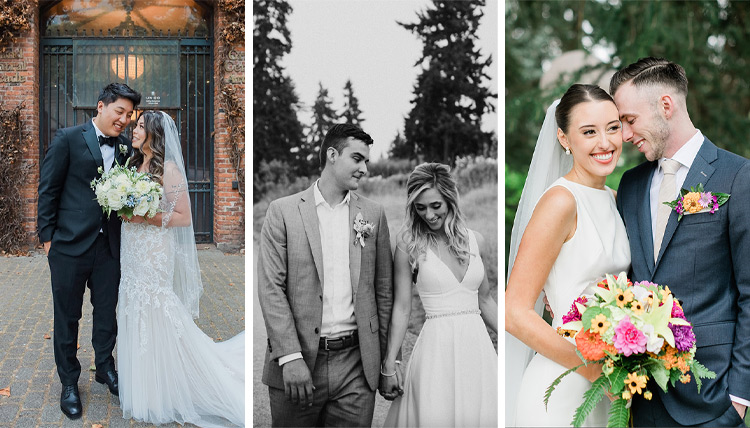 '17 Kathy Le and Tyson Diep (above left) exchanged vows in Seattle WA and now live in Canada near Tyson's family. At first they were long distance with Tyson at Washington State, but when Kathy attended Gonzaga for her Masters they were long distance no more and the rest is history.
'16 McKenzie Hollyoak and '16 Brian Merry (center) tied the knot with friends and family at The Kelley Farm in Bonney Lake, WA. The couple met in the summer of 2014 where Brian accepted playing on McKenzie's Hoopfest team. The ceremony had over 30 Zags in attendance and they even did "Zombie Nation" at the reception!
'18 Natalie Hotchkiss and '18 Carson Hollyoak (right) said "I do" on August 21st, 2021 at a family residence in Vancouver, WA. They met at a Gonzaga house party on an October night in 2017.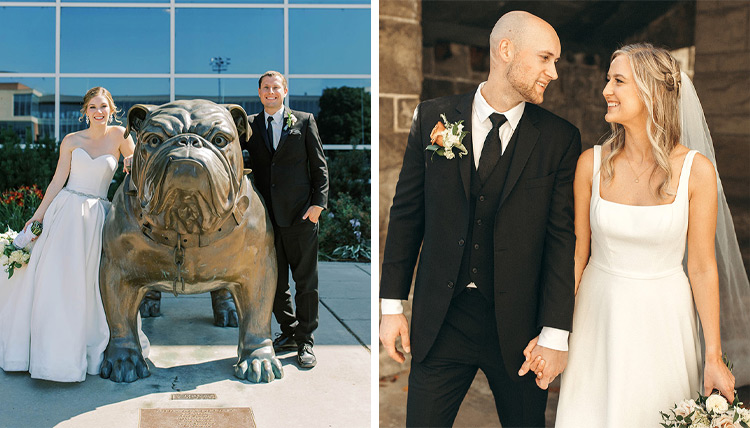 '15 Richard Young and '17 Emma Turgeon (above left) had their dream Gonzaga wedding with the ceremony at St. Al's and the reception at Bozarth Mansion. They were even married by a shared professor at Gonzaga in Fr. Hartin.
'15, '17 Natalie Hastings and '19 Luke Lenhardt (right) were married in Boise, ID. Luke and Natalie met while working together at the RFC! They had a large group of Zags at their wedding (photo at the top).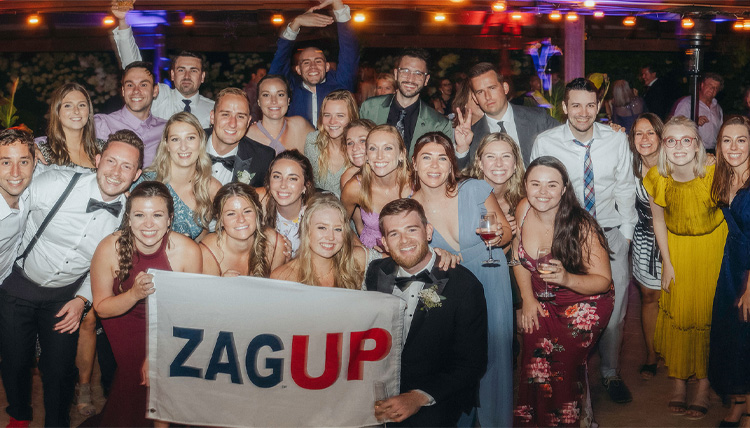 '16 Ian Ellis and '17 Eleanor Lyon (above) walked down the aisle at Froggsong Gardents in Vashon Island, WA in September '21. They met during their junior year at Gonzaga. There were 25 Zags in attendance (seen above). Eleanor and Ian live in Seattle, where she is an attorney with Ashbaugh Beal and he is a senior field service technician with Stryker.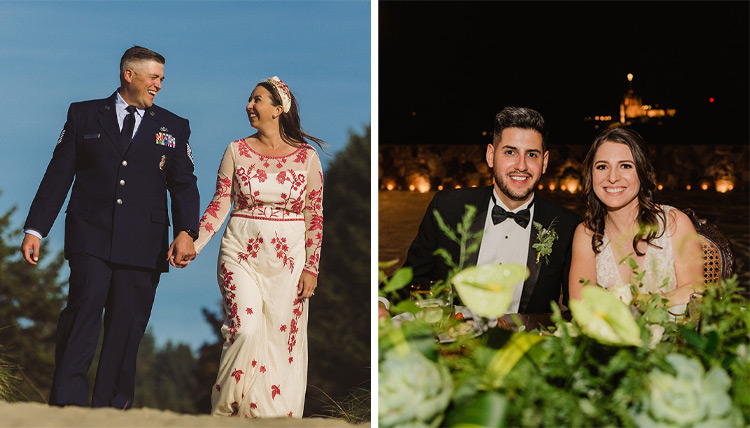 '06, '09 Kelsey Parker and Matt Mundy (above left) tied the knot at Cannon Beach in Oregon. Kelsey works for Gonzaga as the Assistant Director of Scholarship and Endowed Funds and Matt serves in the United States Air Force.
'16 Alexandra Reiling and '16 Miguel Alvarez (right) said "I do" in San Miguel de Allende, Mexico where Allie and Miguel live and work. Seven Zags were in the wedding party.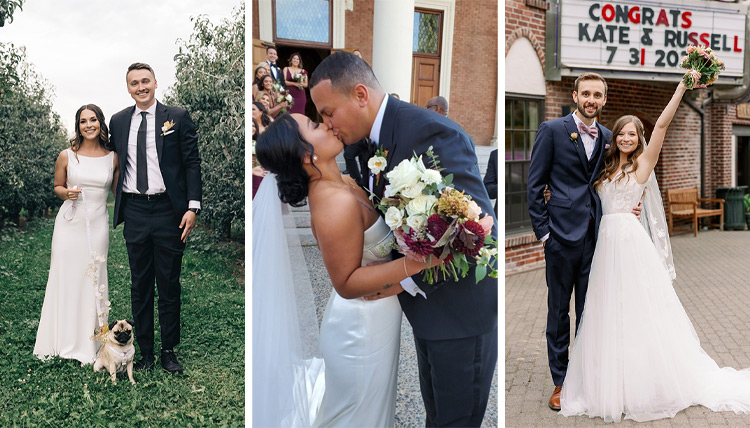 '15 Bryce Dorrance and '16 Holly Arceneaux (above left) celebrated their wedding with family and many Zag friends in beautiful Hood River, OR this past fall! The couple met at the start of the 2014 school year as neighbors in the 908 E Sinto duplex and immediately hit it off! They now live in Seattle with their adorable pug Luna near a lot of those same Zag friends!
'13 RJ Liggins and '14 Jackie Lee (center) were married at St. Aloysius in October '21. They met each other at the Crosby Student Center where RJ worked and Jackie would pass through with the dance team. Their relationship blossomed post grad and they now reside in Seattle, WA.
'11 Russell Craven and '13 Kate Stoltz (right) said "I do" on July 21st, 2021 in Bainbridge Island, WA surrounded by other Zags.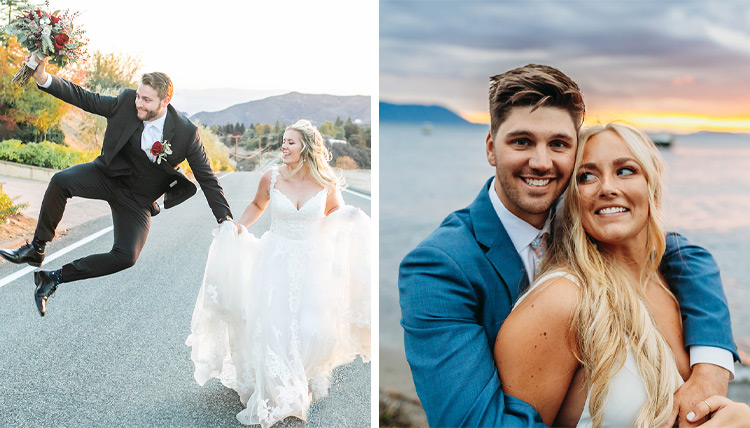 '17 Pablo Gabella and '18 Alison Bouche (above left) walked down the aisle in Oak Glen, CA in October '21. They met in line for a Gonzaga vs. Portland Men's Basketball game and celebrated the win with a dominant team effort in beer pong.
'16 Greg Lewis and '17 Samantha Hammes (right) tied the knot at Lummi Island, WA in August '21. They first met in high school Biology class, but the Chemistry was there from the beginning.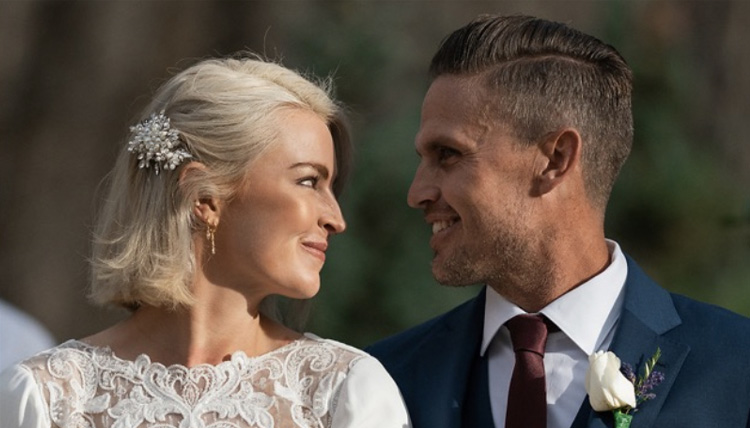 '15 M.A. Jordan Roskelley and Michael Jasperson (above) exchanged their vows in Jackson Hole, WY. They met when Jordan, a yoga teacher, was asked to teach yoga to the Colorado Rockies, where Michael was the head strength coach.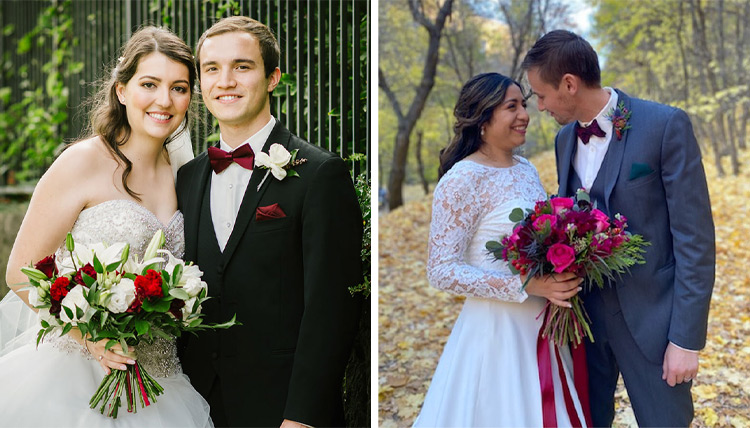 '16 Katherine Palmer and '16 Brandon Castaing (above left) celebrated their wedding and now reside in Seattle, WA. Katherine works for LightHeart Psychological Associates and Brandon works for Wells Fargo.
'16 Joshua Harrison and Gabriela Portillo (right) said "I do" in October '21 in Ogden Canyon, UT with friends and family. The Catholic couple met in the summer of 2019.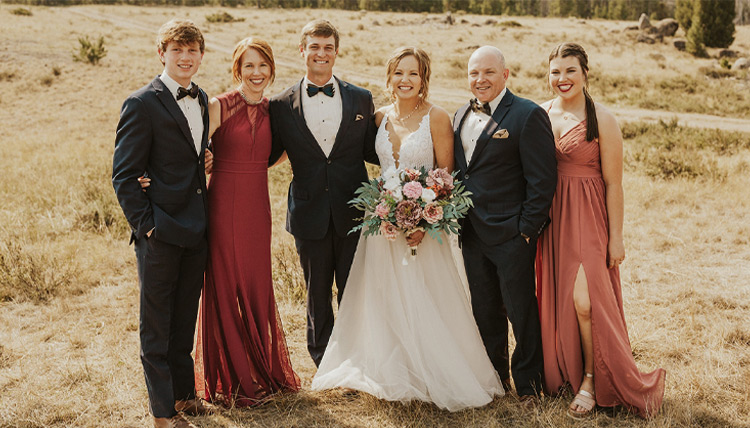 '19 Bailey Luoma and J.T. Tasker (above) walked down the aisle in Butte, MT in August '21. Zags were in attendance including Bailey's parents (both class of '93).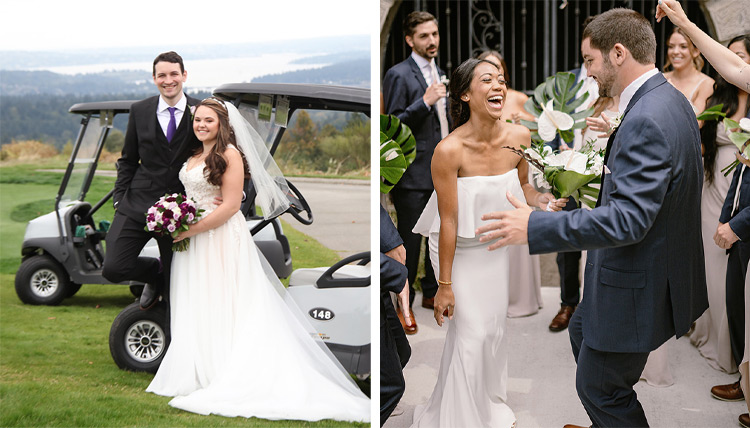 '16 Victoria Miller and '16 Scott McLaren (above left) tied the knot with over 30 Zags in attendance in Newcastle, WA. They met as seniors at Gonzaga on a blind date through mutual friends.
'13, '15 M.A. Philip Noyes and '15 Magenta Dumpit (right) got married on August 21st, 2021 with Zags and family. Philip works for USA Beach Volleyball and Magenta is a special education teacher in the Everett (Wash.) School District.
Share YOUR news for an upcoming issue of Gonzaga Magazine:
Alumni
Alumni
Gonzaga Magazine