Love Is in the Air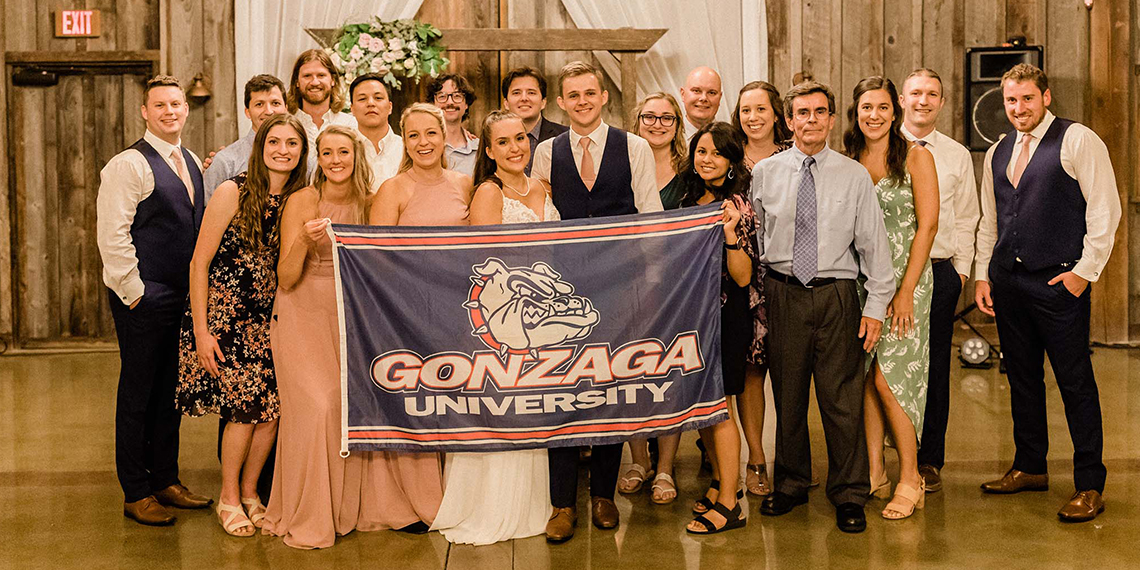 Shown above: '17 Jenny Hoefel and '17 Trevor Masterson said "I do" at The Kelley Farm in Bonney Lake, Wash., during summer 2022. Jenny is a structural engineer and Trevor a civil engineer.
Best wishes to all who celebrated nuptials!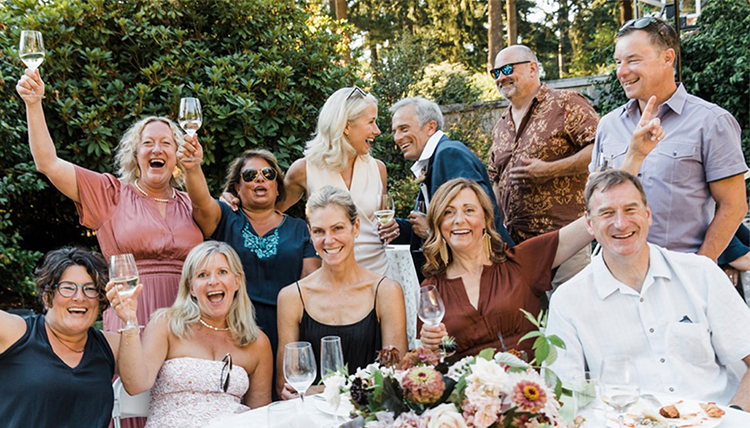 '91 Sheila Connolly and Robert Sidbury wed in Seattle where she works for Amazon Web Services.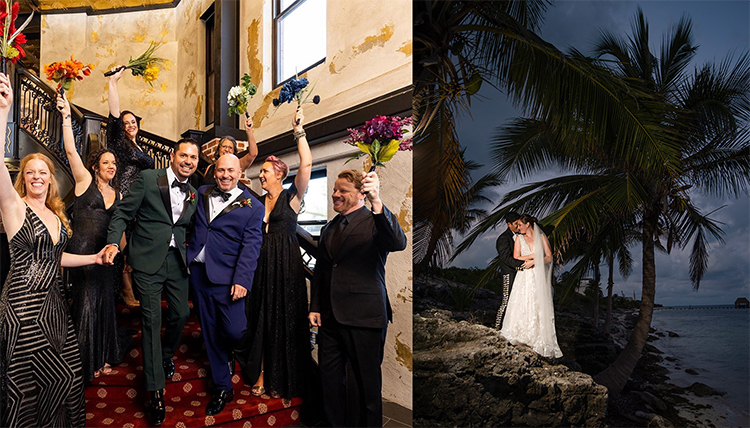 '05 David Martinelli and Tony Yost (above left) exchanged vows. David is vice president of marketing for Hounds Town USA, a doggy daycare and pet spa headquartered in New York.
'11 Amanda Baumgartner and Aido Garcia Gonzalez (above right) married in Aido's hometown, Cancun, Mexico.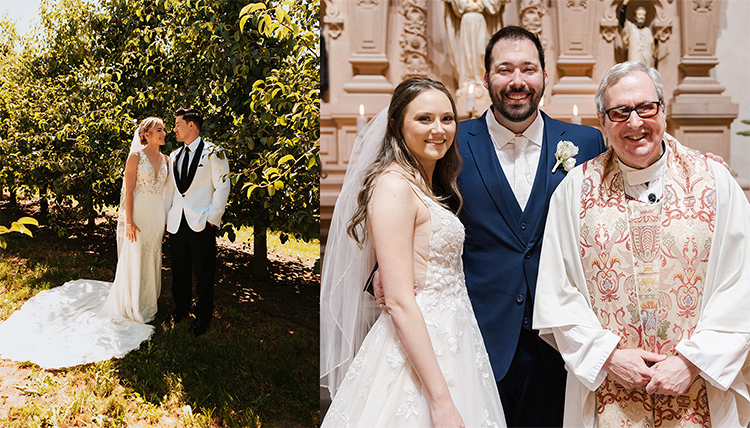 '13 Allison Wrightson and '13 Bobby Allen exchanged vows in Hood River, Ore. (above left)
'13 Michael Matre and '18 Katherine Gibbs tied the knot in a ceremony officiated by former GU President Father Robert Spitzer, S.J. ('74). (above right)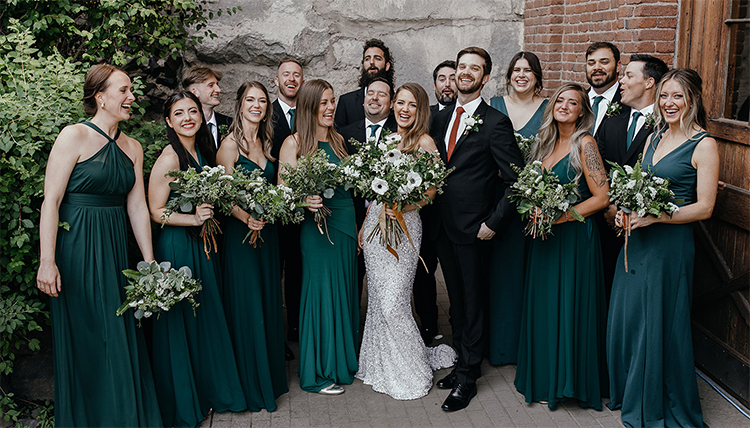 '14 Matt Lyons and '15 Taylor Jordan (above) married at the Chateau Rive in Spokane surrounded by Zag students and employees. Both are former Gonzaga staff members: Matt in admissions and Taylor in compliance.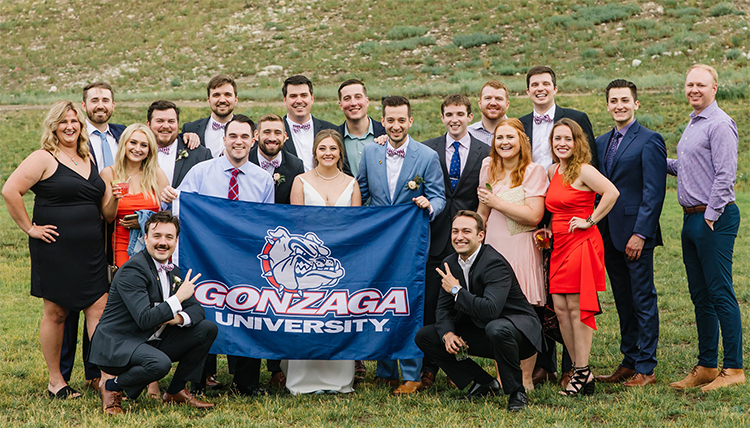 '15 Michelle Kfoury and '15 Jake Dini (above) exchanged vows at Solitude Mountain Resort in Utah and danced to Zombie Nation at the reception.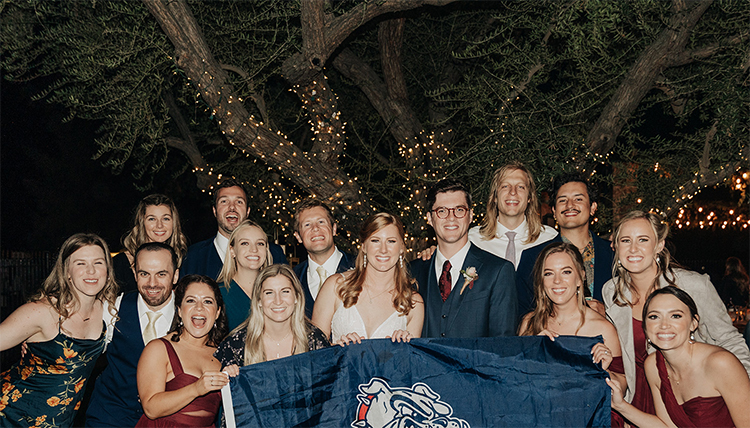 '15 Andrew Marino and '15 Megan Shambaugh (above) married in 2020 and celebrated in 2021 with family and friends. The couple met at orientation freshman year and traveled to Gonzaga in Florence together.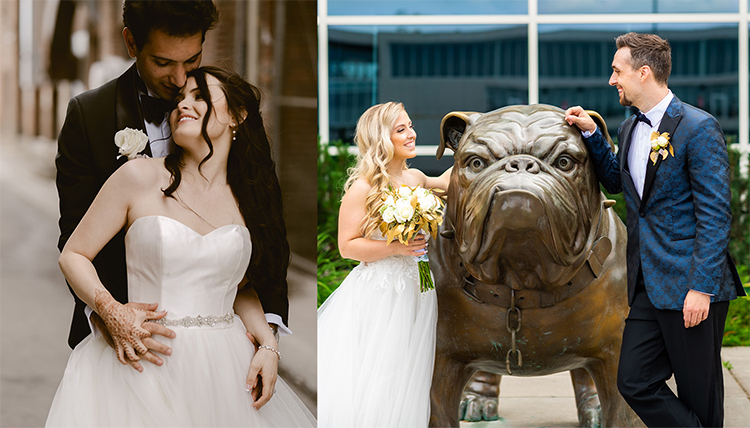 '16 Rahmi Nemri and '21 Brianna McCracken (above left) met each other during the first week of classes in 2013. They dated for eight years and married in spring 2021 followed by a wedding ceremony in 2022. Brianna is a media relations strategist and Rahmi a physician resident.
'16 Jen Hudson and '17 Scott Taylor (above right) say it was love at first sight when they passed each other while one was leaving College Hall and the other was going to class. They dated for five years before marrying in summer 2021.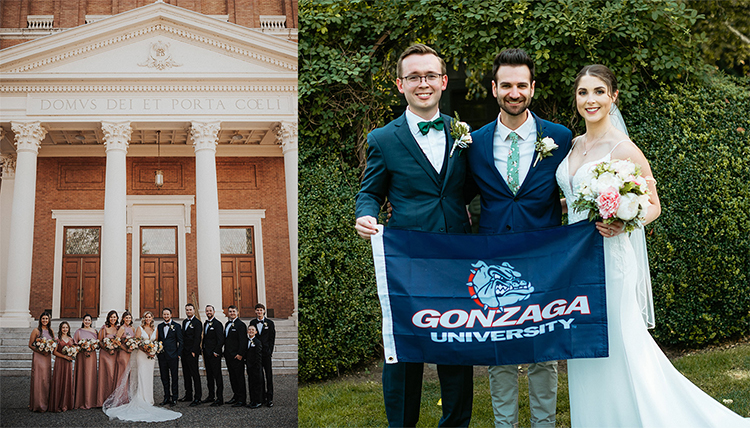 '17, '21 M.A. Natalie Haskell and '17 Liam Stokes (above left) met during their senior year in a political science class and had their first date at Jack & Dan's. They wed at St. Aloysius Church.
'18 Emily Davidson and '21 J.D. Chris Ryder (above right) exchanged vows with fellow Zag Tyler Tullis ('10) officiating. Emily works at DH (a marketing agency in Spokane) and Chris is an associate attorney.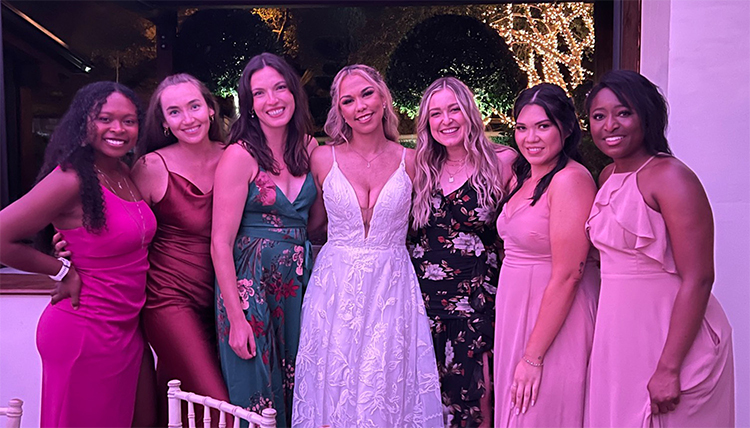 '17 Kayla Sims and Jonathan Lovett tied the knot in 2022.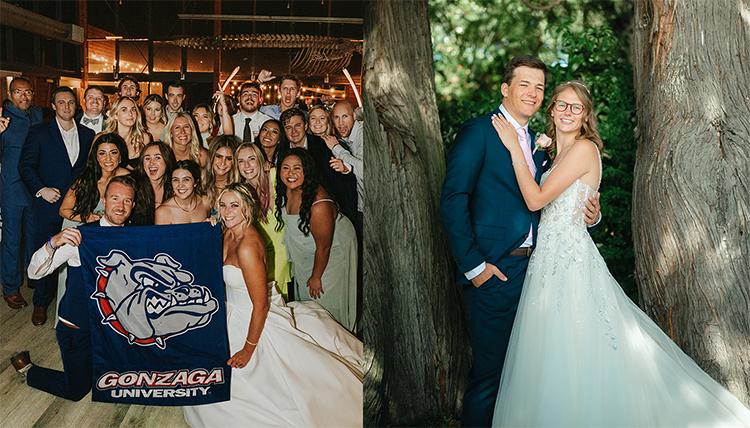 '19 Carleen Boschetti and '19 Ethan Osborne (above left) wed in Dana Point, Calif. Carleen is a mental health therapist and Ethan is a physical therapist.
'19 Danielle Standish and '19 Brad Barrett (above right) married at the Seattle Yacht Club. Danielle is an HR specialist for Puget Sound Energy and Brad is a buyer for Seabird Scientific.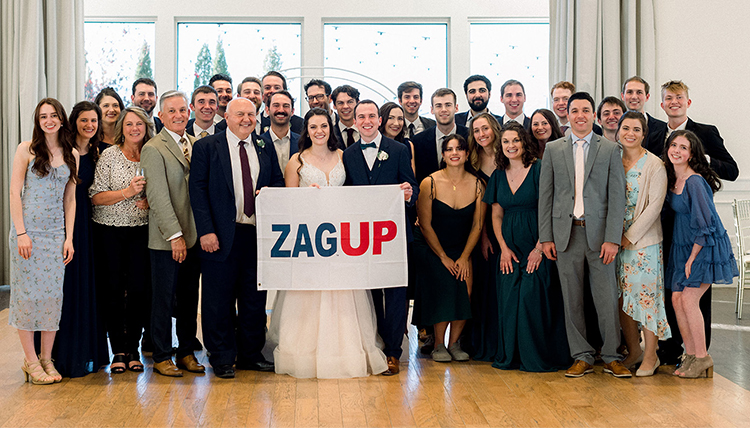 '19 Allison Walter and '19 Robert Brajcich (above) wed in Denver, with more than 30 Zags in attendance. Robert is the son of Paul Brajcich ('79), a member of GU's Board of Trustees.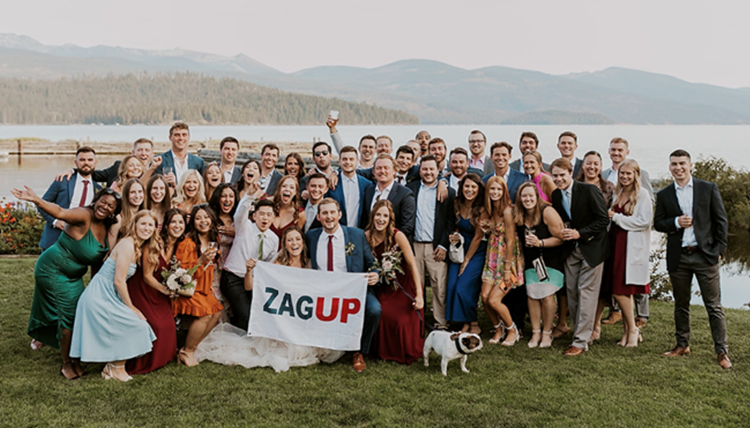 '19 Rachael Kuhn and '19 Philip Meyers (above) married at Elkins Resort, Priest Lake, Idaho. Rachael teaches math in the Cheney (Wash.) School District.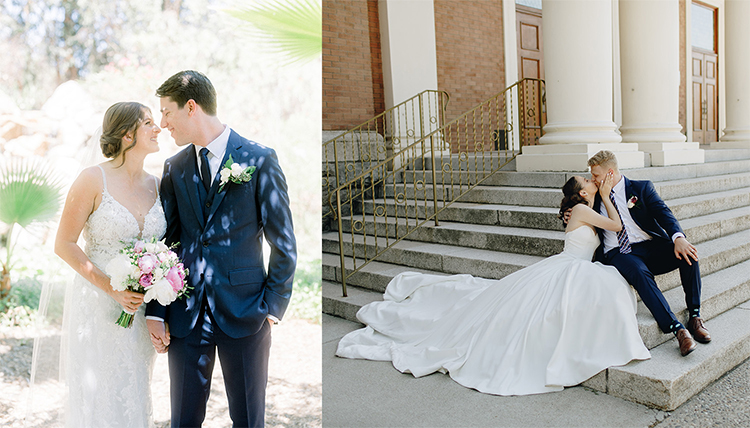 '20 Molly Burns and '20 Philip Obrinsky (above left) married in Temecula, Calif. Molly is an English teacher and Philip is a student at UCLA Law School.
'20 Jacob Siekawitch and '21 Caitlin Casey (above right) married at St. Aloysius. They met at Gonzaga, as did Jacob's parents, Suzanne Kozlowski and Richard Siekawitch. Caitlin works at a vision clinic and Jacob is an analyst.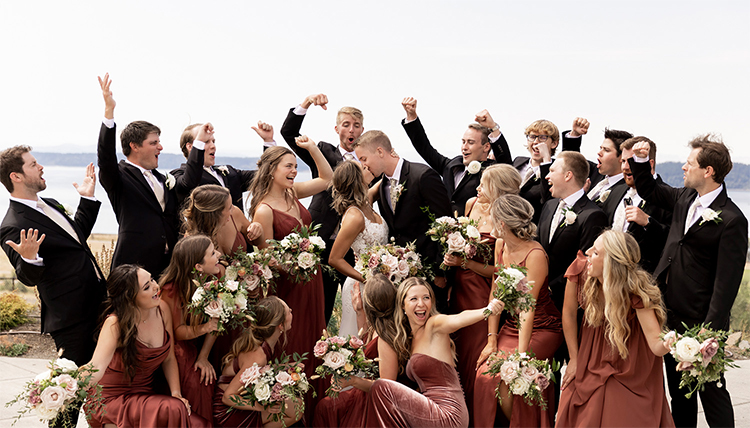 '20 Chris Mogg and '21,'22 M.Acc. Sarah Ostrander tied the knot in Tacoma, Wash., with Zags from the men's golf and cheer teams.
Share your wedding celebration.
Alumni
Alumni
Gonzaga Magazine