Gonzaga Modifies Return-to-Campus Plan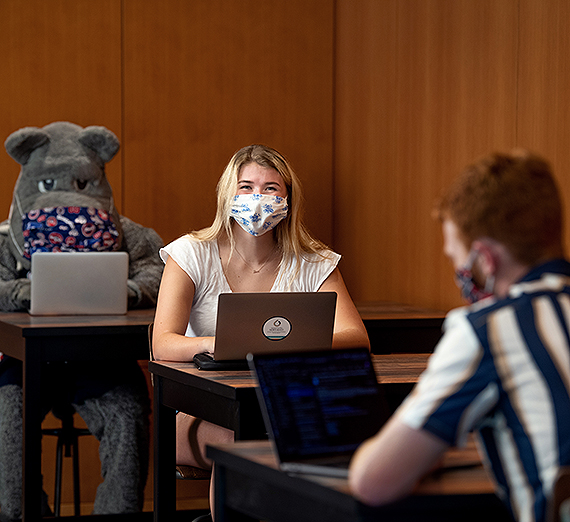 ---
SPOKANE, Wash. — Recognizing the expanding coronavirus pandemic and new restrictions for the state of Washington, Gonzaga University has announced a return-to-school plan that provides flexibility for students and families to choose if students will attend remotely or on campus.
Citing an unwavering commitment to the health and safety of all as Gonzaga's No. 1 priority, President Thayne McCulloh, in a message to students and families, outlined several modifications for fall semester.
"We have been striving to create a strong plan for Fall Semester 2020: a plan which recognizes that we are in the midst of an international emergency without modern parallel, and a plan nimble enough to accommodate changing circumstances and varied needs — while remaining absolutely committed to your safety and providing you with an exceptional educational experience," President McCulloh said.
"We know that each student, and each family, will have their own unique context to consider. We want to encourage you to make the best decisions for yourself and your family, and know we will work hard to support you in those decisions."
Gonzaga will offer the following academic and residential options for students to customize their plans for the fall:
Academic courses will be delivered in a variety of ways including in person, face-to-face via remote technology, or partly in-person and partly remote (hybrid format). Courses being taught in-person will be offered in interactive "live" remote mode where possible. All courses can be accessed — synchronously or asynchronously — online. As a result, students who wish to study remotely for fall semester may do so.
Programs that require hands-on, experiential work (i.e. nursing, human physiology, fine and performing arts, laboratory science and engineering) will be offered on-campus and face-to-face with physical distancing, face-coverings and other safety protocols in place as authorized by health officials.
The on-campus living requirement for all first- and second-year students has been waived for the academic year. Students who elect to live in campus residence halls will continue to access food services.
Specialized programs and activities that support community-building among students are being developed for both on-campus and remote delivery. Departments such as Academic Advising, University Ministry, Health & Counseling, Center for Community Engagement, Student Involvement and Leadership, and the Gonzaga Student Body Association are working on modifications and creative revisions to their operations to serve students wherever they choose to locate.
'Zags Help Zags': A Shared Responsibility
"At Gonzaga, we have a saying that takes on new meaning in this circumstance: 'Zags Help Zags,'" President McCulloh noted. "In the face of this pandemic, irresponsible or reckless behavior, on or off campus, that endangers the health of others will not be tolerated."
"We will wear face coverings, we will increase hand washing, we will maintain physical distance, we will follow the directives of public health authorities, and we will voluntarily work together to create 'family bubbles,'" President McCulloh noted. "Our collective way forward will take all of us doing our best for ourselves, and for the communities we belong to."
Key Fall Semester Dates Unchanged
New and returning students living on-campus will move in on Wednesday, Aug. 26;
The first day of class is Tuesday, Sept. 1.
All courses will move to remote delivery after Thanksgiving Break (students remaining on campus will be supported with residential living and dining while students who leave campus are asked to complete the semester from home and not return until spring semester).
President McCulloh's Announcements
Additional Important Links