CHAS Health Vaccination Clinic Update
As you know, CHAS Health is hosting a COVID-19 vaccine clinic through March 2nd at Gonzaga University and would like to open up registration to members of our community
who qualify in the current phase of vaccination
.
Read the full update here.
Fall 2021 Return to Gonzaga Plans
On February 15, 2021, the University announced the goal to fully return to
in-person
instruction, housing, and campus activities for Fall 2021.
Read the announcement here
.
---
Spring Semester 2021
The spring semester at Gonzaga University is here and we are excited to have students back on campus.
Planning on traveling this Spring? Please review our Travel Guidance for students.
Additional Federal Emergency Grant Funding will become available to qualifying students this semester.
Spring Semester Plans were announced on November 16, 2020.
Changes to the Academic Calendar were shared with the community in the fall of 2020. The modified calendar:

Removes Spring Break from Spring 2021 calendar.
Adds two additional Reading Days in-between President's day and Good Friday. These will be Thursday, March 11 and Friday, March 12, 2021. No classes will be held.
These changes do not necessarily pertain to Law or Online Graduate Programs.
---
Keep Wearing Your Masks, Zags!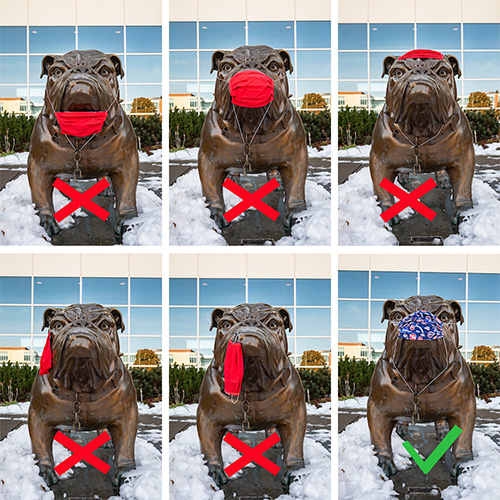 Vaccinations are not yet available to many of us, and new strains of the virus are popping up. It is very important that masks are worn properly.
---
Keeping our Gonzaga Community Safe
Dr. Charlita Shelton shares some tips and reminders for Spring semester.