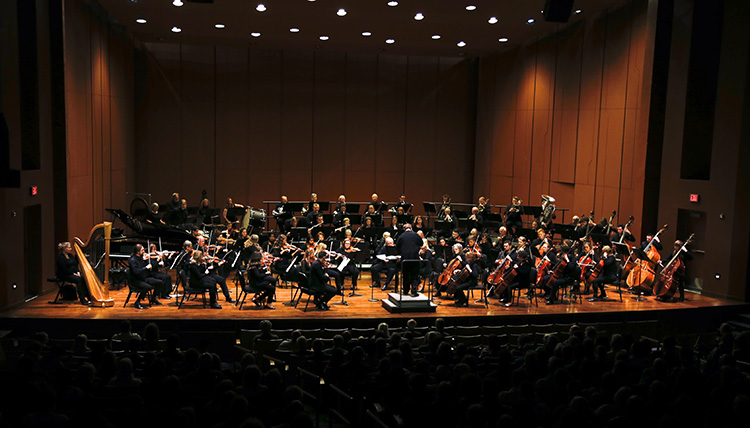 Conductor: Dr. Kevin Hekmatpanah
The Gonzaga Symphony Orchestra is comprised of students, faculty, and musicians from the greater Spokane community.
Open to all students by audition, the orchestra performs regularly at the acoustically outstanding and state-of-the-art Myrtle Woldson Performing Arts Center. It has a long tradition as one of the finest community orchestras in the region and its repertoire contains some of the most demanding pieces in orchestral music.
The orchestra has featured soloists of national and international distinction, including violinists Midori, Shlomo Mintz, Cho-Liang Lin, and Itamar Zorman; violist Paul Coletti; cellists Lynn Harrell, Matt Haimovitz and Brannon Cho; double bassist Gary Karr; pianists Pascal Rogé, Simone Dinnerstein, Alon Goldstein and Awadagin Pratt; and clarinetist Richard Stoltzman. Many of the soloists also provide master classes and coaching for students.
Past performances include:
Tchaikovsky Symphony No 1 in G Minor, Op 13 Winter Dreams
Beethoven Overture to the Consecration of the House, Op. 124
Chausson La Nuit, Op. 11 – Rachael Gowen, soprano/Katrina Baber, mezzo-soprano
Mozart Violin Concerto No. 3 in G Major, K216; Allegro – Rylan Virnig, violin
Rimsky-Korsakov Russian Easter Overture, Op. 36
Elgar Variations on an Original Theme Enigma, Op. 36
Marriott Double Bass Concerto Klezmorim World Premiere; Gary Karr, double bass soloist
Bottesini Reverie and Tarantella for Double Bass and Orchestra; Gary Karr, double bass soloist
Lalo Cello Concerto in D Minor; Complete + Encores: Casals; Kabalevsky; Bach/Lynn Harrell, cello
Dvořák Symphony No. 8 in G Major, Op. 88
Learn more by visiting the orchestra's website.