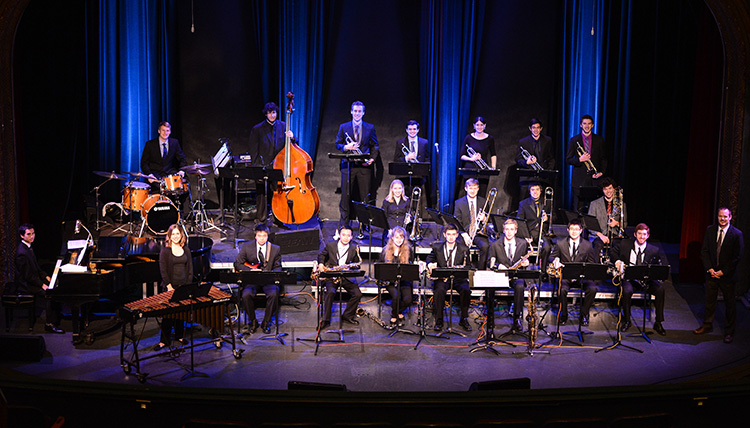 Conductor: David Fague
Gonzaga University's Jazz Program consists of four jazz combos, two jazz ensembles, jazz history classes, and jazz improvisation lessons offered on every instrument.
The Jazz Ensembles are 18-piece big bands that provide students the opportunity to perform some of the best big band literature from classic big bands like the Count Basie and Stan Kenton Orchestras to more modern writers such as Maria Schneider. Jazz I regularly reconfigures into a smaller, more specialized ensemble incorporating more electronic instruments to perform fusion-based music by bands such as Snarky Puppy.
The Jazz Program is directed by David Fague, Senior Lecturer of Music, who is a long time member of the Spokane Jazz Orchestra as well as an active performer in the Inland Northwest on saxophones, bass, and vocals in a variety of genres including jazz, funk, pop, rock, and country. David earned his Masters in Jazz Studies from the University of North Texas where he performed in a variety of ensembles including the One O'Clock Lab Band, the UNT Jazz Singers, and in the summers as a member of Disney's All American College Band.
Students interested in the Jazz Ensemble should contact David Fague at fague@gonzaga.edu.
Jazz Program Graduates
Have pursued graduate degrees at schools such as USC Thornton's School of Music
Recorded albums
Perform successfully as freelance musicians in major US cities including Seattle, New York, Portland and Los Angeles
Jazz Program Scholarships
Students of all majors are eligible to audition for and receive scholarships to participate in the Jazz Combos and Jazz Ensemble.