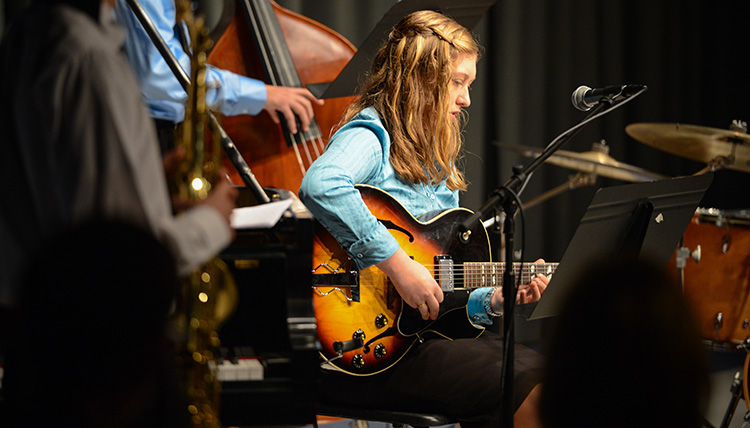 Conductor: David Fague
Gonzaga University's Jazz Program consists of four jazz combos, two jazz ensembles, jazz history classes, and jazz improvisation lessons offered on every instrument.
The Jazz Combos provide students the opportunity to play in small jazz groups (4-7 players). Students develop improvisational skills, become familiar with performance etiquette, and learn to transcribe/ arrange tunes using the music notation program Sibelius. The Jazz Combos focus 50% of their energy on traditional live performances and the other 50% on learning how to record audio and video, mix and master audio, video edit, and be able to present a competent visual/aural representation of their music in an online format.
The Jazz Program is directed by David Fague, Senior Lecturer of Music, who is a long time member of the Spokane Jazz Orchestra as well as an active performer in the Spokane jazz community on saxophones, bass, and vocals in a variety of genres including jazz, funk, pop, rock, and country.
Students interested in Jazz Combos should contact David Fague at fague@gonzaga.edu.
Auditions take place at the beginning of each semester.
Jazz Program Graduates
Have pursued graduate degrees at schools such as USC Thornton's School of Music
Recorded albums
Perform successfully as freelance musicians in major US cities including Seattle, New York, Portland and Los Angeles
Jazz Program Scholarships
Students of all majors are eligible to audition for and receive scholarships to participate in the Jazz Combos and Jazz Ensemble.
Jazz Rehearsal Videos