---
Myrtle Woldson Performing Arts Center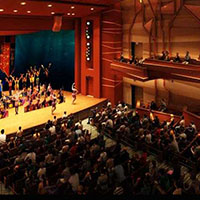 Opened in April 2019, the
Myrtle Woldson Performing Arts Center
provides a state-of-the-art performing arts facility where the Gonzaga and larger Spokane community can learn, create, share, and enjoy. The Coughlin Theater (Mainstage)
seats 759 people, with 595 seats on the orchestra level and 164 seats in the balcony and side boxes. The Performance Center also features the
Martin and Edwidge Woldson
Recital Hall
, located in the east wing, which seats 168 people in an intimate performance space with excellent acoustics.
---
St. Aloysius Church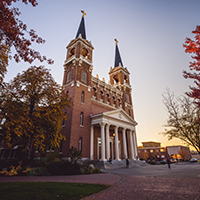 Dedicated in 1911,
St. Aloysius
has the largest seating capacity of the Catholic churches in Spokane and is an active parish in the Catholic Diocese of Spokane. It's architecture has been described as adapted Romanesque and is known for its pipe organ with 37 ranks of keys. The twin spires on the roof are a beacon for both the University community and the people of Spokane.
---
John J. Hemmingson Center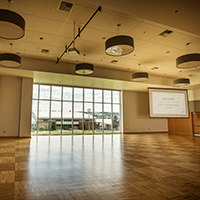 The
Hemmingson Center
is a meeting place for all students as well as faculty, staff, alumni and the guests of Gonzaga University. Providing dining options, meeting space, lounge, and programming facilities, the Hemmingson Center is a great place to study, meet with friends, relax or be entertained after a long day of classes.
---
University Chapel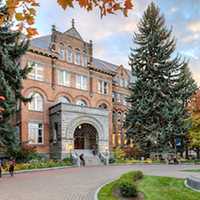 The student chapel was originally dedicated in 1904. Its latest remodel was in 2002 and was rededicated by University President Robert J. Spitzer, S.J. The chapel features stained glass windows originally created in 1920 for the Most Blessed Sacrament Church in Philadelphia.
---
Music Annex I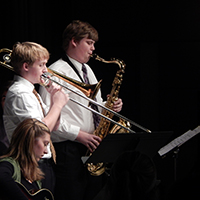 The Music Annex provides a large rehearsal room for instrumental ensembles, a small classroom, faculty offices, practice rooms and storage for percussion equipment.
---
St. Gregory Choral Hall

St. Gregory provides a large rehearsal room for choral ensembles, the choral faculty office, a practice room, the choral library, a student lounge and storage for choral equipment.
---
Jundt Art Museum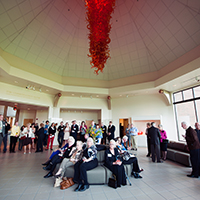 The beautifully-situated
Jundt Art Museum
houses the University's growing permanent collection of almost 5,000 objects, and presents special, temporary art exhibitions.
---
Martin Woldson Theater at the Fox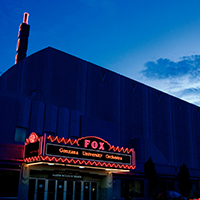 The 1,700-seat art deco treasure is home to the Spokane Symphony and hosts numerous cultural and music events. First opened in 1931, the theatre was renovated in 2007.
Martin Woldson Theater at the Fox
is listed on the National Register of Historic Places.
---
St. John's Cathedral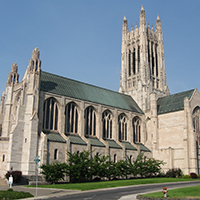 The cathedral is one of the few examples in the United States of Gothic architecture. Begun in 1925, St. John's is the fulfillment of the dream of Right Reverand Edward Makin Cross, third Bishop of the Episcopal Diocese of Spokane.
---