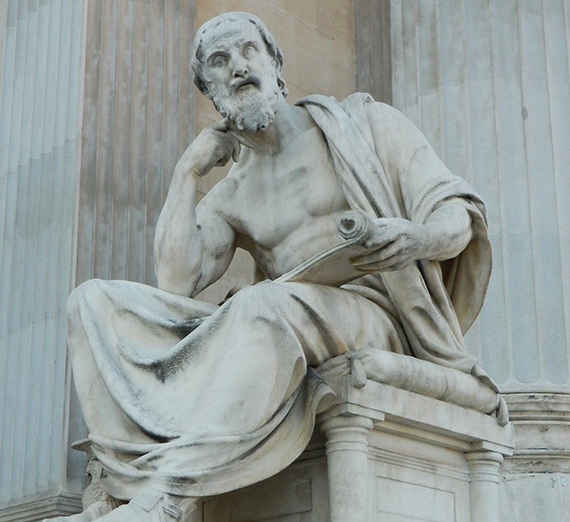 The human past is what historians choose to study, and it has been a subject of academic inquiry since the days of Herodotus (484-425 B.C.), a Greek writer whom we know as the "Father of History." In the introduction to his Histories, Herodotus wrote that his purpose was "to prevent the traces of human events from being erased by time, and to preserve the fame of the important and remarkable achievements of Greeks and non-Greeks."
For more than two millennia, Herodotus has inspired historians to narrate the "important and remarkable achievements" of their ancestors. As the human past also has a dark side, historians must also preserve a countervailing record of war and oppression, of injustice and suffering. History can be heroic and it can be tragic; its use (or misuse) can inspire great deeds and terrible atrocities. More than anything, history is human: history is the story – or rather the many stories – of how we became who we are.
So why should you study history?
The History faculty at Gonzaga University believe that the study of history develops an informed, critical, articulate sense of the past, an appreciation for the diversity of human experience, and an awareness of the role that tradition has played in shaping the present. A focused study of the human past also helps students to broaden their perceptions of the contemporary world's complex social structures and cultural interactions. In other words, the study of history provides an informed citizenry with the context that they will need to navigate an increasingly complicated world.
Historians are also practical people who want to prepare their students for happy and successful lives and careers. The History faculty at GU understand how the development of practical skills in research and communication can create a sound foundation for graduate work, for the study of law, for teaching, for careers in archival and library sciences, and for many possible vocations in business and the professions. Our job as teachers is to help students to develop the analytical and writing skills necessary for success in today's competitive job market.
Gonzaga historians believe in taking an active approach to the study of history.
Department members teach both entry-level survey courses and more specialized upper-division courses. We also teach First Year Seminars, Core Integrated Seminars (for seniors), and a senior thesis class that directs every History major toward the completion of an original work of history.
While teaching is our faculty's primary concern, we also know that good teaching goes hand-in-hand with research in the field. Department members publish books and articles, attend professional conferences, and form professional associations with civic agencies. We are thinkers, writers, travelers, and activists. Historians don't just read history – we DO history!