The study of history develops an informed, critical, articulate sense of the past, an appreciation for the diversity of human experience, and an awareness of the role of tradition in shaping the future. By studying the past, you broaden your perception and understanding of the contemporary world. This is what we hope to instill in our students.
Our department provides you with the practical research and communication skills to create a foundation for graduate work, the study of law, teaching, archival and library sciences, as well as many careers in business and the professions.
We believe in an active approach to the study of our discipline. Department members teach both entry-level and upper-division courses. Teaching is our faculty's primary concern, but we also know that to teach something well one must also do research in the field. Therefore, the department encourages faculty publication, attendance at professional conferences, and association with civic agencies. Field trips -- some sponsored by Phi Alpha Theta, the National Honors Society in History -- are another means by which the faculty promote history as a field of study.
William L. Davis, S.J. Lecture Series Presents: "Toward a Shared National Narrative"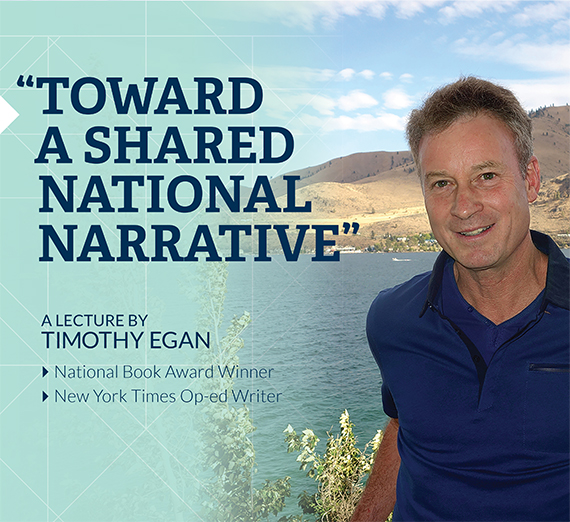 A lecture by Timothy Egan
Monday, March 25, 2019
Lecture 7:00 pm
Hemmingson ballroom
Gonzaga University
This presentation is free and open to the public.
The Sioux Indians had a saying: "A people without history are like wind on the buffalo grass." With the balkanization and polarization of our politics, you might think this country no longer has a set of shared historical values. I disagree, and would argue that the current unsettled time has solidified some of the core historical stories we tell about ourselves.