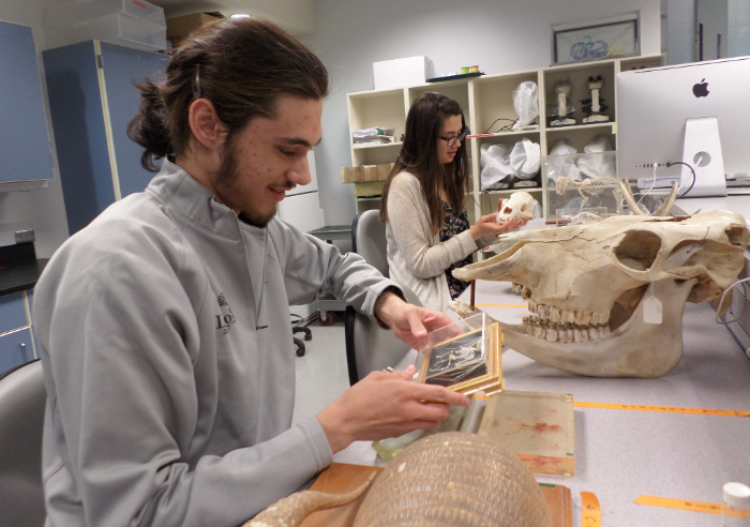 The Gonzaga Science Research Program (GSRP) was initiated through grants from the M. J. Murdock Charitable Trust and is now funded using Gonzaga University resources. The primary objective of GSRP is to expand independent research opportunities in Gonzaga's Biology, Chemistry & Biochemistry, and Physics departments. More specifically, the program aims to encourage and assist our faculty members in securing external grants for their research while providing research experiences for our science majors. Undergraduate research experiences prepare students in Chemistry & Biochemistry for their senior thesis and Biology majors for the Research Concentration, a challenging path with an emphasis on research.
Gonzaga's faculty work on a wide range of research topics and provide hands-on training in both the laboratory or the field.
Off-campus collaborative relationships with WSU Spokane and UW-SOM in Seattle provide opportunities to work in their research labs and, in some instances, earn academic credit.
GSRP pays for faculty and student stipends and research supplies for projects that are mainly carried out during the summer. GSRP is administered by an Advisory Committee made up of the chairs of Biology, Chemistry & Biochemistry, and Physics, the Director of the Center for Undergraduate Research and Creative Inquiry and the Research Coordinator. The Advisory Committee sets policy, approves procedures, and makes certain decisions such as the funding of faculty proposals for research.
GSRP also pays travel expenses for faculty and students to attend the annual Murdock College Science Research Conference, where students report their research results to an audience of science faculty and students from undergraduate institutions across the Pacific Northwest. Similar presentations are made at CURCI's Undergraduate Research Showcase held on the Gonzaga campus as part of Fall Family Weekend.
Additional funding for research projects is provided by several sources, including faculty grants from both federal and private agencies, Gonzaga Inclusive Excellence and Leadership (GIEL) funds and the support of several donors: Kay Nakamaye, Anna Marie Ledgerwood, Gerald & Bronwyn Slobogean, Claire and Bob McDonald, and Dr. Patrick Tennican.
Current students, please log in to myGU for more information and research applications
Questions about research? Contact using the email below or visit the office of the Research Coordinator, Hughes Hall, Room 118.