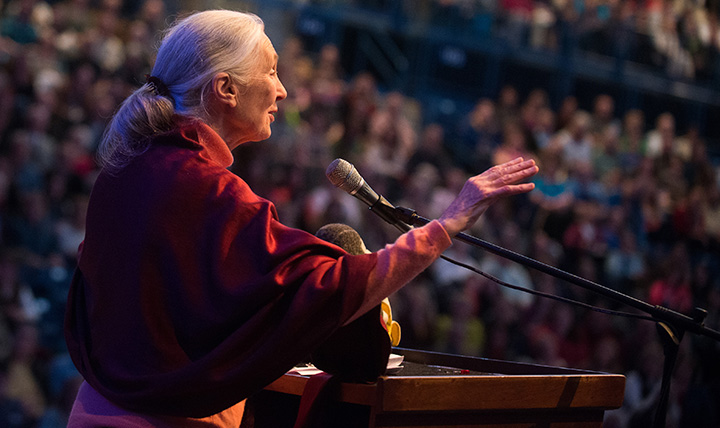 Making a Difference (2013)
More than 50 years ago, a young Jane Goodall first set foot in what is today Tanzania's Gombe National Park. Little did she know at the time that she was about to embark on a groundbreaking chimpanzee behavioral study that would rock the scientific community and redefine our understanding of animals and, ultimately, ourselves. Likewise, she probably never imaged that she would one day leave Gombe and begin a quest to empower others to make the world a better place for people, animals, and the environment we all share.
In her speech, Making a Difference, Dr. Goodall brought her audience into the world of the Gombe chimpanzees―from her early observations and experiences to the latest news and stories from the field.
Dr. Goodall shared information about the work of the Jane Goodall Institute, which continues her pioneering research and celebrated its 36th anniversary in 2013. Today, the Institute is a global leader in the effort to protect chimpanzees and their habitats. It also is widely recognized for establishing innovative community-centered conservation and development programs in Africa, and Jane Goodall's Roots & Shoots, the Institute's global environmental and humanitarian youth program.
In Making a Difference, Dr. Goodall provided insight into the person behind the globe-trotting international icon: a UN Messenger of Peace, Dame of the British Empire, and the subject of countless articles and television programs around the world. She also discussed the current threats facing the planet and her reasons for hope in these complex times, encouraging everyone in the audience to do their part to make a positive difference each and every day.
For more information, please visit www.janegoodall.org