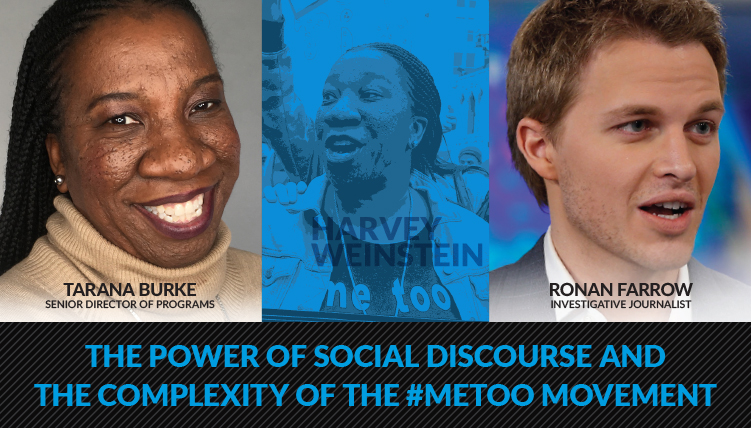 Burke, Farrow to headline 2018 event
Tonight, April 20, 2018, the 7th Annual Presidential Speaker Series will take place in McCarthey Athletic Center.
New York social justice activist Tarana Burke, originator of the "MeToo" movement, and journalist Ronan Farrow, whose work to help break the story exposing multiple accusations of assault and harassment by Hollywood producer Harvey Weinstein earned The New Yorker a Pulitzer Prize, will share their perspectives on their work and the movement as features of the seventh Presidential Speaker Series:

"The Power of Social Discourse and the Complexity of the #MeToo Movement"
Friday, April 20 at 7 p.m.
McCarthey Athletic Center
The wave of reported incidents of sexual assault and misconduct that followed the Harvey Weinstein exposé – involving entertainment personalities, politicians, educators, and others – has brought renewed attention and awareness to the widespread nature of this behavior. The movement has demonstrated that sexual assault and harassment persist despite the life-changing effect that sexual assault and harassment have on individuals, and despite systematic efforts to raise awareness, educate and alter behavior across many environments.
"This contemporary issue affects all of us. This event provides an opportunity to engage with leaders at the forefront of this social justice movement, to better understand the phenomenon of sexual abuse, and to more deeply appreciate the profound cultural change the #MeToo movement represents," President Thayne M. McCulloh said.
>>Learn more about the 2018 event
Background on the Series
Dr. McCulloh launched the Presidential Speaker Series in 2011. His vision to bring thought-provoking and mission-centered speakers to our campus has brought authors, activists, leaders and researchers to share their work and passions with the Gonzaga and Spokane communities.
Learn more about our previous speakers: