Our Three Divisional Commitments
As a division we are committed to fostering an environment for our Gonzaga University students to learn and develop into their best selves. We believe this is achieved by focusing on three elements, Diversity, Equity and Inclusion, Experiential Education, and Health and Wellbeing. Each of these are a tenant of Jesuit Education, and also represent best practice in our field.
Diversity, Equity and Inclusion
Aware of our place and responsibility in an increasingly interconnected world, we walk in solidarity with others, embracing the value and dignity of every member of our community. As Father General Arturo Sosa, S.J. affirms, Jesuit higher education "involves recognizing diversity as a constitutive dimension of a full human life."

In Student Affairs we embrace this commitment for both our students and our staff within the division. For Gonzaga students, we provide a wide array of opportunities for students to learn more about their own identities and the identities of others, while growing in their cultural fluency. For Student Affairs staff we participate in on-going dialogue, conferences and workshops to increase our cultural fluency and awareness. We have also made an institutional commitment to assessing how our programs impact social justice and dignity.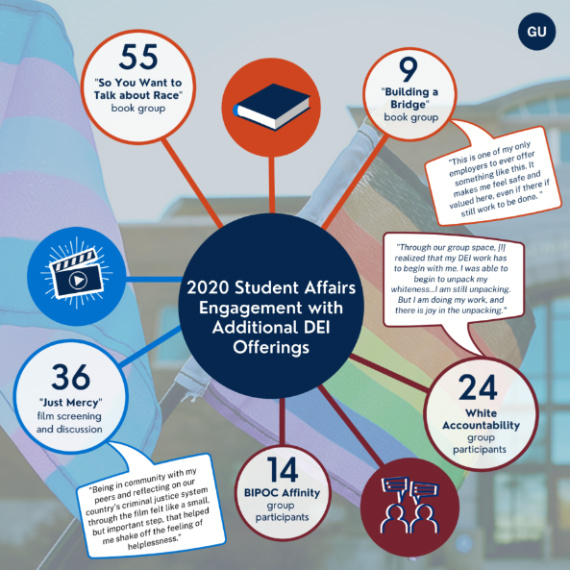 Here are some of the ways we are acting out our commitment:
Every staff member in Student Affairs completed the Intercultural Development Inventory (IDI) and Intercultural Conflict Style Inventory (ICS).
This summer SA hosted white and BIPOC affinity groups for people to come together and learn.
This summer over 35 SA staff joined in So You Want to Talk About Race? Guided Book Clubs.
Every department has been asked to complete an assessment project around the topic of diversity and social justice.
We have examined and reimagined our hiring practices to recruit a wide variety of potential new employees.
We have incorporated DEI-related job specific standards into all SA staff's performance reviews.
Divisional/Department Leadership Team and the Professional Development Committee have committed to providing other supplementary opportunities throughout the year.
Experiential Education
The ideal of a personal transformation requires a rigorous education to prepare students to become ethical and compassionate leaders who will infuse society with faith and justice, informed by knowledge. For personal transformation to be effective, academic, moral and spiritual, experience must be integrated with and enhanced by learning outside the classroom.

Gonzaga University is known for its spirited campus and community. This reputation is a direct result of our commitment to experiential education. When students take on leadership roles within one of our 115 clubs or lead a service project in the Logan Community, they bringing their education to life. Through experiences outside of the classroom Zags are able to implement the lessons they learned in the classroom. For example, our Club Soccer President is able to inspire their team on the field with the lessons they learned in a servant leadership class, or the volunteer in the Logan Community is aware of dynamics of power and privilege when they serve, because of their Tuesday Sociology class.
The Jesuit hallmark of cura personalis, or care for the whole person, describes the respect and attunement we demonstrate to each student's mind, body, spirit, and heart.

At an age in history when more students are coming to college with identified mental health conditions, our commitment to holistic student well-being is paramount. Students Affairs works to provide both individualized support for students who need it and community-wide offerings so that we can all grow in our practice of healthy behaviors. Whether it's a counseling session, a values-based workshop, a local Spokane hike, or a digitally delivered message, across the division we are helping students to learn strategies that help them on their journey toward lifelong well-being.