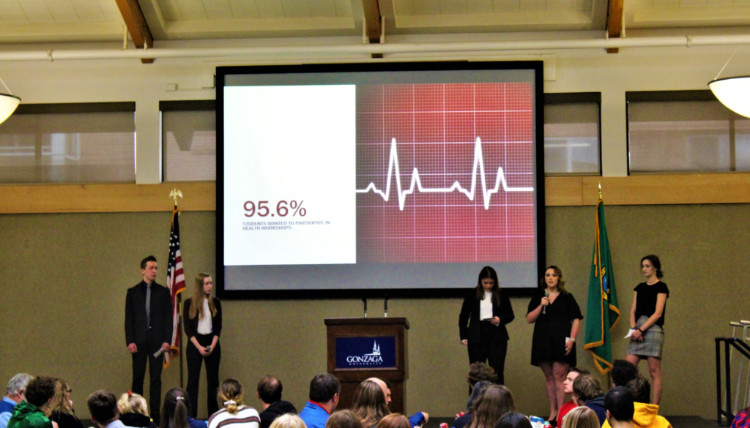 The Experiential Leadership Institute culminates in a Community Impact Project that small groups within ELI work on throughout the semester. Each small group is tasked to come up with a solution to a need either in the Spokane community or on the Gonzaga campus. They meet with stakeholders to discuss their ideas and gather more information. Near the end of the semester the small groups present their projects to stakeholders and members from the community.
Examples of past ELI projects include:
A "Free Little Library" was established at the corner of Sinto Ave. and Dakota St. to promote early-elementary literacy among children in the Logan Neighborhood. Books were collected by the group to ensure that the library would remain stocked after their departure from the program.
The "How to Adult Fair" taught students life skills that aren't taught in the classroom. Members from the Spokane community had booths and held sessions focusing on areas that would be important for students to understand, like signing a lease, balancing a checkbook, and getting insurance.
A project was aimed at figuring out how to streamline off-campus housing for students so they can be more informed and know what steps to take to procure housing for themselves after their freshman and sophomore year.
A sustainability project had the idea to put composting containers in the apartments of Kennedy and others around campus to encourage students to help the environment. The containers included information on what can be composted and what should be recycled or trashed.
A group worked to figure out how to get certification training courses on campus for a variety of things including CPR, lifeguarding, and yoga. It can be expensive and time consuming for students to get off campus to obtain these valuable certifications, and the group wanted to help alleviate those obstacles.
2022-2023 ELI Impact Projects
Making Connections: Supporting low-income high school students by collaborating with existing Gonzaga initiatives and building a mentorship program
Cooking on a Budget: Providing information and workshops that enable students to navigate buying, preparing, and cooking college-friendly meals
For the Kids: Organizing a resource drive for children in the Logan and Hillyard communities
Sustainability at Gonzaga: Implementing waste courses and other educational engagements to transform the daily sustainable practices of Gonzaga students