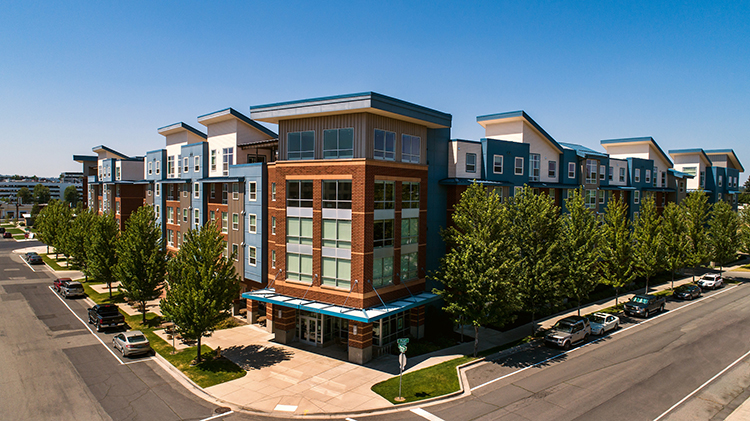 Kennedy Apartments are located at 121 East Boone Ave.
Kennedy apartments is the home of the Second Year Experience and the Solidarity and Social Justice Living-Learning Community. Second year students engage in intentional development focused on the second year experience at a university. Students who exist in this space are required to engage in programmatic efforts provided to them by their RAs centered around topical areas of Finding Purpose, Developing Resilience, Well Being and Healthy Living, and Intercultural competence. Through engagement with these events, personal reflection and discernment, and staff support, students should expect to grow through their time in the SYE program and will be set up for success in different ways for the rest of their time at Gonzaga University.
The Kennedy apartment complex accommodates more than 600 residents in 4 bedroom, 3 bedroom (most common size), 2 bedroom, and 1 bedroom units. All apartments have a living room, kitchen (with refrigerator, stove/oven, and dishwasher), and dining room table with chairs. The 4 and 3 bedroom units have two bathrooms.
Single-gender apartments, co-ed by floor
Third and fourth (and beyond) year residents reside on 4th and 5th floor (single occupancy bedrooms with full sized beds)
Second year residents reside on 2nd and 3rd floor (double occupancy bedrooms with twin XL beds)
Apartment style
5 floors
Four levels of glass "sky" bridge between wings
Eight RAs (two per floor), live-in professional staff (Graduate Residence Director), chaplain.
In-house bistro, some covered parking, fifth floor sun rooms, fifth floor sun decks with patio style furniture, multiple recreation rooms with TV and pool, ping pong, or foosball tables, in-house GU apparel retail store, wonderful art decoration in common space
Fitness Center
Two quiet study rooms on each floor, two laundry rooms on each floor, chapel
Carpet in apartments
Study room with two chairs at a table and two comfortable chairs
Floorplans
Download the Kennedy Apartment Complex Floor Diagrams (PDF Document)
Additional Photos