What You'll Study
Gonzaga's Department of English offers a Bachelor degree in English (B.A) and offers two areas of emphasis: a Literature Concentration and a Writing Concentration. The department also offers two minors, English and Writing.
Gonzaga University's rigorous English curriculum stimulates personal and intellectual growth. Rooted in the Ignatian Pedagogical Paradigm, our program values Experience, Reflection, and Action. Faculty and students engage in the practice of critical inquiry in the careful use of language, and we take seriously the study of how writing both reflects and creates our society.
The department curriculum represents the diversity of faculty expertise as well as the department's belief that students should have more flexibility within their curricular choices. Founded on solid introductory writing and literature courses and covering a variety of genres, time periods, and theoretical approaches to texts, the English major now offers two areas of emphasis: a Literature Concentration and a Writing Concentration.
Students in both concentrations take the same foundational courses: a Core Writing course, lower-division courses on literary form and literary history, and an upper-division course on literature before 1660. All English majors must also take a course with a multicultural designation. Once students decide which concentration they will pursue, they study the curriculum specific to each concentration. If so motivated, they can complete both Concentrations.
What Can I do With an English Degree?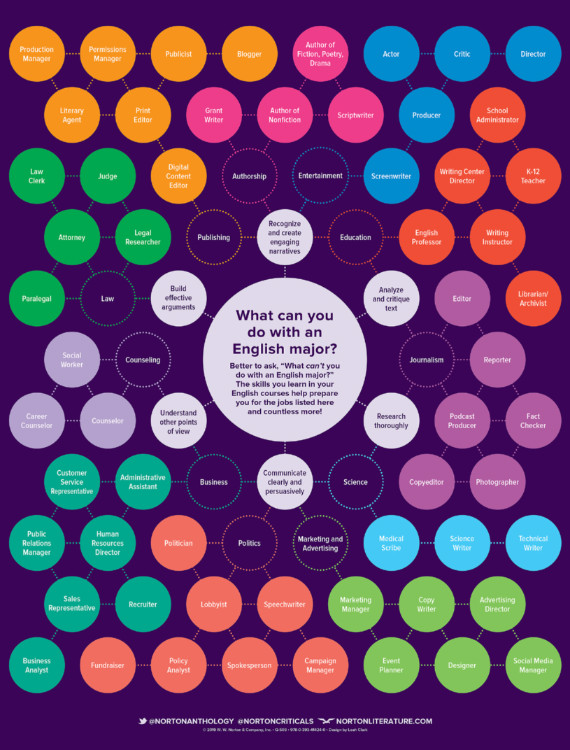 An English graduate from Gonzaga University has the skills and habits of mind to succeed in a wide variety of vocations. Any field that values critical analysis, the ability to research and think creatively, and a deep understanding of language needs people who do what we do. Recent Gonzaga English graduates have found employment in a variety of fields, which include:
Advertising
Armed Forces
Copy Editing
Government
Insurance
Jesuit Volunteer Corps
Journalism
Marketing
Medicine
Public Relations
Publication Design
Teaching
Teaching ESL Abroad
Technical Writing
Video Production
"What can you do with an English major?" poster courtesy W.W. Norton.
Graduate School
Graduate Programs in English
Graduate Programs in Women's and/or Gender Studies
Law Schools
Master of Fine Arts Programs