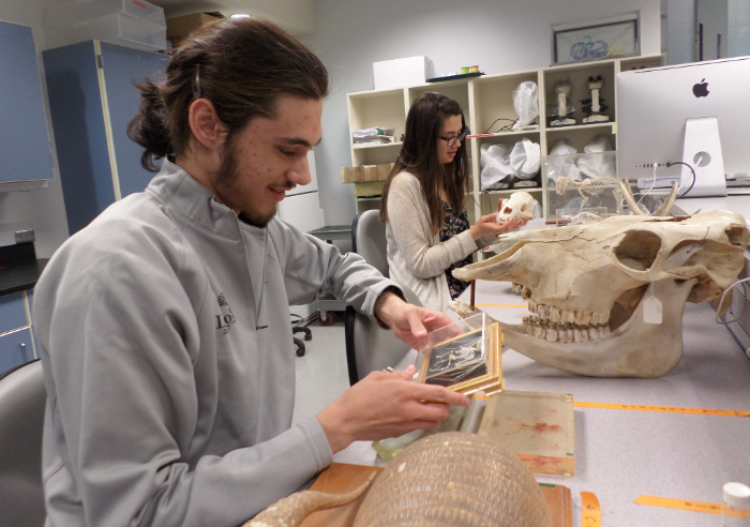 Students in Gonzaga's Biology, Chemistry & Biochemistry, and Physics departments have the opportunity to enhance their college experience through independent research in a faculty mentor's laboratory. Gonzaga's research faculty work on a wide range of research topics and provide hands-on training in the laboratory or in the field. For more information on the many types of research being conducted at Gonzaga, see the Faculty Research Interests page.
We maintain a collaborative relationship with our neighbors across the river at WSU Spokane. Students have the opportunity to work in their research labs and, in some instances, earn academic credit.
Biology majors may be interested in the Research Concentration. Students focus on research skills such as quantitative skills, writing, and participation in outreach, to hone the research experience.
Chemistry and Biochemistry majors use their undergraduate research experience to prepare them for their Senior Thesis, a year-long independent research project.
We utilize an online application process to apply for research positions. Watch for emails to the major listservs (BIOL, CHEM, ENVS and Physics) from Angie Hinz with important updates about the process.
| | | |
| --- | --- | --- |
| Application | Available | Due |
| Fall | Late August | Second week of semester |
| Spring | Early November | Around Thanksgiving Break |
| Summer | Mid-January | Early February |
Most students earn academic credit for research performed during the academic year, with ~10% earning a stipend. During the summer, we support greater than 90% of students with a stipend, paid according to the number of weeks worked. Funding for research projects is provided by several sources, including faculty grants from federal agencies, the Gonzaga University Science Research Program (GSRP) as well as Gonzaga Inclusive Excellence and Leadership (GIEL) funds. Additionally, we appreciate the support of several donors: Kay Nakamaye, Anna Marie Ledgerwood, Gerald & Bronwyn Slobogean, Claire and Bob McDonald, and Dr. Patrick Tennican.
Semester stipends pay $715/semester for ~5 hours/week in the lab of a GU faculty member.
Summer stipends of up to $4400 are available for 10 weeks of work. Students who work less than 10 weeks will be compensated accordingly. Summer stipends are restricted to students who will be enrolled at GU in the subsequent fall semester and are exclusive to labs on the GU campus.
Academic credit: Students will earn credit for BIOL498 or CHEM390. Typically 1 credit is awarded for 5 hours of work per week.
Volunteer: Students will be registered for BIOL/CHEM 395 for zero credit. Typical commitment is 5 hours of work per week.
Here are some suggestions to make your application more competitive:
Be ready to commit to 5 hours per week and have a plan for how research is going to fit into your other academic commitments.
Always go and talk to a prospective mentor prior to listing them on your application. Faculty need to know you are genuinely enthusiastic about the research before they will agree to be your mentor. Explain to them why you want to do research, where your own passions lie and how a position in their lab will help you in you in your future career (whatever that may be...).
Consider volunteering or working for credit. If you can show a faculty member what an asset you will be to their lab, you are much more competitive for a paid position when one becomes available.
Continue to take a wide variety of courses, and do well in them. Show that you are a competent student who is able to take on the additional challenge of independent research.
Biology majors are encouraged enroll in the Research Concentration.
Questions about research? Contact using the email below or visit the office of the Research Coordinator, HU118.