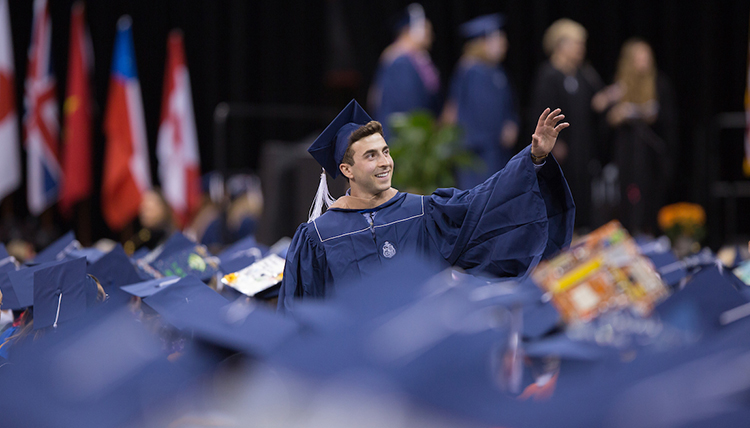 Overview
You may apply for graduation online through Zagweb. See "How to Apply to Graduate" for instructions.
"How to Run a Degree Evaluation" will also be helpful for you.
If you have any questions email the Degree Evaluation office at degreeeval@gonzaga.edu or visit the office in College Hall room 234.
Gonzaga Undergraduate Graduation Requirement Awareness Minute (GU GRAM)
Catch helpful hints regarding meeting graduation requirements through Morning Mail and with the following information:
All students must successfully complete a minimum of 128 semester credits to earn a Bachelors degree.
A maximum of eight activity credits can be used towards the 128 total credits required for graduation.
Substitutions and waivers are sometimes used to fulfill degree requirements; the completion of 128 total credits is still required and can be achieved through taking elective credits.
Students completing two degrees (i.e. Bachelor of Arts and Bachelor of Science) are required to complete a total of 158 semester credits.
Transfer Credit Equivalence
Note: Gonzaga University truncates credits and does not round up.
| | |
| --- | --- |
| Quarter Credits | Semester Credits |
| 1 | .66 |
| 2 | 1.32 |
| 3 | 1.98 |
| 4 | 2.64 |
| 5 | 3.3 |
| 6 | 3.96 |