| | |
| --- | --- |
| TO: | The Gonzaga Community |
| FROM: | Thayne M. McCulloh, D.Phil., President |
| SUBJ: | Thoughts & Prayers – Fr. Stephen Kuder, S.J., Service Information |
| DATE: | August 11, 2021 |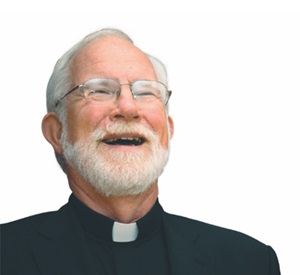 Last week, we informed the Gonzaga Community of the passing of the Reverend Stephen R. Kuder, S.J. We now are in receipt of details regarding services to celebrate his life. A Vigil for Fr. Kuder will be held Sunday, August 15, beginning at 7:00 p.m. at St. Aloysius Church. The Funeral Mass will be held Monday, August 16, at 11:00 a.m. at St. Aloysius Church, and livestreamed at https://www.jesuitswest.org/in-memoriam/. A reception hosted by the University will follow immediately after the conclusion of the Monday Mass.
Born August 1, 1942, Fr. Kuder grew up in Spokane, Washington, and was blessed to be a part of a large, loving, Catholic family, that sustained him in his vocation as a Jesuit priest. Fr. Kuder, the oldest of seven siblings, a loving son, and a beloved brother and uncle, was preceded in death by his parents, Aloys and Inez Kuder, and his brother (and longtime Gonzaga Prep teacher) Phil Kuder. He is survived by sisters Mary Beth (Dave) Celio, Marguerite (Mike) Busch, Ann Kuder (John Russell), Jan (Creigh) House, sister-in-law Toni Kuder, and brother John (Celeste) Kuder. He was uncle to 24 and great uncle to 44.
Fr. Kuder entered the Society of Jesus at St. Francis Xavier Novitiate on September 7, 1960, and was ordained a priest June 23, 1973 at St. Aloysius Church. He pronounced his final vows on April 13, 1986 in Spokane, Washington.
Fr. Kuder earned his bachelor's degree with Gonzaga University's class of 1966, majoring in classics, English, and philosophy. He later received a master's degree in English literature from Boston College and his Ph.D. from the Graduate Theological Union in Berkeley, California. Before coming to teach at Gonzaga, Fr. Kuder taught English at Seattle Preparatory School, the University of San Francisco, and Seattle University. He spent time in 1978 and 1980 as a visiting professor at Santa Clara University, Durham University in England, and at Newman College in Edmonton of Alberta, Canada.
Across his 44+ years based at Gonzaga University, Fr. Kuder was engaged with the communities he loved in many roles and endeavors, and made significant contributions in each of them.
He joined our faculty as an Assistant Professor of English and Religious Studies in 1977. During his tenure he served as Department Chair in Religious Studies (1986-88, 1989-90). An engaging teacher, Fr. Kuder skillfully taught Old and New Testament scripture, Shakespeare, Tolkien, Flannery O'Connor, and modern literary criticism, among several other topics. His courses in Christian Leadership were legendary, and he sparked inspiration and intellectual curiosity among first-year students with a seminar called, "Jesuit Education: Lighting Fire."
Demonstrating a supreme commitment to cura personalis, Fr. Kuder is remembered for taking particular interest in his students' welfare: offering special kindness, patience, and attention to them. From calling those who missed classes to ensure they were okay, to helping students overcome personal or educational struggles, many credit Fr. Kuder with having an unmatched influence on their lives. He often said, "We are meant to live lives of vitality," and he was dedicated to helping others do so. Many of his homilies featured this as a central theme.
Fr. Kuder served as Acting Dean of College of Arts and Sciences from 1988-1989 and Director of the Honors Program from 1994-2002. He spent six years serving as rector of the Gonzaga University Jesuit Community, from 2008-2014. Fr. Kuder was a Trustee of the University for a number of terms, with a cumulative total of approximately 25 years served; he also served as a member of the Board of Members (the seven-Jesuit body responsible for promoting and safeguarding the University's apostolic mission) for nearly 21 years.
Additional professional and academic affiliations held by Fr. Kuder include Gonzaga's Faculty Senate (1978-1981); Jesuit Chaplains in Residence Halls; initiation into Alpha Sigma Nu, the National Jesuit Honor Society (1976) and service on Alpha Sigma Nu's National Board of Directors for a three-year term as President, and several years as advisor to the Gonzaga University Chapter; a member of the Seminar on Jesuit Higher Education; the American Academy of Religion and Society of Biblical Literature; the College Theology Society; the Conference on Christianity and Literature; and the Liturgical Commissions for the Diocese of Spokane. He also served on the boards of directors of Brophy Prep in Phoenix, Arizona and Gonzaga Prep here in Spokane.
While Fr. Kuder was petitioning for tenure at Gonzaga, then-Vice President for Student Life Sue Weitz remarked, "During times of turmoil or frustration, I often approach Fr. Kuder for his advice and direction regarding crisis tactics. Fr. Kuder always has a way of speaking up yet listening well. Fr. Kuder serves as an excellent role model, a committed faculty member, and a committed Jesuit to the spiritual and academic life of this institution."
Fr. Kuder regularly presided and preached at St. Aloysius Church, the University's Student Chapel, and was a Spiritual Director with Spiritual Exercises in Everyday Life (SEEL), Spokane. Across the years, he supported and was involved in many student, faculty and staff retreats.
At a fundamental level, Fr. Kuder was constantly looking for the joy in others' personalities and experiences, and in life's varied and wondrous circumstances. He invited us all to join him and follow Jesus into his joy. Expressing the true meaning of the Resurrection in his 2019 Easter homily, he asked,
"What if we don't really feel so joyful? What if we don't even feel very happy? We can have health problems, financial problems, or grieve the death of a loved one or feel burdened, burdened by busyness or loneliness or boredom…Here is the good news: Jesus Christ will take care of all of that. The risen Jesus reaches down, takes us by the hand and pulls us up out of our un-joy."
As we mourn the loss of Fr. Kuder from our community, and join with his family and brother Jesuits in their grief, we remember Fr. Kuder's enthusiasm, his joy, and his love for life. Let us remember his presence and be reminded of the sentiments he has shared so many times across the years: "Here is the Good News: Jesus will take care of all of it."
Notes of condolence may be sent to the following:
Marguerite (sister) and Mike Busch
1406 W Cliffwood Ct
Spokane, WA 99218
Della Strada Jesuit Community
502 E Boone Ave.
Spokane, WA 99258-0001