Gonzaga's Campus Security and Public Safety (CSPS) officers are committed to the wellbeing of the community, working to implement the very best public safety practices to ensure a peaceful, safe, and secure campus environment that is accessible and inviting to students, faculty, staff, and guests.
In the latest step to incorporate industry best practices, CSPS will launch a one-year body-worn camera pilot program on August 23, 2022, commensurate with the beginning of Gonzaga's Fall semester.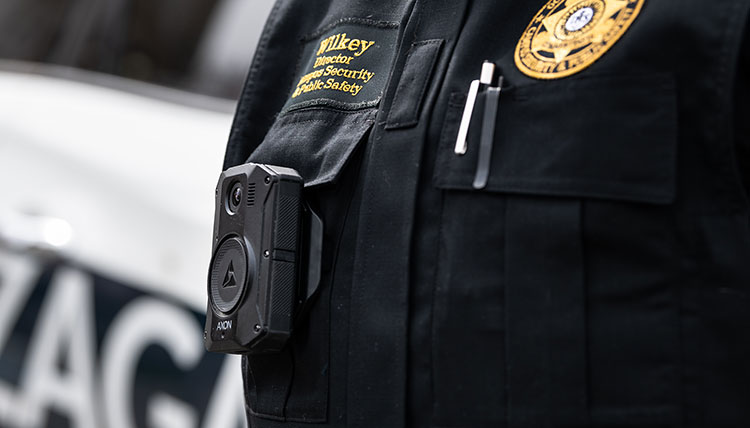 Security industry research shows that body-worn cameras strengthen law enforcement transparency, accountability, report accuracy, and training. The use of body-worn cameras has become increasingly common at universities, including other Jesuit colleges and universities across the country. In addition, officers with both the Spokane Police Department and Spokane County Sheriff's Department wear body-worn cameras while on duty.
Camera video and audio will be stored in a secure, encrypted system. Review of interactions and incidents, when necessary, is undertaken by Gonzaga's Human Resources Department, Office of General Counsel, and the Resolution Center for Student Conduct and Conflict. Video and audio are used by officers to ensure accuracy of reports and are reviewed by CSPS for quality and training. Special protocol is followed for private settings, such as residence halls, locker rooms, and restrooms.
It is our desire that body-worn cameras will have a positive impact on all CSPS operations and provide a clear and objective record of officer-community interactions. You can send CSPS any feedback or questions via the Send a Message button toward the bottom of this page.
Frequently Asked Questions