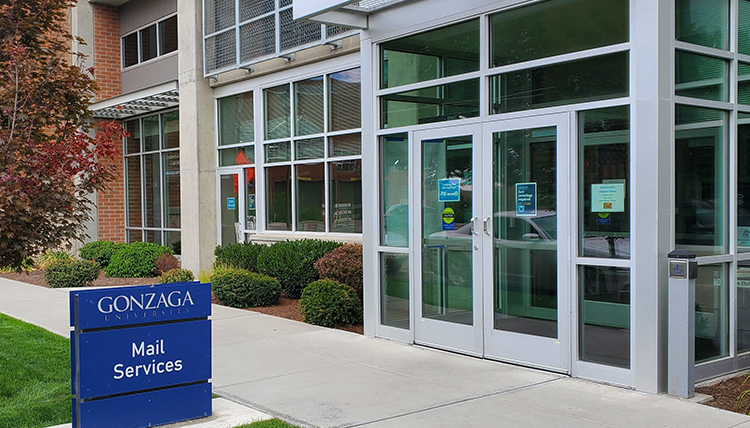 Overview
Mail Services is located on the south side of the BARC (817 E DeSmet Ave). You may receive and send packages/mail via USPS, FEDEX, UPS, and DHL. Mail Services provides certified with return receipt, delivery confirmation, insured, priority, express, first class, and parcel package services. Special services not available are registered mail and postal money orders. Mail must be picked up at this location as there are no deliveries to residence halls or apartments. There are virtual mailboxes and secure lockers for distribution of mail/packages. Emails from companies other than Gonzaga stating the item has been delivered does not mean we have processed it. You will receive an email notification from Gonzaga Mail Services when processed mail or packages are available for pick up.
Hours
Regular Hours: Mon-Fri 8:00am-5:00pm
Summer Hours: Mon-Fri 8:00am-4:00pm
Mail Services is closed on weekends. Mail Services observes all GU Holidays.
Important Information
You will need your University ID to receive all mail or packages.
Student envelopes and packages should be addressed as follows:
Student Name
Gonzaga University MSC ______________
502 E Boone Ave
Spokane, WA 99258
Students can request a mailbox by logging into my.GU and submitting a request form to Mail Services.
Outgoing mail will be picked up in Mail Services by all carriers by 2:15pm daily. We accept Bulldog Bucks, checks and debit/credit cards. We no longer accept cash.
Mail Services is equipped to handle International Mail and will assist with the method that will best meet your needs. ALL customs forms MUST be prepared online prior to coming to the Mail Room. Get started on your customs forms here.
Mail Services has packing needs for purchase including: boxes, bubble wrap, packing peanuts, envelopes, padded envelopes and packing tape.