Welcome!
We want every visit to the Myrtle Woldson Performing Arts Center to be an enjoyable and memorable experience. Please contact us at WoldsonMarketing@gonzaga.edu or (509) 313-4776 if we can assist you or answer questions that are not addressed on this site.
---
The Myrtle Woldson Collection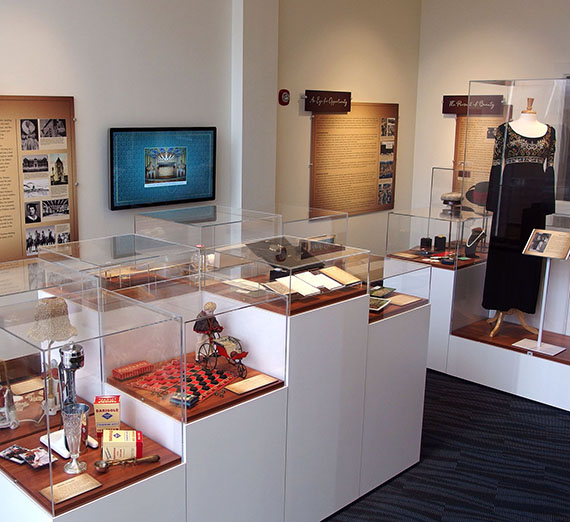 Learn more about Miss Woldson at the Myrtle Woldson Collection on the second floor. The Collection includes an interpretive center with narrative panels and multimedia displays celebrating Miss Woldson's life, entrepreneurship, and philanthropy. Replicas of rooms in Miss Woldson's Spokane home display furniture, art, and décor collected throughout her life and travels.

The Myrtle Woldson Collection is open to the public Monday through Friday from 8am to 5pm in addition to performance days and times.
Performances
When to
Arrive
We recommend arriving a minimum of 15 minutes before performances begin. Auditoriums open for seating 30 minutes prior to each performance. Productions begin promptly at scheduled times.
Need to pick up tickets? The Box Office is open from noon to 5pm weekdays and 90 minutes prior to each performance. 15-minute visitor parking spaces near the entrance to the Myrtle Woldson Center are available while visiting the Box Office.
What to Wear
Some people enjoy dressing up while others feel more comfortable in a nice pair of jeans. Feel free to make your own clothing choices to best enjoy the performance.
We're Here to Help
If you need help with anything, from locating your seat to finding restrooms, or if you experience any discomfort during a performance, notify staff or ushers. They'll be happy to assist you with any questions or issues you might have.
The Gonzaga Campus and Surrounding Area
There are many things to see on the beautiful Gonzaga campus. Download a campus map for a self-guided tour. Points of interest include St. Aloysius Church, College Hall, the Jundt Art Museum (open Mon – Sat, 10am – 4pm) and the Bing Crosby House Museum (open Mon - Fri, 10am -4pm and Sat 1-4pm.
The Myrtle Woldson Center is close to downtown Spokane, the Spokane River, Riverfront Park, and the Centennial Trail, with year-round scenery, activities, dining, and shopping.