Performances begin promptly at scheduled times. Please plan to arrive in time to park, pick up tickets, and take your seats before performances begin.
The Myrtle Woldson Performing Arts Center is located just northeast of downtown Spokane on the west end of the Gonzaga Campus at 211 East DeSmet Avenue.
The twin spires of St. Aloysius Church are visible from many locations surrounding the Gonzaga Campus. The Myrtle Woldson Center is one block west of the church.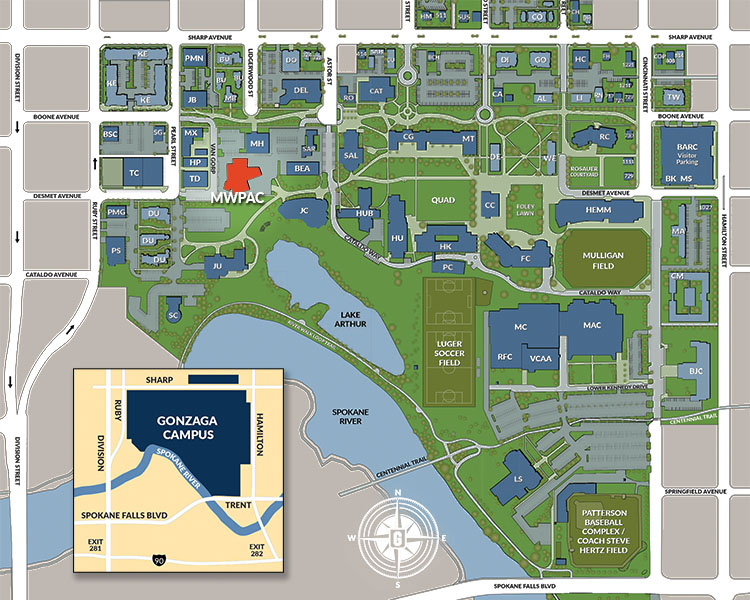 Please note: The following directions will bring you to the Performing Arts Center building. You may wish to park in a nearby area and walk to the Myrtle Woldson Center.
From I-90 or downtown Spokane:
From I-90, take exit 281 to North Division Street (US-2)
Travel north on Division Street to East Boone Ave
After crossing the Spokane River, follow Division north as it curves to the right and becomes Ruby Street
Continue north approximately 2 blocks.
Turn right (east) on DeSmet. The Myrtle Woldson Center is 1 1/2 blocks directly ahead.
From North Spokane:
Travel south on Division Street (US-2) to Sharp Avenue
Turn left (east) on Sharp Avenue
Continue east on Sharp for 2 blocks to Pearl Street
Turn right (south) on Pearl Street
After 2 blocks, the Center will be on your left
By Bus
Bus routes 25, 26, 28, and 39 stop on or near the Gonzaga University Campus. Visit spokanetransit.com for route maps and schedules or use the interactive trip finder to arrive at 211 E DeSmet.
Walk or Bike
The Gonzaga Campus is located in Spokane's Logan Neighborhood with pedestrian- and bicycle-friendly walkways, trails and bike lanes. The paved River Walk Loop Trail north side of the Spokane River winds past the Jundt Art Museum, directly south of the Center. These trails are accessible from downtown Spokane, Riverfront Park, and the Centennial Trail. Racks to park and lock bicycles are located on the west side of the building.