The team at Myrtle Woldson Performing Arts Center brings a wide range of talents and interests to creating memorable, meaningful, and enjoyable experiences for you, the Gonzaga community, the Spokane-area arts community, and Inland Northwest audiences. We're grateful for the opportunity to share and promote the arts through Miss Woldson's generous gift. We look forward to hearing from you!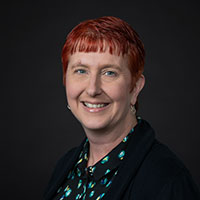 Laura Sims, Director
CONTACT: 509-313-4745 | simsl@gonzaga.edu
Laura, a native of Athens, Alabama, received her BA in Theatre with minors in Math and Music from Auburn University (War Eagle!) and her MFA in Stage Management from the University of Missouri-Kansas City. Her previous jobs include Production Manager at The Clarence Brown Theatre (Knoxville, TN) and founding Director of the Francis Marion University Performing Arts Center (Florence, SC).

As Director of the Myrtle Woldson Performing Arts Center, Laura is responsible for achieving the Center's goals for artistic excellence, audience development, fundraising, financial sustainability, and community engagement as well as providing leadership on all administrative and financial matters. In her spare time, Laura likes to travel to new places, spend time with family and friends, and binge watch shows she has collected on her TiVo.

Suzanna Bilderback, Program Assistant
CONTACT: 509-313-4747 | bilderback@gonzaga.edu
Suzanna is a recent Gonzaga alum who graduated in May 2021 with a Bachelor of Arts in Dance, concentrations in Performance and Pedagogy, as well as a Bachelor of Business Administration, concentration in Human Resource Management, and a minor in Communication Studies. As the Program Assistant for the Myrtle Woldson Performing Arts Center, she proudly owns the "junk drawer" position, taking on anything that the staff, patrons, and students throw her way. She likes to stay busy, teaching dance classes and workshops locally and volunteering at her church. Suzanna is in constant search of ways to break the mold and step outside the box to find solution and better serve those around her. Stop by her desk for a sweet treat and a bright "mask" smile!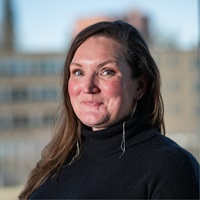 Sarah Thurston, Marketing Manager
CONTACT: 509-313-4748 | thurston@gonzaga.edu
Sarah is a Northern California native that has been in the Spokane/Coeur d'Alene area since 1997. She has a BA in Visual Communication Design from Eastern Washington University and is currently working on her Masters in Communication and Leadership Studies from Gonzaga. She enjoys blending the creativity of graphic design with marketing and event management. She loves the San Francisco Giants, gardening, Scottish Fold kittens, and Dolly Parton.

Jess Loomer, Ticketing Services Supervisor
CONTACT: 509-313-4749 | loomer@gonzaga.edu
Jess oversees the Box Office and Front of House operations at the Myrtle Woldson Performing Arts Center. She is dedicated to patron services and works closely with her team to treat audiences to a smooth and enjoyable experience from the moment they choose to buy a ticket to the moment they leave our building. Jess is a Spokane native, with a Bachelor's from Whitworth University. She has worked onstage, backstage, box office and front of house for local community theatres, as well as most recently at San Diego Musical Theatre and La Jolla Playhouse. Outside of work and spending her free time participating in the performing arts as a playwright and director, Jess loves reading, playing games, chasing around her silly Puggle, and catching up on way too many streaming service TV shows!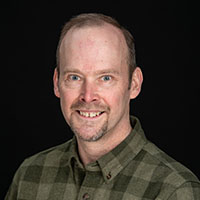 Jon Carlson, Production Manager
CONTACT: 509-313-4750 | carlson@gonzaga.edu
As Production Manager for the Myrtle Woldson Performing Arts Center, Jon is typically backstage in one of the two performance venues overseeing an impressive inventory of equipment and instrumentation. He works with faculty, students, and guest artists to schedule and prepare for a wide variety of performance events. His professional training is from the Yale School of Drama where he earned his MFA. He has worked in technical theatre for 25 plus years with stops at CUNY-Queens College, Washington State University, and the University of Idaho along the way. Many of his former students are now working as stage managers, set, lighting, and sound designers, high school drama teachers, and one or two "stand-up" comedians (he takes no credit for the latter) all around the country. Jon is enamored of the many creative lighting designers he's studied with and worked for, impressed by the technical knowledge retained by audio engineers in the Biz, and is always eager to assist performing artists get their creative work to the stage. He feels incredibly fortunate to work for GU's MWPAC with its amazing venues and state-of-the-art technology. He commends the administration, the faculty and staff, and Miss Woldson on their unwavering support of the Arts for the university and the greater Spokane community. Jon has two college-aged sons, Chris and Scott, whom he watches with anticipation as they "flap their wings" and show their creative selves to the world.
Luke Parker, Audio Supervisor
CONTACT: 509-313-4751 | parkerl@gonzaga.edu
Luke is in charge of Audio and Visual production at the Myrtle Woldson. He works with incoming artists to prepare these systems for the many different shows making their way through the Center. Coming from Ottawa, Illinois, Luke earned his BA in Music Technology and MFA in Theatre Sound Design and Technology, both from University of Illinois at Urbana-Champaign (UIUC). Being a musician and actor himself, he strives to help others put on the best possible performance at all times. He has worked at the Krannert Center for the Performing Arts on the UIUC campus, as well as Hope Summer Repertory Theatre and the American Dance Festival. Aside from Audio, Luke enjoys reading, playing board games, and playing ukulele for his chinchilla.