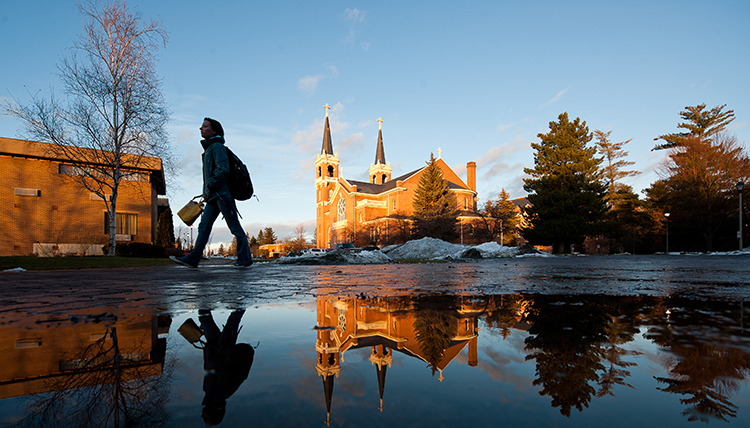 With one of the largest and most pluralistic faculties in the Northwest (more than 20 tenured and tenure-track faculty members and nearly 30 full-time faculty) Gonzaga University's Master of Arts in Philosophy affords you the opportunity to engage in coursework and research on an extremely wide and diverse range of topics. A hallmark of the graduate experience at Gonzaga is close work with faculty members throughout the department. In keeping with our Jesuit mission, our graduate students explore the significance of philosophy for fundamental questions of human meaning and value.
With a broad spectrum of graduate courses and research opportunities (as well as scholarships and financial aid), our program has two major areas of study: History of Western Philosophy and Social and Applied Ethics.
History of Western Philosophy
Students seeking to concentrate in the history of Western philosophy may choose from courses on every major period of the Western tradition, as well as historically significant philosophical movements. Our faculty includes specialists in ancient Greek, medieval, modern, and contemporary philosophy, as well as specialists in all major movements of Twentieth Century philosophy — analytic philosophy, phenomenology, existentialism, process philosophy, Neo-Scholasticism, Structuralism/Post-Structuralism, and Feminism. Research in all these areas is supported by one of the best history of philosophy library collections in the Northwest.
Social and Applied Ethics
Our program offers a range of opportunities for course work and research in the growing field of social and applied ethics. The faculty has specialists in traditional fields of social and applied ethics, like business, environmental, and medical ethics, as well as new fields such as the ethics of climate change, eating, and technology. The department also regularly offers courses in allied disciplines such as social and international ethics, feminism, and political philosophy. The department has greatly increased library holdings in these areas over the past decade, and grants students ample research opportunities.
Gonzaga's Master of Arts in Philosophy program includes the following:
30-credit program hours, including eight graduate-level seminars or elective courses (24 credits) and a Thesis requirement (6 credits);
Comprehensive written examination on a reading list of key texts in the history of philosophy with a follow-up oral examination;
Logic requirement, which can be satisfied either by coursework or a competence examination.
---
The 16th Annual Gonzaga Graduate Philosophy Conference
OTHERWISE THAN PHILOSOPHY
April 12-14, 2019
KEYNOTE SPEAKERS
Dr. Sara Ahbel-Rappe, The University of Michigan
Dr. Kalliopi Nikolopoulou, University at Buffalo
The graduate students of the Philosophy M.A. program at Gonzaga University host an annual Graduate Philosophy Conference each spring. The conference offers graduate students the opportunity to present their work to colleagues from institutions across North America (and occasionally points beyond), and gives Gonzaga graduate students professional experience in planning conference events, reviewing scholarly submissions, and administering the conference.