Welcome to Gonzaga's College in the High School Program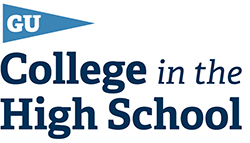 Gonzaga University is committed to the values of Jesuit education, and is proud to offer an opportunity for high school students to experience Gonzaga's exemplary learning community at their own high school. The College in the High School (CHS) program offers high school students the opportunity to take college classes at their high school, earning both college credits and high school graduation requirements at the same time.
Currently, Gonzaga Preparatory High School is Gonzaga's only CHS partner. If you are interested in your high school becoming a Gonzaga CHS partner, please email chs@gonzaga.edu.
Quick Facts About College in the High School
Students stay at their high school for classes.
No testing required to enroll in classes.
Students take Gonzaga courses and earn college credits.
Reduced tuition helps students get ahead before starting college.