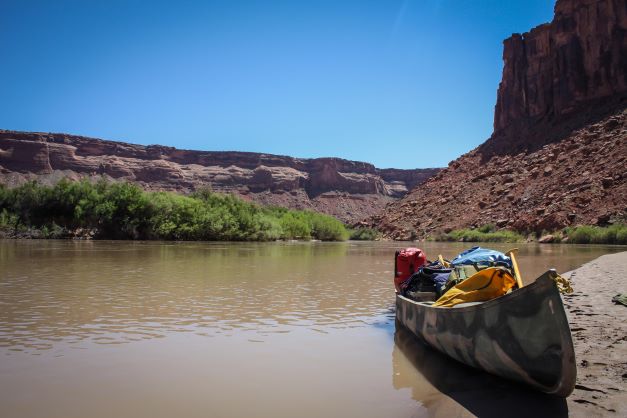 Gonzaga in the Wilderness
In this 3-week program. we will immerse ourselves in the redrock canyons of Southern Utah as we canoe down the Green River to its confluence with the Colorado River in the heart of Canyonlands National Park. Following a week of classroom-intensive instruction at Gonzaga, we travel to Moab, Utah, to begin our 120-mile, 12-day journey down the remote and spectacular Labyrinth and Stillwater Canyons. During our travels, we will study the natural and human history of the region, discuss land management and wildlife conservation, and explore our own sense of place in the natural world through environmental literature and our own writing. This 6-credit program interweaves two courses; each fulfills a University Core requirement. No camping, canoeing, or hiking experience is necessary.
"The largest benefit is actual hands on learning. Every science class should be taught outside and be able to offer hands on learning". Delaney M.
Important Information
Dates of Program
Courses
PHIL 301, Ethics

(3 credits) [core Ethics requirement]


Our experience of wild spaces in Utah will expand our ethical imagination and clarify the reasons we have to care about the interests of the communities, creatures and environments that surround us. Students will apply moral principles to a variety of cases and analyze complex ethical problems through conversations that are respectful toward alternative perspectives and positions. They will learn to explain their ethical commitments and judgments to a range of people while acknowledging the weaknesses or limits of their own position and the strengths of alternative perspectives.



ENVS 330, Parks, Forests, Wildlife

(3 credits) [core Global Studies designation]


Focusing primarily on national and state parks, national forests, and wildlife, this course traces the development and application of the U.S. conservation model, both domestically and abroad. We will see how management of national parks and forests tends to reflect broad social goals and challenges and is situated within social and historical contexts. Taking an interdisciplinary approach, we examine the ecological considerations and management implications of public lands, especially with regards to local and indigenous peoples.
Cost
Program Requirements
Gonzaga in the Wilderness is open to all undergraduate students who meet the following admission requirements:
Minimum 2.5 GPA
Resolution Center for Student Conduct and Conflict & Study Abroad Office clearance
Faculty Leaders
Greg Gordon, Ph.D., Professor & Department Chair of Environmental Studies
Erik Schmidt, Ph.D, Professor of Philosophy & Department Co-chair of Philosophy
Application Requirements
Application deadline: February 1, 2023
Spaces are limited and applications are reviewed on a rolling basis, so apply early!
Apply online at: studyabroad.gonzaga.edu