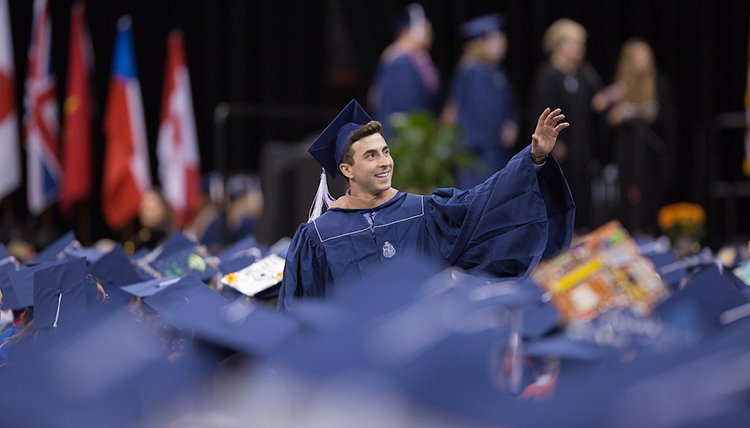 2020 Commencement - May 8-10
All students graduating in the calendar year are invited to join the one annual celebration event over Mother's Day Weekend in May -- Commencement. Graduation is the completion of studies resulting in a diploma, and commencement is our acknowledgement of this academic achievement, including graduation GPA honors for undergraduate students. Students wear a rental attire set, with a keeper cap and tassel (doctoral students can purchase if desired). Scroll down to the end of this page for blue boxes with links to order ceremony attire and announcements.
TICKETS AND GUESTS - Student Floor Seating Plans are announced April 14, and undergraduate (senior) students will use their student ID in an online system to obtain up to 8 guest tickets for the ceremony at the Spokane Veterans Memorial Arena, with help for choosing the best possible view based upon which side the student will cross the stage. Selection options will include accessibility seats (which are not located in general seating, so they will be a distance from the party). The email confirmation of assigned seats can be forwarded to guests/families by the student.
The Law and Graduate ceremonies, and Commencement Mass, do not require tickets, and there are no guest limits for these events. Other celebration events for special groups are generally by-invite only and may limit the number of guests and/or require a ticket purchase.
THINGS TO KNOW
Our Commencement App will be available April 14
Professional and responsible behavior is expected, the ceremonies are alcohol/substance free events
No balloons, large signs, or loud sound items are allowed in the ceremony facilities
Each facility will utilize metal detectors and bag reviews; clear bags are not required
Accessible seating is available at each facility, managed by the professional facility team
Students can obtain wheelchairs through Health and Counseling Services (limited number available)
Live Text Captioning and Live Web Streaming will be available for each ceremony and mass; links available here during events
Ceremony photographs are available for purchase by June 1 (scroll down to select Grad Images )
Commencement Ceremonies Schedule 2020
Friday, May 8
The Commencement Season Schedule lists special events in addition to the main ceremonies
Saturday, May 9
(All Events in McCarthey Athletic Center; doors open 1 hour before each event)

9:00-10:30am – Law Ceremony
Reception at Law School until 11:30am

12:00-2:00pm – Graduate Ceremony
Reception on Quad Lawn until 3:30pm

4:00-5:30pm – Commencement Mass
Meets Sunday obligation and all faiths are welcome
Students lineup in Martin Centre Gym at 3:30pm in gown and hood (no cap, no accessories)
Sunday, May 10
9:30am-12:30pm – Undergraduate Ceremony
Spokane Veterans Memorial Arena - doors open at 8:30am
Reception on Campus on Quad Lawn until 2:00pm
Return rental attire to the Zag Shop Bookstore no later than 5:00pm