June 29, 2022
Dear Gonzaga Community: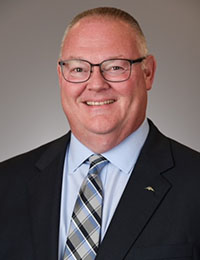 It is with pleasure that I announce the appointment of Ray Kliewer, M.Ed. as Gonzaga University's inaugural Vice President for Human Resources and Chief Human Resources Officer. Mr. Kliewer currently serves as the Senior Director of Human Resources for the School of Medicine at Indiana University.
A native of Louisville, Kentucky, Ray earned both Bachelor of Science in Business Administration and Master of Education in Human Resource Development degrees from the University of Louisville. He also holds a number of professional certificates in areas such as employee benefits law, and executive coaching and leadership training. Ray has over twenty-five years of experience in increasingly responsible human resource management positions, both in industry and higher education, and his passion focuses on the implementation of initiatives that build HR competencies, relationships, and outcomes across the organizations of which he is a part.
He and his wife LaDonna have three adult children and in their personal time they enjoy travel and cooking. They enjoyed a recent visit to Spokane and are very excited to join the Gonzaga University community.
I would like to thank the members of the VP Human Resources Search Committee, who worked diligently through the past several months to evaluate and interview numerous semi-finalists, as well as all those who participated in the on-campus interviews and provided feedback to the committee earlier this summer. I would also like to thank Dr. Michelle Wheatley, VP for Mission Integration, for her leadership in the search. We will host a reception to introduce Ray to members of our community after his arrival in early August. Mr. Kliewer will take up his responsibilities as Vice President for Human Resources/CHRO on Monday, August 1, 2022.
Sincerely,
Thayne M. McCulloh, D. Phil
President