Overview
The Office of Emergency Preparedness and Risk Management (EPRM) is a department that addresses global risk to the University. This can come from financial risk, reputational risk, physical and environmental risk or exposure to facilities concerns. EPRM addresses four specific areas of risk management services. These include; insurance and legal issues, program risk review, business continuity planning and a specific program related to the Universities Emergency Response Planning. Our main objective is to prevent and mitigate risks and if necessary respond and recover from them.
Program Risk Review:
Enterprise Risk Management Program
Facilities Inspection and Reporting
Faculty New Program Review
Foreign Travel
Gonzaga in Florence/Study Abroad - FLSA
Intercollegiate Sports
Off-Campus Activities/Events
Risk Assessment and Evaluation
Risk Management Committee
Risk Management Guidelines
Sports Camps
Student Activities/Events
Travel/Vehicle Use Procedures
Insurance and Legal Issues:
Background Checks - Students/Visitors
Claims Management
Cyber Security Incident Coordination
Educational and Training Resources
Exposure Reviews and Audits
Insurance Coverage Analysis
Insurance Guidelines
Insurance Renewal Process
Program Reviews
Trustee Legal Committee
University PCAC Committee
The Risk Management Question
"All activity has inherent risks. The question is: How are you going to identify, assess and manage that risk? Will you avoid, mitigate, transfer, or embrace it?"
Emergency Response Planning:
Emergency Preparedness Program Administration
Emergency Management Committee Chair
Collaborative Planning Team Chair
Emergency Operations Plan
Class Cancellation and School Closure Procedures
Training and Exercise Program
ICS and NIMS Training Effort
Drills and Exercises
New Employee Orientation
Supervisor Training
ZagReady Program
Preparedness Workshops for Staff, Faculty, and Students
ZagAlert
Sever Weather Alerts Group
Community Outreach and Engagement
Participates in Spokane Area Emergency Preparedness Working Group for Institutions of Higher Education
Business Continuity Planning:
Business Continuity Plans and Procedures (Contributes to Business Impact)
Analysis (BIA)
Evaluates University-Wide Continuity Planning Efforts
Campus Partnerships
Collaborates with Continuity Planning for Vendors
Guides Development of Continuity Practices for Departments
Community Partnerships
Build Partnerships with other Universities and Colleges for Resiliency
Participate in Regional continuity Workgroups and Exercises
Training and Exercises
Integrates BCP Training with Preparedness Efforts
Teaches Resiliency and Recovery Elements in Training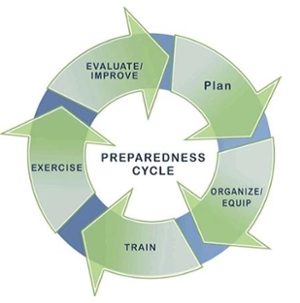 Emergency Preparedness
The National Incident Management System (NIMS) defines preparedness as "a continuous cycle of planning, organizing, training, equipping, exercising, evaluating, and taking corrective action in an effort to ensure effective coordination during incident response."
This 'preparedness cycle' is one element of a broader Gonzaga Emergency Preparedness program designed to prevent, respond to, recover from, and mitigate against the risks and threats facing Gonzaga University.