We are thrilled to extend an open invitation to all talented and imaginative artists with a relationship to the Inland Northwest or Gonzaga University and its mission. If you have a passion for stunning visuals, we warmly invite you to submit a proposal to create original illustrations for our exciting brand project. We believe in fostering creativity and embracing diverse artistic styles, so whether you're a seasoned professional or an emerging artist, we welcome your unique perspective.
Submit your proposal by 2 p.m. on July 28 and let your creativity soar!
Scope of Work:
The selected Artist will be responsible for creating a library of original illustrations that will capture the essence of Gonzaga University's values and mission. These illustrations should be consistent with the University's visual identity and brand guidelines, and suitable for use across a variety of platforms including digital media and print collateral.
For this project, the University intends to complete an illustration library with two design styles: Pen & Ink and Editorial. The subject matter of the illustrations is yet to be determined. Context will be provided when Artist(s) have been selected and the project commences. Artist(s) are not required to fulfill both styles if one style is more aligned with their technique.
Pen & Ink:
Create an illustration library of campus architecture and Spokane landmarks in a pen and ink, sketch book style. The goal of these illustrations is to highlight the historic campus and provide a refreshed visual perspective of the buildings, landmarks, and textures unique to campus and the Spokane area.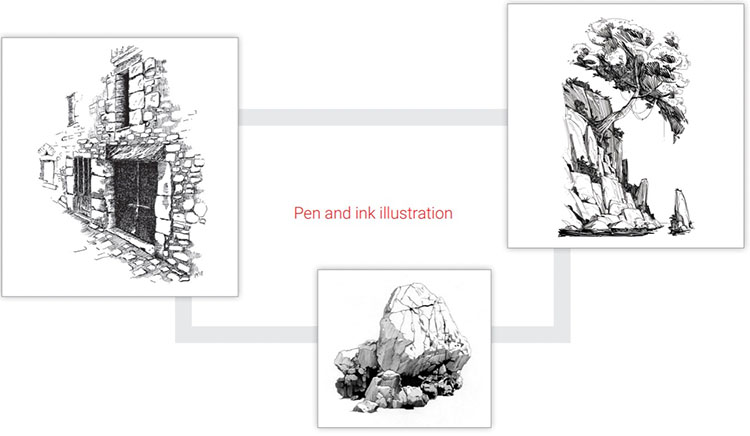 Editorial:
Create a library of signature illustrations that will assist in the visual storytelling of Gonzaga's mission and brand. These illustrations should be engaging, thought-provoking, emotive and capture the identity of the Gonzaga community through a symbolic or abstract lens.